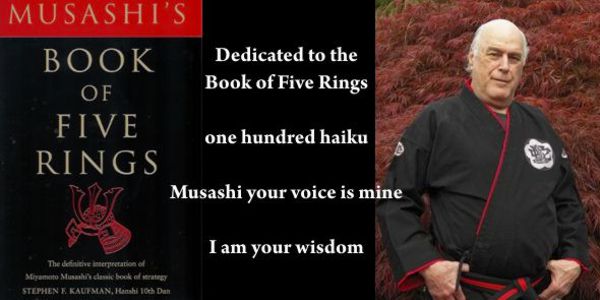 As Anne Davis states in her story from The Lady of the Rings – Musashi's Book of Five Rings Strategy Interpreted for Women, "Everything I do is based on my understanding that my work is an extension of my true being. The physical manifestation of my "trade" is an extension of me. If I approach my work with a nonchalant attitude, I am sure to fail, and so I prepare myself daily to go out into the world and own it. I don't make myself crazy by thinking that everything has to be the way I say it should be. But, by applying myself entirely to my ideal, I find that it is easy to enjoy myself even in times of intense labor. I make sure to keep a glow of positivity in my demeanor and know that what I am doing keeps me free from the foibles that others may be experiencing.
I am never bashful in my approach to others where I feel that I can accomplish something new. By having thought carefully about my intentions, I am able to be secure in my mind. There is no need to think otherwise, unless I am not truly convinced that what I am doing for myself is appropriate.
In your practice of attaining to your sense of new being, it is essential that you consider variation in your own ideology. As you become proficient in one aspect of something, the reality of itself will show you new methods to accomplish your goals with even more ease. Never become complacent.
An attitude that can be described as a flame and flash approach suggests intense focus on your ideal. Those who are sympathetic to you will encourage you to continue on. Others who seem to be negative to your beliefs must be cut from your life. It doesn't matter how long the relationship has been in effect. If certain people are not in league with your way of thinking, they must be cut away. It is painful, for sure. I know from experience how difficult this can be; I have paid the price for my freedom."
---