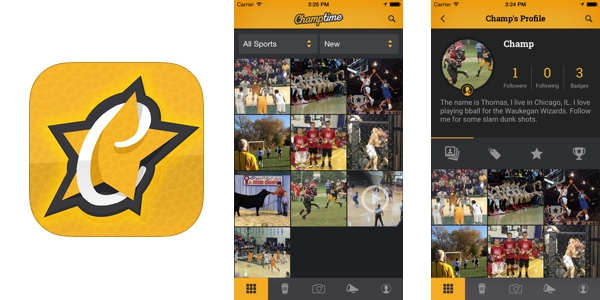 Champtime is a digital showcase for awards and achievements including a free iOS APP and website. Champtime shares your games, challenges and competitive moments with the world by using photos, videos and insights to capture the experience that inspires success. It is a social media platform so it allows people to like, share, and comment on the videos and pictures you post.
Champtime is different from other social media because every user gets their own personal showcase in their profile where they can collect their awards, accolades and achievements in anything. Champtime is also different because people can attach personalized digital trophies on any photo so the achievement is always remembered.
Champtime is great for martial arts instructors because they can award their studentss with personalized milestones or trophies and the students receiving the awards can easily share to Facebook, Twitter or Instagram, giving the martial arts school great exposure through other social media platforms.
Champtime has created a unique system that allows users to find, follow, gather, contribute and organize meaningful competitive experiences. And with our library of banners, trophies and stickers, you can digitally honor those moments so they can always be remembered. So join the experience that embraces the drive to "win" and start building your own profile of successful events that can be shared with the world or start following the athletes that inspire you the most!
Features include:
Unique Photo Sharing – Enjoy photos from anyone, at any event, including ones from the opposing team.
Follow Teams & Athletes – Stay up-to-date with your favorite players, people and teams.
Archive the Victories – Use our digital trophies and awards to forever recognize achievements.
Create a Profile – Highlight your amazing stuff for college recruiters, family and friends.
Badges – Earn badges based on how you use the app, rewarding you as an athlete or as a fan.
Much More – Interact, tag, follow, favorite, like, comment…
Get the Champtime App