Black Belt Times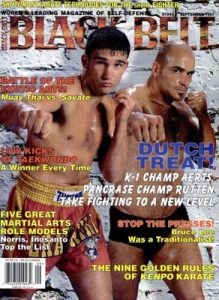 LOS ANGELES—Bob Wall, who starred opposite Bruce Lee in Enter The Dragon and fought on Chuck's Norris competition team three decades ago, was recently released from Los Angeles County Jail after serving 48 days of a two-year sentence for grand theft of personal property.
Wall, 57, was originally charged with nine felonies—eight counts of tax fraud and one count of grand theft of personal property—but the tax fraud charges were later dropped. All of the charges stemmed from a real estate deal between Wall and at least eight investors, who claimed the former actor and owner of Robert Alan Wall Investments, Inc., improperly used money they had invested to pay off his personal debts.
According to a representative at the California Department of Real Estate, Wall's real estate license will be revoked as a result of the sentence, effective July 15, 1997.

Wall pleaded no contest—the equivalent of a guilty plea—in June 1995 to one felony count of grand theft of personal property and was sentenced in Los Angeles Superior Court last December to two years in state prison. The prison term was suspended last February, however, after Wall's close friend, Chuck Norris, paid $206,000 of Wall's restitution to the victims. Norris made the offer conditional on Wall's release from jail, so the latter could return to work and begin to repay the loan.
Wall was subsequently re sentenced to five years of probation and was ordered to perform 750 hours of community service. Judge James A. Bascue, noting Wall's martial arts background, ordered him to teach martial arts to young people as part of his community service.
Bascue noted at the re-sentencing hearing that it was not only Wall's failure to pay restitution, but also his "cavalier attitude," that caused the judge to set the initial two-year prison term.
"… The court had before it a tragic set of circumstances where many people had lost life savings and funds that they had counted upon, and the Court was moved, for failure of restitution and I'd say, primarily, the attitude of Mr. Wall, to a state prison sentence," court documents quote Bascue as saying.
"…I think the [48] days that Mr. Wall has sat in County Jail, that he is a changed person. I think his attitude is different. He's certainly not the cocky man that I saw before me when I sentenced him to state prison," Bascue said in court documents.
In a January 21 letter to Bascue, in which Wall asked the judge to reconsider the prison sentence, Wall wrote: "I come before you embarrassed and humiliated at what I have done to my friends and my family. I have spent the last month in jail thinking about my actions and all the grief I have brought upon my wife and family by my stupidity. It is very hard to live with the pain I have caused them, and I have learned a horrible lesson as a result. I take full responsibility for my actions. What I did was immoral and wrong and I am truly sorry and remorseful.
"…When the real estate market bottomed out I lost a great deal of money," the letter continued. "My credit line was cancelled, and the bank would not renew it. I became desperate, and I made decisions which cost me my freedom and caused enormous pain to my family. I will regret what I did for the rest of my life."
Black Belt Magazine September 1997