Some Hermitage School students spend their free time kicking, punching and stretching. They are learning karate. Bill Sanders, Hermitage Middle School social studies teacher, is also a Black Belt in Shotokan and is teaching karate classes to Hermitage students. Students from second grade through the twelfth are participating in the fast paced and grueling workouts.
Classes are held in the multi-purpose room at the school and are split into two sections. One class is second grade through fifth grade is held Mondays and Thursdays after school. The other is for sixth through twelfth grade and is Thursday nights from 7 to 9.
Sanders says, "A lot of people have a misconception about karate. They think it teaches violence, but actually teaches a philosophy of nonviolence. It is a way of protecting yourself from the violence that is so prevalent in the world today. He not only teaches self-defense, It also teaches discipline, endurance, coordination, balance and self-control. It develops respect for others, good character, confidence and improves self-esteem in serious students. Overall, it is an excellent way to stay in shape, both physically and mentally."
Sanders has been practicing martial arts since 1984 and has been teaching children since 1992. He is lifetime member of the World Black Belt Bureau, an active member of the American Bujinkan Dojo, certified personal trainer, and a certified specialist in martial arts conditioning.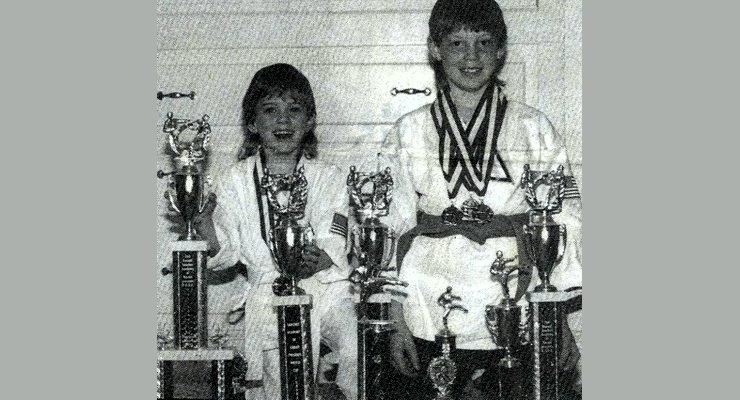 Sanders, who has trained kids for both fun and serious tournament competition, says he really likes working with kids. "It's amazing how fast they can learn something when they are really interested in it. And once they learn to do something that they couldn't do before, it's really neat to see the change in their self-confidence and self-esteem."
The students really seem to be enjoying the classes, Sanders says. Brandie Edris, a senior at Hermitage, says she "really likes the extra energy that you find that you have after each practice." Hermitage High School Junior Mary Tanner said, "You learn how to defend yourself and learn that fighting should be used only as a last resort. You become less inclined to fight because you know that you could really hurt someone." Abby Benedict, Hermitage freshman, summed it up this way, "You learn not to fight someone for stupid reasons. But at the same time, you also learn how to stick up for yourself if someone ever attacks you. It's also just plain fun!"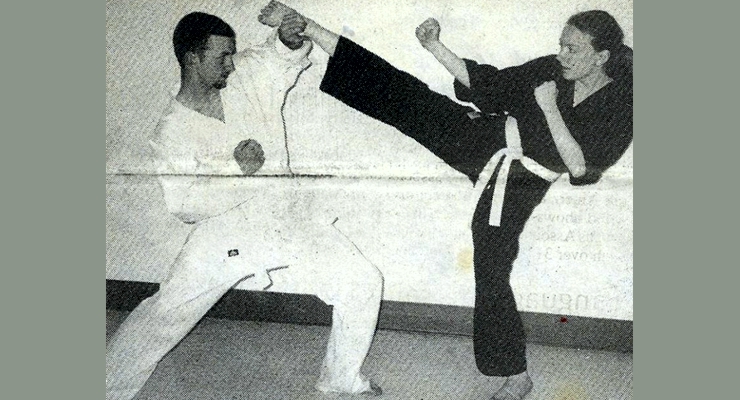 The students are not the only people at the school who are getting excited about karate. Sara Polk, Hermitage Elementary fourth grade teacher, says, "I think karate has been great for the students participating in the class. Those students involved have been the first to volunteer when others need help or to do odd jobs in the classroom. I have seen a definite improvement in their classroom behavior since they started participating in karate."
Ladonna Moore also teachers fourth grade and says she has "seen an improvement in behavior, and the students involved are showing more respect for their classmates."
The Hermitage karate classes have become so popular that Sanders is planning to start new classes. The new classes will be held at the Pomme de Tent Methodist Church at Carson's Corner and will begin Wednesday, April 7. A second grade through fifth grade class will be held Tuesdays and Wednesdays from 4:15 to 5:15. Sanders says he is also looking into the possibility of starting another class for older students if there is enough interest. Enrollment will be limited because of space. Anyone interested in enrolling children in one of these classes should contact Sanders at the Hermitage High School.
Originally published in 1998 in The Index, Hermitage Missouri.