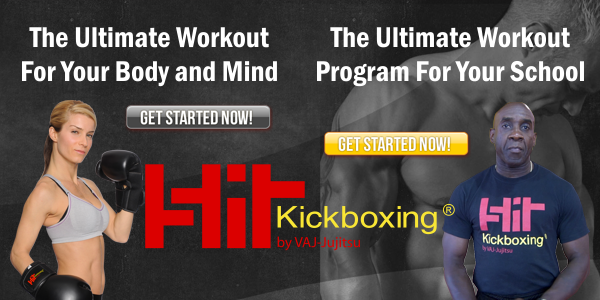 Prof. James' HIT Kickboxing® increases popularity and profits. This fitness program benefits your martial arts students and increases your student base and you can increase your martial arts school's popularity and profits without altering your martial art style!
Martial arts and fitness expert, Professor David James, has structured his HIT Kickboxing® fitness program to benefit all martial arts schools, regardless of the style they practice.
As protégé of the late Grandmaster Florendo Visitacion, Professor James developed his world-class martial arts skills, but didn't stop there. He continued and developed a structured fitness program. Over decades, he put together the very best techniques he could find and adapted his style of teaching to keep his students interested, engaged, challenged, dedicated and physically fit. Professor James viewed fitness as an integral part of personal protection. As time went on Professor James discovered that many people were interested in learning his fitness techniques, even if they didn't join in self defense classes.
So, in the 1980's, he began to run his fitness program as a separate class. Much more than just kickboxing, he made his classes highly diverse and effective and the classes grew and grew. People came for his techniques and diversity. They came for his motivation. They came to work. They came to get healthy. They came for the positive atmosphere he created. Everyone, no matter what fitness level, age, profession, gender or what beliefs they held, was treated as family. Everyone who came was equally challenged, motivated and engaged from couch potato to the pro athlete. In Professor Dave's classes the instructors don't just teach, they work out side by side with their students.
Based on his very popular structured fitness program, Professor James created the HIT Kickboxing® fitness program, a High Intensity Training program with the right balance of Kickboxing, Kettle Bells, Resistance Bands, and more that would not only bring quality prospective new students to a martial arts school, but ensure that they, and current students, would come back for more.
Professor James is determined that any school who participates would learn all that he knows, what works and what doesn't, and why. Professor James has a goal, to help martial arts schools grow and thrive. He developed the HIT Kickboxing® fitness program so that new students would benefit so highly from the program that they couldn't possibly quit. He also designed the program to give participating schools everything they need, manuals, start up music, accessibility to Professor and his staff, and more. He even makes sure to limit those who participate in the HIT Kickboxing® fitness program family so that member schools would not have to compete with each other, thus ensuring that the quality of the classes remained high and HIT schools would continue to be successful.
Today, the HIT Kickboxing® fitness program is growing. Martial arts school owners who participate no longer worry about drawing in new students to their school, because old and new students have the best place to get martial arts training and/or their fitness workout, regardless of fitness level, age, size or belief. From pro athletes to housewives, sports competitors to military personnel, they all benefit, and the HIT Kickboxing® family is not just a better way to grow your business or to get and stay in shape – it is a better way of life!
If you are a school owner and you would like more information about HIT Kickboxing® for Schools Owners contact Professor David James at 718-252-8944.