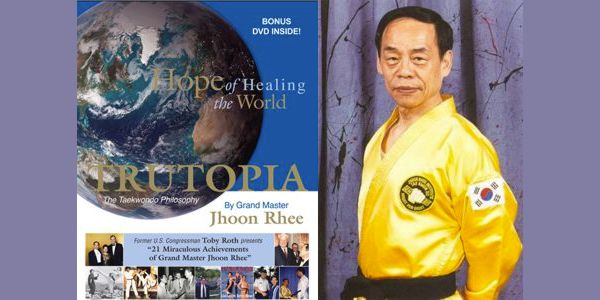 "We must strive to achieve human perfection. I define human perfection as a person who never knowingly makes a mistake. If we all live with one simple habit – never do the things we know we shouldn't; and always do the things we know we should – we all will be humanly perfect." Jhoon Rhee in Trutopia
Wham, the soft foam pad on your hand hits your opponent upside the head with a back fist, knocking him sideways, but not into oblivion. You can thank a man named Jhoon Rhee for the protective safety equipment you are wearing when you spar. At eighty years of age, only middle age by his standards, the inventor of the first martial arts safety gear, Jhoon Rhee, has recently embarked on another noble quest. He wants to return the simple values of honesty, discipline and respect to the world. He believes that not only is this possible, but that now is the time to begin moving the world in the right direction. He also believes that it is true martial artists who must forge the path for others to walk.
Luckily, it is Jhoon Rhee, a man of true quality, who is delivering the message and leading the way. The name Jhoon Rhee has always been synonymous with martial arts.
Jhoon Rhe is a man who has taught and trained with the best, the most legendary fighters of our time, and now he takes on a new battle… to improve the world!
Rhee's world-changing message was forged through his martial training, and he shares it with others through his teaching, training, speaking and writing. Specifically, he wants people to know that in life (as in martial arts) the goal is to become better, happier people. He explains that all change begins with the individual and it is individuals that must lead others by their example. Jhoon Rhee personifies his own advice, he practices what he preaches!
Known as the Father of American Tae Kwon Do, and credited with making safe, yet realistic training possible, Jhoon Rhee's work has positively affected millions. Beyond martial arts, he has been an official Ambassador for the U.S. to other countries. He has offered martial arts lessons to members of Congress in Washington D.C., allowing them to benefit from disciplined training. Scores of martial arts legends acknowledge that they have learned from Jhoon Rhee and that his best teaching tool has always been his fine example.
Following is an exclusive interview with the great Jhoon Rhee for LEGENDS AND LEGACIES on USAdojo.com.
(G) IS THERE A QUESTION YOU HAVE NEVER BEEN ASKED THAT YOU WOULD LIKE TO ANSWER?
(JR) [No] I don't know if I told you, but I have been interviewed many times and am willing to answer any questions you have. Once in the Soviet Union I was interviewed for eleven days, eighteen hours a day. I was conducting seminars and one day I had a fifteen hour question-and-answer session. I answered every question they asked.
(G) O.K. THEN, HOW ABOUT THIS? DO YOU CONSIDER TAE KWON DO A SPORT OR SELF DEFENSE TRAINING?
(JR) "No, neither, none of them. It's a philosophy. In my book, Trutopia, I say that the book is my tae kwon do philosophy. Publishing that book was a fifty year dream of mine."
(G) ARE YOU HAPPY WITH HOW TAE KWON DO HAS DEVELOPED IN THE U.S.?
(JR) "I could be happier. When I first came in 1956 and I said the words Tae Kwon Do, most people thought it was something on a Chinese menu. Considering that we now have put it in the Olympics … we have come a long way. However, the US TAE KWON DO FEDERATION and the KUKKIWON groups are their own organizations. Every group has its own rules and forms. Keeping separate, it's going to be hard to agree on anything. They really don't know my philosophy, yet. Now, my book is out and I'm hoping they will understand, soon."
(G) LET'S TALK ABOUT YOUR BOOK. IS THIS HOW YOU WOULD LIKE TO BE REMEMBERED?
(JR) "I'm eighty years old and this is the culmination of 50 years of martial arts. Me, everybody thought I was just a tae kwon do master, but I'd like to be remembered by the rest of humanity as someone who REALLY DID CHANGE OUR SOCIETY."
(G) IN WHAT WAY?
(JR) "In my book it says, 'our goal is to make this planet [a place] where everybody is happy with every breath of life and everybody lives like a millionaire, without work.'"
(G) AH! NICE. DO YOU THINK THAT PEOPLE WILL REMEMBER YOU THAT WAY? OR, HOW DO YOU THINK THAT WILL LIKELY REMEMBER YOU?
(JR) "Well, I am going to live another 50 or more years, 56 more years! I promised the public for the last forty years that I'm going to live to 146."
(G) I'M SHOOTING FOR 140 MYSELF.
(JR) "Well, good. The U.S. Congress just gave me an 80th birthday party. For that event I did 100 push-ups in a minute. I broke a board, stretched my leg and touched my chest on the floor."
(G) YOU ARE AN INSPIRATION!!! WHO WAS YOUR GREATEST INSPIRATION AS A MARTIAL ARTIST? WHO INSPIRED YOU THE MOST?
(JR) "I really believe in philosophy and I never learned the philosophy from my senior people. So, I really was never inspired by any martial artist."
(G) WHO THEN INSPIRED YOU?
(JR) "When I was taught U.S. History, when I was young, I really adored George Washington. I respect George Washington more than any other human being. He was a man who took his responsibilities seriously, but was humble. When he had the opportunity to be elected president for a third term, he denied the offer."
(G) IF YOU HAD A CHANCE TO GO BACK INTO HISTORY AND SIT DOWN WITH SOMEONE, WOULD GEORGE WASHINGTON BE THE PERSON YOU WOULD PICK?
(JR) "Yes, George Washington."
(G) IF YOU HAD THE CHANCE TO SPEAK TO HIM, WOULD THERE BE ANY QUESTION YOU MIGHT ASK HIM OR ANYTHING THAT YOU MIGHT LIKE TO THANK HIM FOR?
(JR) "I would like to thank him that when people were surrounding him and asking him to become king, he denied that [opportunity]. When he was almost forced to run for a third term, he denied that [opportunity] and, if he didn't do what he did, America would still be a primitive country. We would still be primitive, like 200 years ago, because there would be no freedom of speech, press, or religion. All these things are guaranteed now. If we didn't have these freedoms, people couldn't invent things. You know the reason that we have so many good things on this planet? It is because Americans did it. It's not that Americans are smarter, but they were given the freedom to think and express. So, everything good that we now have came from this country. I'm the only one saying this, on this planet, I'm afraid. I'm serious about it. You know, the American Founding Fathers did not create this country… [we are creating it, today]. You know over two hundred years ago, all of a sudden everything changed. Just one hundred years ago, if a Korean king wanted to send a message by messenger to the U.S., it took nine months. Today, we can do it in ten seconds."
(G) RIGHT, WE SEE A TSUNAMI IN JAPAN HAPPENING ON THE NEWS, AS IT HAPPENS.
(JR) "I was just saying to a friend that we are living in a world where, if Obama dies today, by tomorrow all six billion people will know. So, I am hoping that the message of my book will really ride this wave of communication and saturate the entire planet quickly."
(G) WELL, I HOPE IT DOES, TOO. I THINK IT'S AN IMPORTANT MESSAGE AND BASICALLY, IT IS WHY WE ARE DEDICATED TO THE LEGENDS AND LEGACIES SERIES.
(G) HOWEVER, LET'S GET BACK TO OUR INTERVIEW. DO YOU HAVE ANY ESSENTIAL TECHNIQUES OR IDEAS THAT YOU'D LIKE YOUR TAE KWON DO STUDENTS TO KNOW?
(JR) "My physical technique is just like anybody else's, but developed more closely to perfection by continuous training. I don't claim that I have any particular special technique other than I created the ACCU-PUNCH, which I taught Muhammed Ali. The Accu-punch is a punch with your body and mind as one. When you decide to punch, you've already punched. This creates a tremendous acceleration and increases the punching power. I've demonstrated my punching power, breaking three boards dangling. If you don't have really explosive punching speed, you will push (dangling boards) and they will not break. But, I always break them."
(G) WHO IS YOUR SUCCESSOR? IS THERE SOMEONE, A STUDENT WHO YOU ARE LEAVING ALL OR MOST OF YOUR KNOWLEDGE WITH?
(JR) "I have 56 more years to go. I have plenty of time to decide. I will see later who is the most ideal. That definitely should be someone in my family line. It doesn't have to be my bloodline, but it CAN be. It could be outside, could be a Caucasian."
(G) I KNOW THAT YOU'RE AN AMBASSADOR, A CREATOR, A TEACHER, AN INVENTOR, A BUSINESSMAN, A PHILOSOPHER AND MARTIAL ARTISTS, BUT HOW WOULD YOU SUM UP YOUR LIFE?
(JR) "As I said, I am more a philosopher than just Tae Kwon Do, and so I'd like to be remembered more as a person who mentally influenced, inspired a lot of people to change their course of life to be good. Do you know what is the definition of GOOD? It's not defined very clearly in history. What's good? What's evil? That's why, depending on the cases, laws are always changing. We must really clearly understand the definitions of Good and Evil. Unless you know what the Universal Common Purpose of Life, you cannot define them. So, in my TRUTOPIA book I say, the Universal Common Purpose of Life is happiness. Do you agree?"
(G) YES, ABSOLUTELY.
(JR) "Then, good values are those values contributing to happiness…that's a good value. Anything against good is evil. If I ask you, 'when do you find the happiest moment?' I'll answer for you, It's when you are in love. When you're in love you are the happiest person. So, love is the first Universal Value, a good value. Then, I ask, 'why do I love my wife?' Because, she's beautiful! So, beauty is the second value. There are two kinds of beauty. One is skin-beauty, one is heart beauty. We know that heart beauty counts more. How can you make your heart beautiful? Tell the truth! So, we can say, when I am truthful, my heart is beautiful. When my heart is beautiful, people love me. When people love me, I am happy. So, Truth, Beauty and Love—I call these, TBL—are three Universal Good Values. What are bad or evil values? The opposite. The opposite of truth is cheating. The opposite of beauty is ugliness, and the opposite of love is hate. So, when I'm cheating my heart becomes ugly. When my heart becomes ugly, everybody hates me. When everybody hates me, I am unhappy. So, I just defined Good and Evil for you. Helping everybody to be truthful, beautiful and loving that's how I want to be remembered. I want to be remembered as the person who worked on that philosophy. Do you follow me?"
(G) YES. DO YOU THINK ALL MARTIAL ARTISTS -—ESPECIALLY MARTIAL ARTS TEACHERS– SHOULD TAKE THIS TRUTOPIAN PLEDGE?
(JR) "Maybe all people should just read my book. In there I have seven qualities of a champion and twenty one miraculous events in my life. I say, 'We, the Martial Artists, citizens of the world, hereby declare the Lead by Example Action Philosophy to the world. We all know that a picture is worth a 1000 words, but we also must know that an action is worth a 1000 pictures. The Lead by Example Action Philosophy is designed to inspire all people to be more enlightened; to ensure effective children's education for family unity; and to promote cultural diversity for universal harmony. The Lead by Example Action Philosophy can be achieved through the Joy of Discipline—a mental and physical exercise program that can lead us to achieve 100 Years of Wisdom in a Body of 21 Years Young, the foundation for a happy global society. The Lead by Example Action Philosophy is a new social awakening campaign for a perfect global society in the Third Millennium. It is not a religion, but recognizes a Supreme Intelligence as the origin of life and happiness. People constantly move to avoid pain or to seek joy and comfort. Therefore, the universal purpose of life, unquestionably, is happiness. The ultimate value for happiness is Love; only Beauty triggers the love emotion; and only Truth beautifies the human heart."
(G) WHICH OF THESE STATEMENTS WOULD YOU SAY IS CLOSER TO THE TRUTH?
1) THAT YOU, JHOON RHEE, ARE A SPECIAL HUMAN BEING (THEREFORE YOU WILL BE ABLE TO LIVE TO 146 YEARS OLD)?
2) THAT YOU, JHOON RHEE, HAVE LEARNED SOME SPECIAL KNOWLEDGE THAT WILL HELP YOU ACHIEVE THIS MIRACULOUS GOAL
3) THAT ALL HUMAN BEINGS ARE SPECIAL, IN THAT WE ALL POSSESS THESE ABILITIES?
(JR) All human beings are destined to develop a divine human character, because we are children of God. We cannot resemble to his figure, because he doesn't have a figure, but the only thing we can resemble is his character. So we are of divine human character, if we follow the Truth, Beauty and Love formulae. At the beginning of human history, instead of adopting TBL they adopted a way of life with deception, ugliness and hatred. As a result we are living in a world full of problems. It's really incredible what a tough life we've been living. In America, our population is much more blessed than many others, but still we have so many problems. Just imagine the people in Africa and in China or other South Eastern countries, where their salaries are around $200 a month. Can you imagine, they are still better off than people living 250 years ago before governments based upon freedoms existed on this planet? I really feel that the True Beautiful God does not just want us to believe in Him, but desires our going to Heaven as perfecting our human character to be identical to the divine human character. When that happens, automatically a true Heaven on Earth can be realized. Truth, Beauty and Love will prevail in this society. Then, I think God will bless us with a plentiful energy, abundant energy. I think water will become our source of energy and I think some scientists have succeeded in experimenting with low temperature fusion. Nuclear fusion is a reality; it's a matter of time in one or two decades and it could be realized. When there is plenty of energy, all other problems can be solved. When we can live comfortably, we can live a divine human lifestyle."
(G) WHERE DID WE GO WRONG? WHY, DO YOU THINK, DID HUMANITY GO WRONG? WHY HAVE WE TAKEN THIS SIDE ROAD? IS HAVING OBSTACLES PART OF THE LEARNING PROCESS, PERHAPS?
(JR) "This is the one question that I used to ask when I complained to God 'Why did you make me suffer like this?' And, I am really successful compared to other people. Yet, I really feel that life is so tough. So, the reason is that when God created this near perfect Universe he created 99.99 percent perfect. He has given only.01 percent for us to perfect…to develop a perfect human character. That means, to develop our conscience to be perfect. God gave us the responsibility for human beings to take over so that once we achieve that, God wants to really bless us as the Co-Creator of the really perfect Kingdom of Heaven on Earth."
(G) COULD EVOLUTION BE PART OF THE PROCESS?
(JR) You know somebody must always sow the seed for a plant to grow. The growing period, they call it Evolution. When you sow the seed of corn into soil, somebody has to initiate that. Corn doesn't happen automatically. Then, Nature (of God), sunlight and rain and all combined together, it grows. That is Evolution. I don't think a monkey became a human being. That's the first answer we need to give to people [who are suffering] so that we don't condemn God. When you look at the Book of Job, many religions really neglected three areas. Book of Job, chapter one, verse one says that "there was a man on Earth, whose name was Job who was perfect." Obviously, perfection does not define all knowing [it's] character perfection. Can you see that? And, Jesus said 'you therefore must be perfect as the Heavenly Father is perfect.' That's Matthew, 5:48. That tells us that we can be humanly perfect, which means character perfection again."
(G) YOU SOUND LIKE YOU'VE ACTUALLY READ THE BIBLE.
(JR) "I used to teach the Bible. Then, you know Thy Kingdom come, thy will be done on Earth as it is in Heaven. He clearly said that the Kingdom should be realized on this Earth. Many religious leaders didn't really try to become humanly perfect. They just made a mediocre try and then gave up and justified giving up by saying that it is impossible to be perfect."
(GR) AND, THAT PRAYER YOU CITE ALSO BEGINS WITH THE WORDS, OUR FATHER NOT JUST MY FATHER.
(JR) That's right. So, many religions, not just Christians, but Jews and Islam have really given up hope. Instead of saying we can be perfect they say. 'we are all born sinners. You never can be perfect.' So, we're really condemned by the religious dogma to stop thinking that we can be perfect. Everybody thinks they just have to go to church and ask forgiveness. If that's the case, then Hell will be continuing. It seems being hopeless is really against God's will. Once and for all, somebody must dedicate themself to showing that [perfection and happiness] are possible.
The Wright Brothers were the only ones who thought it, described it and thought we could fly and that dream was realized. Albert Einstein's Theory of Relativity, people thought he was out of his mind in his time, but he became a history maker. How about Thomas Edison inventing the light bulb? He acknowledged the importance of his many failures before he succeeded. Somebody is always first to have the vision.
We have to honor that which tries to adopt a policy of hope, tries at least. If everyone just tried to be humanly perfect, can you imagine? We could eliminate our military because we will establish a trust among people. Why do we have a military? We lost our trust. We cannot trust our neighbor's country, so we build high walls. Then, we destroy each other because we fear that we might be occupied by another culture. That's not the solution. Do we need millions of police just to watch us, to keep us from cheating on what most of us believe is a simple truth? And, what is the Church doing? It tries to stop people from cheating. What does martial arts do? It tries to stop unfair people from attacking [or victimizing] others. So, we train to be prepared for physical attack. Then, there's lawyers and accountants, all these professions that don't produce anything. They're the ones that make more money than those who actually produce things. So, how unfair this world has become when I am sure that God's original idea of a perfect Kingdom is where everybody loves everybody else, where we can trust one another, where we don't destroy each other, so that we don't hurt each other. When we perform art we can really make each other happy. That's the one competition we need in this society: Who can make more people happy? That winner will be an artist. An accomplished artist can make people happier. In my book I wrote that we, should be striving to become a society of performing arts. Remember the John Adams quotation?"
(G) PLEASE REFRESH MY MEMORY.
(JR) "He said, 'Politics is divine science after all. I must study politics and war in order to give my children the liberty to study mathematics and philosophy. In turn, so that they can give their children the opportunity to study music, painting, dancing.' He predicted that the future of this nation was performing arts. Among[artists] there is one unique art. It is the human art of love. Do you have children?"
(G) YES, I DO, AND GRANDCHILDREN.
(JR) "The love between you and your wife is the ultimate love and the masterpiece of your love is your children."
(G) MY GRAND OPUS. WHAT ABOUT MY GRANDCHILDREN?
(JR) Well, that is your children's masterpiece in the performing art.
(G) TO cHANGE THE SUBJECT A LITTLE, DO YOU RECOMMEND ANY SPECIAL DIET?
(JR) Yes. It really is a shame that the human heart has been contaminated and everybody has become selfish and contaminateS the air, the water, soil, food. So, eating at a restaurant you have to be very careful. Unless I have to, I try to eat at home so I don't have to eat chemicals that are added to make [the food] taste better. I eat more vegetables and fruits. I eat very, very little meat, just enough to carry my proteins.
(G)DO YOU TAKE SUPPLEMENTS? VITAMINS OR EAT SPECIAL FOODS?
(JR) "I take Omega 3 and a multi-vitamin."
(G) DO YOU DRINK ALCOHOL?
(JR) "No, no, no alcohol. This is really one of the themes of my speech, 'Is drinking and smoking good for kids' When there are kids and parents in the audience they all say 'no.' Then I ask, Then is drinking and smoking good for parents?' Everybody says, 'no to this as well.' This is one of the reasons why our society is going so wrong. Parents are not leading by example. Teachers are not leading by example, political leaders, social leaders, religious leaders are not leading by example. They all talk beautifully, but they are not living the truth. As a result our society has become full of problem after problem."
(G) TELL US PLEASE, HOW OFTEN DO YOU PRACTICE?
(JR) Well, I live everyday Love.
(G) LIKE MANY MARTIAL ARTISTS, YOU BEGAN YOUR TRAINING AT A RELATIVELY YOUNG AGE. DO YOU FEEL THAT MARTIAL ARTS IS AN IMPORTANT OR ESSENTIAL FACTOR IN YOUR CURRENT PHILOSOPHY?
(JR) "Yes, if you see the Seven Qualities of a Champion that really woke me up about philosophy and this way of life. Think of it. We are living in a world of violence. Who can handle violence better than a martial artist? I think this is the reason why God gave this information to martial artists. Martial Artists must all be united together to really save the world. We're not going to depend on the politicians or religions or any other institutions. Martial arts is maybe the ONLY institution that emphasizes DISCIPLINE. I really feel that I started [things moving in the right direction] when I started teaching in Washington, DC in 1962. I tell all my students that they have to obey their parents cheerfully and have discipline to make good grades. The words disciple and discipline have the same root word. When you become a good disciple, you become disciplined and visa versa. When you are disciplined, you become good teachers."
(G) TO WHAT DEGREE WOULD YOU SAY THAT MARTIAL ARTS TRAINING HAS CONTRIBUTED TO YOUR CURRENT PHILOSOPHY?
(JR) "Until you have been enlightened and you live this lifestyle, so that no matter what you do you are living this lifestyle, that is the only way to be enlightened. You must live the truth to be enlightened, and not just learn the message. There are many PhDs who read many books, but they don't practice what they teach. They are not enlightened. God made the only way to be enlightened [and that] is to live in the truth."
(G) IS IT THE DIFFERENCE BETWEEN BEING A MARTIAL ARTIST AND BEING GOOD AT PUNCHING AND KICKING?
(JR) "If you are a good martial artist, you first of all have to be a good person and have compassion for other people. There are some people who really enjoy the pain of other people. Those kinds of people are really remote to becoming a good person. However, there are quite a few people who are very compassionate and they are good martial artists. Benny Urquidez is one of them. I listened to his Message in a Bottle. He talks about, pretty close to what I'm saying. 'Why am I here?' He didn't say, to be happy. He said, 'to understand.' He hasn't told us what we're supposed to be understanding.
(G) WELL, I HAVEN'T RELEASED THE WHOLE INTERVIEW YET. BENNY'S FULL INTERVIEW WILL BE RELEASED IN MY NEXT COLUMN FOR LEGENDS AND LEGACIES, ON WORLDWIDEDOJO.COM.
(G) HOW DO YOU FEEL ABOUT THE MMA?
(JR) "That's not an activity [that is] fit for a human being. That's beating up. To me that's a sign that the society we are living in is so cruel. I would never promote or endorse it. That's why I invented safety gear, to make sure that we don't injure one another while we are preparing to be able to defend ourselves. That's why I brought the musical form of martial arts to competition. Forty years ago I started [it] because I saw the future was in the artistic world."
(G) HOW DO YOU RANK BOXING, THEN?
(JR) "Again, that's a byproduct of the society we are living in. I don't think boxing, or any full contact martial arts is how we should relate to one another. I think that is the opposite of loving. I believe [these kinds of sports] will all disappear in the future. One day, we will have a martial art just to remind society how people used to live. Other than that, all the fighting arts will disappear. Soldiers will disappear. The policemen and lawyers will disappear. We need only one law: The Law of Human Conscience and Reason. On page 103 of my book I make it clear what truth is. Truth is conscientious common sense in agreement with nature and the laws of physics. That's the truth. Truth is nowhere but in each thing, and life itself, and is unchanging, ever lasting, within time and space. I go on to say that, 'Money can buy weight machines but not muscles. Money can buy people, but not true love or respect. Money can buy books, but not wisdom. Truth can give you all the above, money, respect and wisdom.'"
(G) AND, I GUESS MONEY CAN BUY YOU A BLACK BELT THESE DAYS. YOU HAVE SO MANY GREAT ANSWERS TO MY QUESTIONS. I WAS JUST WONDERING, HOW DO YOU FEEL ABOUT THE BELT RANKING SYSTEMS, KIDS GETTING BLACK BELTS WHEN THEY ARE FIVE YEARS OLD OR BECOMING A GRAND MASTER AT NINETEEN? DO YOU THINK THAT THERE IS SOME BETTER WAY, AS MARTIAL ARTISTS TO CONSIDER OUR RANKING SYSTEMS? SHOULD WE HAVE A SINGLE RANKING SYSTEM?
(JR) "There is no way. Everybody currently has a different organization, a different view. It's impossible to meet. That's why we MUST find common truth. All the differences came from dishonesty, focusing on making money. When honesty is restored, everything will be restored."
(G) I WAS PARTICULARLY IMPRESSED WITH YOUR SIMPLE SOLUTION TO MOST OF THE WORLDS ILLS: JUST TELL THE TRUTH. WOULD YOU SAY THAT IS A FAIR ANALYSIS OF THE BOOK?
(JR) "That's right. Not only is truth the core of success but truth is the core of happiness."
(G) CAN YOU TRANSLATE THIS MESSAGE INTO SOMETHING THAT MIGHT BE USEFUL TO MARTIAL ARTISTS, SPECIFICALLY?
(JR) "We are teaching the martial arts in my school and so I am trying to persuade all the martial arts schools to buy a box of the books and share this philosophy with their children and the parents. To translate this message to martial arts students, we made a song . . . When I am truthful, my heart is beautiful. When my heart is beautiful people love me. When people love me, I am happy. What is happiness? Happiness is the purpose of life for everyone."
(G) AFTER READING YOUR BOOK AND RECOMMENDING IT TO MANY PEOPLE, I NOW SAY THAT I AM A TRUTOPIAN. WE BOTH AGREE (YOU AND I)—AND I WANT TO THANK YOU FOR CONTRIBUTING TO ANOTHER BOOK THAT I WILL RELEASE SOON, THE FIVE PRINCIPLES OF EVERYTHING– THAT MARTIAL ARTISTS ARE THE PEOPLE WHO CAN LEAD THIS MOVEMENT. I CALL THE MESSAGE OF YOUR BOOK A TRUTOPIAN MESSAGE, WHICH I SUMMARIZE AS THE TRUTOPIAN PLEDGE….THAT ALL OUR ACTIONS SHOULD BE BASED ON TELLING THE TRUTH. DO YOU THINK THAT COMMON PEOPLE, POLITICIANS AND WORLD AND BUSINESS LEADERS WOULD BENEFIT BY TAKING SOME KIND OF TRUTOPIAN PLEDGE? IF SO, WHAT SHOULD BE IN THAT PLEDGE?
(JR) "People say that I am crazy, because I believe in Trutopia. I believe that a perfect world, here on Earth is very possible. I'm hoping that influential people will read our books and be inspired by the message."
(G) …OF CONFLICT AVOIDANCE RATHER THAN JUST CONFLICT RESOLUTION? SO, WHAT WILL OUR PLEDGE BE?
(JR) "I think the pledge is: When I am truthful, my heart is beautiful. When my heart is beautiful, everybody loves me. When every loves me, I am happy. That is a good pledge. So far, we've been telling people to be good . . . just to be good. Now I am saying, be good for your own happiness. There is much more motivation for people to apply truth to their actions."