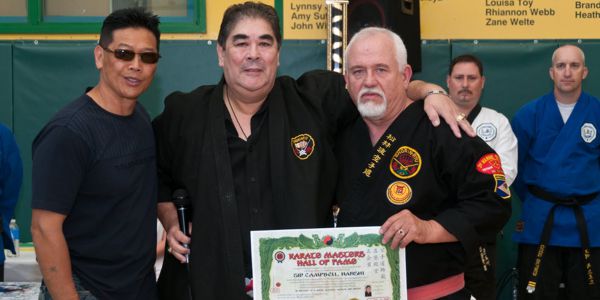 This is the original article written by Gary Lee on the Roast of Mark Gerry. If you wish to reprint or rewrite this version of the article contact Professor Gary Lee.
The Living Legends Celebrity Roast of Mark Gerry By Gary Lee
Super Star line up of Roasters for the Living Legends Celebrity Roast.
June 17, 2011 the martial arts event of the year!
Castro Valley Center of the Arts, Castro Valley, California
James Lew, movie star and legendary performer, Ernie Reyes Sr.,sixty four years young ,one of the legends of sport karate, Harry Mok, movie star ,director and actor, Nicole Gerry, Miss California, Sifu Mark Gerry, Kajukenbo legend, Cynthia Rothrock, Sport Martial arts icon and movie star, Frank Dux, inspriration for the movie"Bloodsport", Eric Lee, Living Legend and movie star, Professor Gary Lee, founder of the Museum of Sport Karate, Roast Master, Sonny Sison, Director and Movie Star. Art Com macho, Super Director of Steven Segal , Don Wilson and other stars of martial arts!
A extravaganza, a gathering of great martial artist on stage and in the audience to honor and roast a Kajukenbo animal name Mark Gerry, a friend of many martial artist and legends of martial arts and he is a very gracious host. We were all there to bring this Californian Fighter and world traveler to the stakes of life and roast him well done!, most on stage was not going to pull any punches, they were his best friends in the business of good old fashion real Karate presentation, some had gone to movie stardom, some were the directors of the movies you and I watch everyday but before we get to the roast, my readers ,students and friends have to know what went on in the background of this one of a kind event of super cool proportions and tales of sport karate history.
I arrived in Oakland California early Thursday morning and was picked up by Todd Dunphy, Hawaiian Braddah, who is a class champion , he would enter seven divisions at the Sid Campbell Memorial Event and win seven Gold Medals and Grand Champion of the event on Saturday.
Anyway, I arrived at Mark's house in the beautiful hills of Castro Valley and it is what I expected it to be, half beautiful home ,half martial arts museum ,awards ,rum cigars and Dojo, Kwoon , sword display, my favorite part of the house!
I settled in my little part of the Dojo area , it was cool ,next to sword room and I had wall to wall pictures of my friends and braddahs, yeah I had two beds too, lol . it was extremely cool, a few of Mark's friends were coming in to stay at the house, Cynthia Rothrock, Movie Star and Queen of Kata, Black Belt Hall of Fame, James Lew, Movie Star, Stuntman for many martial art movies, director, actor,History General, Art Commacho, Super Director for Don Wilson , Steven Segal, student of Eric lee, , Frank Dux, the man behind the movie Bloodsport and one of the Black Dragon Fighting Society youngest members, Sonny Sison, actor, director, stuntman, Eric Kovoleski, Tang Soo Do Karate Master and Dana Stamos, director and founder of www.usadojo.com.
Now it is Friday ,the day of the Roast and everyone is coming in, the house is going to be full in a few hours with lots of special people all here for Mark.
I went outside to look at the beautiful view of the valley to gather my thoughts of being the Roast master of this huge event and started to realize this is going to be one of the biggest we have ever done in California maybe the whole country ,Hawaii was big but I believe Mark's would be larger, anyway I am enjoying the view ,when a tall handsome man walked in and asked me where everybody was at?
I answered and realize he was a special guest of Mark's ,he was Frank Dux !, of the Movie Bloodsport fame ,he was not the star but the movie was based on his life as a Kumite fighter.
for three hours we talked about history, his fighting years, his relationships with the navy seals and covert forces, his great relationship with legendary Karate Master Victor Moore ,the Black Dragon Fighting Society, the controversy and every now and then I would throw in a story to confirm I knew the story accuracies or it was just hear-say though the years .
It was very enjoyable , he was articulate and very knowledgeable and we became instant friends and shared the next three days, morning, noon and late at night !
Old friends started arriving and I realized this was going to be a very special weekend.
When I saw my good time ,old friend and little brother Movie Director Art Commacho arrived, we hug but I thought about Star Bash in Las Vegas, he was finishing up Sci fi Fighter using the event as a backdrop for the end of the movie and it was a huge event , he had flown me in to help run the event and Master Ceremonies of the awards.
The Friday night of Star Bash, a huge thunder storm had shut down the freeway from Los Angelas and producers did want to start the tournament until the road was open, so here comes Art, he said "Gary ,you need to entertain the audience we have and keep them happy, help me pick out some players for a scene and go play with the white Tiger.
I said" I got the part about helping with the scene but what Tiger! . There was a huge 500 pound white tiger on the set and Art wanted me to entertain the crowd , I did , I'M CRAZY, every time I see my old friend, I think of the day he asked me to hug a 500 pound Tiger.
Next to arrive was Super stars James Lew and Cynthia Rothrock ,I say that very humbly only because We have known each other since the early days of Sport Karate competition in America .
James would be a awesome player ,with his Broadsword he would win after win and blow away the others performers, soon Hollywood picked him up and he has been in a knife fight with Jean Claude-Van Dam in "Time Cop" to being killed in" Lethal Weapon 4″ by Jet Li, truly a super star among martial art movies.
Cynthia is truly a living Legend among the Martial arts legends and was the Queen of Kata on the circuit , she is a exceptional actor and very talented martial artist, however when I was hugging her and paying my respect , I had a flashback to 1982 , Top Ten Nationals Stockton , California, there was about twenty of us in weapons that day and here comes Cynthia with her double -hook swords whip's us all and that was her very first Grand Championship with many more to come and of course the China O'brien movies shooting her to fame and fortune!.Taking third place to her that day was humbling and I had a saying I have carried with me and share with all my Black Belts "You are not a real man until you get beat by a lady in Kata",lol
Also with them was a young man of Tang Soo Do Korean Karate , Eric Kovoleski ,He was part of Miss Rothrock's history for his father was her first instructor in Pennsylvania. well mannered and very helpful in help setting up the event.
He also gave each one of us Roasters a Tang Soo Do Korean Certificate of appreciation , my first Korean document .
Now it is Friday afternoon and we are all getting ready ,Fitness guru and one of Ernie Reyes Black Belts Tracie Soder gave me a ride to the event ,later she performed her routine flawlessly .
I arrived early to set up the Museum of Sport Karate Display and booth because of less stress when everything is organized, also I can concentrate on greeting the guest as they arrived ,
I believe that is what makes these Roasts so great is that it brings everyone together and respect is the key to a great event great men and working Living legends come together to share,
men and ladies liked Ming Lum , Al Novak , Bob Chaney, George Baker, Jamie Cashion, Jimmy Willis, Dan Tosh, Robin Taberna, Robert Parham, Bob Machimeir, Mark Stoner, Dana Stamos , Janis Taberna and so many others .
The show started out with Mark, dressed like Elvis singing Your Cheating Heart, he is a pretty good singer and showed his talent with this great opening ,then one by one the special guest were announced and Roasters ,Miss California , Nicole Gerry , Sonny Sison, Harry Mok, Frank Dux, Ernie Reyes, Art Commacho, James Lew, Eric Lee, Cynthia Rothrock, a super star line up ready to roast Mark over the coals .
The Master of Ceremonies Jeff Applebaum, a professional comedian was a class act to entertain and introduce the opening parts of the show before the roast and a show it was !
Tracie Soder opens the performers with a beautiful routine, then the Long Beach International Team perform spectacular feats of martial arts beauty and technique .Then the flawless performance of Todd Dunphy.The Ernie Reyes Demo team have been around for forty years but this performance with the drums, Karate, creative style of the majestic Ernie Reyes and his vast knowledge of perfect performance gave this old timer goosebumps and thrill moments that I will never forget, it was a perfect performance! ,Five Stars*****
The thrill ride had not stopped just getting better and more spectacular!!
Some display of Ball Room Dancing featuring Lisette Pereile and Julian Ramil, a very impressive Tango was demonstrated by these two, then Mark Came out with the beautiful Musette and performed a beautiful display of elegant dancing
Then Hall of Fame Awards were given out and a short intermission .
Jeff Applebaum had done a great job and added much class to a event that has been tested eighteen times before, now it was time for the Roast Master , yours truly and I knew this was going to be a roller coaster of remarks and feelings because we all were close friends for thirty maybe some of us forty years , we all started in sport karate competition ,then the commercials, television, movies and media came and we became each, a stronger person in the arts to represent you, me and everyone who loves Karate , we were still family , we were still together after all these years, that was the theme and I made it clear that the Ohana and Aloha spirit was in the standing room only theater of Castro Valley , that Janis and Robin Taberna , Mark Gerry ,Eric Lee, and myself had done a amazing moment ,not only have a star studded audience with the likes of Ming Lum , Al Novak, Dr. Dan Tosh, Jamie Cashion, Bob Chaney and George Baker, but the lineup of Roasters was to good to be true to have seen the friend on friend comedy live was a joy I will never forget. The fantastic lineup of Roasters I had to introduce each one with my little remarks, all in fun of course .
Nicole Gerry , Sonny Sison, Harry Mok was hilarious with his roasting of Mark, Fran Dux had him handcuffed by the local sheriff, Ernie Reyes, Art Com macho ,the great director made a classic film of his life ,James Lew, Eric Lee made him take off his shirt to show everybody his muscles and they all though dollars bills at his feet , funny stuff !!
Then it was Miss Rothrock's turn and she roasted Mark pretty good considering they were a item a few years ago , it was in fact very classy and well done ,as far as the rebuttal from Mark "R" rated , just kidding Mark Gerry is a classy guy and he had just been roasted by the cream of the crop in martial art movies and also they are all his close friends so he kind but brutal ,gentle yet ,to the point!!
As we closed I presented Mark a Tsunami Hoi-ryu Musashi Sword , live and battle ready from Samurai Supply and also took time to invite everyone to the Sid Campbell Memorial Event the next day sponsored by the Golden State Karate Association
After the Roast, I was the last one to leave ,everybody else had left already to the party. I was sitting outside the Center when My new friend Frank Dux walked around the corner and said "everybody left us! "
When we finally got to the after -party at Marks house it was around three am when I finally laid down to start another day to celebrate my friend's life on the earth, Sid Campbell had made a big impact on my life , my son's and everyone here.
Seven am came to early but Dana Stamos and Eric Kovoleski help me get coffee down me, help set up and my booth. It was beautiful with prints and memorabilia, T-shirts and other goodies from the Museum of sport karate.
When the tournament started they ask me to say something about Sid and what he meant to me and my son. I did have a presentation to give to Dr. Dan Tosh and induct him into the Karate Masters Hall of Fame as a Board Member , so I added a little flare, with permission from Hanshi Andrew Linick , the founder of the KMHOF in 1972. We inducted Sid Camp bell's spirit into the Karate Masters Hall of Fame and I presented the certificates to the three best friends Sid had and were holding his hand when he left this earth to go to the Dojo in the sky.
My dear friend and braddah Harry Mok and I gave Grand Master Dan Tosh , Grand Master Eric Lee and Grand Master Mark Gerry Sid's Campbell's Karate Masters Hall of Fame Certificate.
A great weekend , a great roast , a great tournament, a great gathering of friends, as I said earlier after all these years , were still together!!