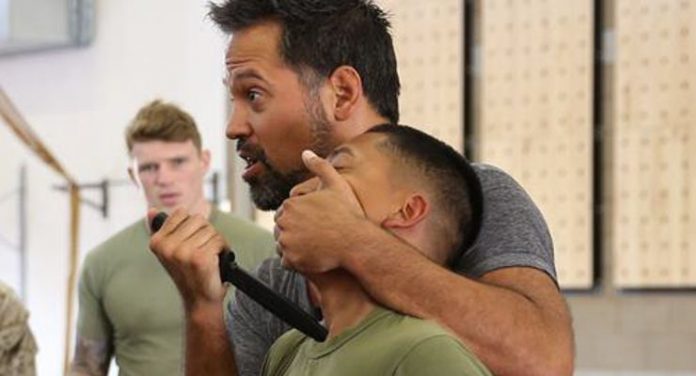 Nicholas Moreno has over 25 years of martial arts experience . He specializes in the development and instruction of curricula with an emphasis on defensive and control tactics, weapon of opportunity, military combative blade, and joint locks and manipulation.
He is currently Director of Defense and Arrest Tactics for Naples Security Solutions in Naples, Florida. These custom training modalities are in high demand by law enforcement officers, military operators, private security providers, and civilians who want to learn a system that utilizes gross motor skills which are applicable in a variety of real world situations.
Prior to his relocating from San Diego to Naples, Nicholas Moreno taught active duty military personnel at Camp Pendleton as a subject matter expert. He contributed over 1,600 hours of instruction to the Martial Arts Instructor (MAI) programs. During his tenure in California, Nicholas trained many elements of the military and law enforcement community including Marines, MARSOC, ATF, US Marshals, Navy SEAL SQT/Dev Gru, and NSW-ATC combatives staff.
This video came from the official website of the United States Martial Corps.
Nicholas Moreno was promoted to Master Instructor/Lineage Holder in Military Combative Blade in October of 2014 at WFTBN Edson Range (Weapons Field Training Battalion) Camp Pendleton by Ex SPF Green Beret, Grandmaster Harry Greene. In November of that same year, Sensei Moreno and Grandmaster Greene were invited to the Marine Corps Ball, where they were honored for their contributions and commitment to active duty service personnel.
As Director of Defensive and Control Tactics for Naples Security Solutions, Moreno brings a wealth of experience and numerous credentials to the service of his clients. Nicholas has held a 2nd degree Black Belt in Kempo since 1999, and has also been an avid practitioner and student under Rickson Gracie Black Belt, Luiz Claudio, of LCCT Combat Team since 1998.