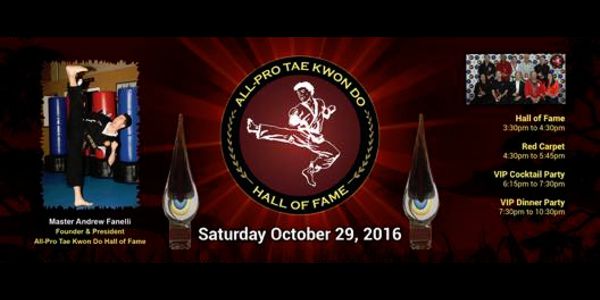 This October 29 and 30, 2016 we were blessed to attend Andrew Fanelli's All-Pro Tae Kwon Do Hall of Fame in Las Gatos, California and it was truly a precious time. It certainly was about the amazing people that were being inducted, but it was even more about "ohana".
In the Hawaiian culture, "ohana" means family and the martial arts community is truly a family. We are bound together by our love for the arts and, as shown this weekend, by our love for one another.
Ohana began for me when I arrived at the airport on Friday and George Mignosa, Andrews' student, took his time to pick me up. What a servant's heart he has. Thank you, George. He dropped me off at the Los Gatos Lodge and as soon as I arrived I was scooped up by friends, Samuel Kwok, and Gary Amen with his student, Penny, my new friend. We drove to Andrew's dojang where we helped set up for the big event. Anyone who knows me knows that this is my favorite part of any event. I like to help. It is what makes me feel a true part of what's happening.
Soon after we were finished, Grand Master Burleson and Jamie Cashion arrived at the dojang and kidnapped me and took me to lunch. We had a lovely time of catching up on all the important things that were happening in our lives. I love GM Burleson and Jamie. They have given me some wonderful memories from events in Texas and their friendships mean the world to me.
I returned to the Las Gatos Lodge to meet my friend Denice Challendar-Slater who was driving in from Reno, Nevada to be my "roomie". If you haven't been to the Los Gatos Lodge before, it has a special warmth and charm. Our room had a wonderful little patio and Denice surprised me by bringing everything we needed to make jewelry. We spent the early evening sitting on the covered patio, the gentle rain falling just beyond where we sat, talking and laughing about martial arts, children, and life, while we added beads to the friendship necklaces we would wear later that night when we went to eat a delicious Italian dinner.
On Saturday morning we had a nice breakfast with all those who had already arrived and helped the new arrivals get their luggage to their rooms. We then spent a few hours with Mel Novak talking about all things scriptural. Any of you who know Mel, know he is a wealth of knowledge.
Around lunch we went back to our room to get ready for the rest of the day's and evening's events, and I was so blessed to have Denice there to help me. She is dynamically beautiful and she can fix about any flaw one has, thank God.
Wearing our evening dresses, Denice and I went to the lobby to catch the limo. So many people were there and it was exciting. We were all talking and enjoying our time together and we forgot about the limo. The driver was very patient, but Denice and I decided to take her car to make more room in the limo. We arrived at the dojang and it looked immaculate, everything in its place and was indicative of how well run this event is. We continued to socialize as the limo dropped people off and I was able to help by handing out the name lanyards to inductees as they arrived. Even these were mementos. The inductee's names were written on the mini-poster which included everyone's photo.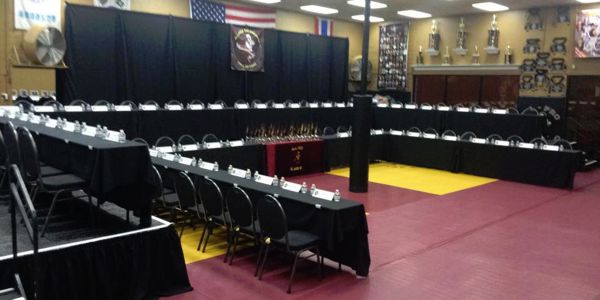 The event started almost on time and what an incredible event it was. Each inductee had a few minutes to share after receiving their award. Having so many incredible people with such profound histories in the martial arts, you can imagine the encouragement, the accolades, the respects, and the hilarious stories that were shared. At times I had a hard time holding back tears and at other times I laughed so hard I was thankful for that stretchy material in my dress. By the time it was my time to share, I couldn't hold back my tears. I love the martial arts and the men and women who dedicate their lives to sharing their knowledge and using that knowledge to change lives. I am so thankful to be just a little piece of what these people do and I hope that came across in what I shared.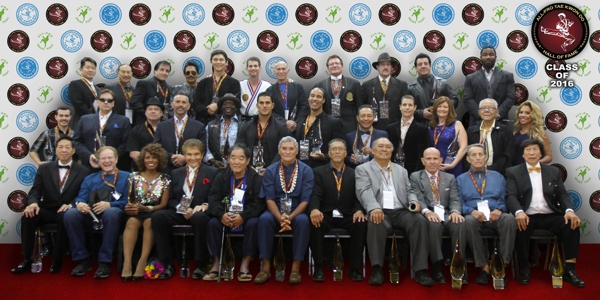 After all was said and done we had received our lovely awards, we had spent time socializing and now it was picture time. Everyone was taking photos and it truly was a free for all. Stace Sanchez was there to give us professional memories, taking group and individual photos for Andrew. Andrew is so busy during the event that this is his opportunity to get photos with each of us and, because Stace is such a professional photographer, this went quickly.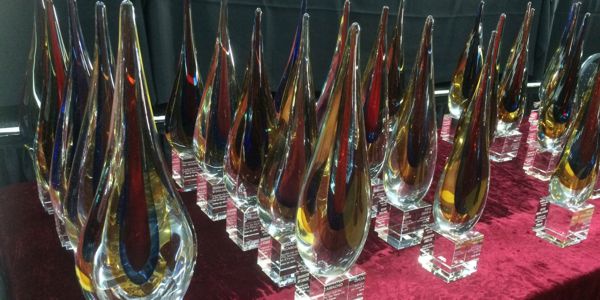 The next big highlight of the event was the multi-course meal we had. The food was fantastic, all kinds of salads and pastas, antipasto, calamari and delicious salmon. Worse than all that was the desserts. Delicious! Another reason I was thankful for my stretchy dress : ). It could not have been better fare. Even better than the food, however, was the fellowship. We took up most of the restaurant with table after table of really happy martial artists.
We all know that eating together is the fondest time for families and this was no different. We talked and laughed and cried over our food. We switched tables and took photos and ate and ate and ate and ate and ate. I could not stop smiling and there were a few tears when I was able to share my heart with friends. Even when we arrived back at the lodge, we could not break apart and we continued to spend time together well into the night at the lodge bar and grill.
I was sad that I had to leave in the morning, because all day long there were seminars by some of the best martial artists in the world. I sat on the plane thinking about what had transpired and I smiled to myself. This is what martial arts is all about. We are a family, bound together by the arts. We have our differences, but they didn't show up at this event. Instead it was about our similarities, about love and laughter, about camaraderie and cooperation, and it was about remembering one another with respect and honor. Really, it was about "ohana".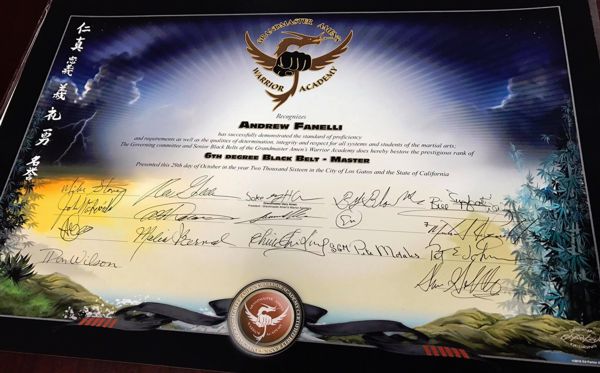 One of the highlights of the evening at the All-Pro Tae Kwon Do Hall of Fame was Andrew Fanelli's rank promotion to 6th degree Black Belt. His certificate was signed by GM Samuel Kwok, GM Billy Blanks, GM Mike Stone, GM Chiu Chi Ling, GM Gary Amen, GM Don Wilson, GM Art Camacho, GM Malia Bernal, GM Al Dacascos, GM Michael DePasquale Jr, GM Alan Goldberg, Dr. Robert Goldman, GM Pat Johnson, GM James Lew, GM Pete Morales, Master Michael Jai White, GM John Natividad, GM Fumio Demura.
Andrew also gave out three special awards.

The 2016 Special Awards:
Grand Master Harry Mok – Grand Master of the Year
Master Hank Minitrez – Master of the Year
Stace Sanchez – Outstanding Martial Arts Photographer
The 2016 Inductees included:
Grandmaster Billy Blanks
Grandmaster Pat Burleson
Grandmaster Art Camacho
Master Jamie Cashion
Grandmaster Chi-Ling Chiu
Grandmaster Al Dacascos
Grandmaster Fumio Demura
Grandmaster Michael DePasquale Jr.
Grandmaster Frank Dux
Actor Hank Garrett
Grandmaster Alan Goldberg
Dr. Robert Goldman
Master Harry Greene
Martial Artist and Actor Olivier Gruner
Grandmaster Craig Heimbichner
Hollywood Legend Gloria Hendry
Grandmaster Pat Johnson
Muay Thai Champion Lisa King
Grandmaster Samuel Kwok
Master Jeff Langton
Anthony Magallanes Jr.
Grandmaster Eddie Mapula
Grandmaster James Lew
Grandmaster John Natividad
Hollywood Legend Mel Novak
Grandmaster Simon Rhee
Master Silvio Simac
Martial Arts Entrepreneur Dana Stamos
Grand Master Mike Stone
Master TJ Storm
Master Michael Jai White
Grandmaster Don Wilson
Grandmaster Bill Wallace
Master Chuck Zito
The 2016 VIP Guests Included:
Grandmaster Gary Amen
Grandmaster Hari Osias Catolos Banaag
Master Steven A. Barbieri
Grandmaster Barry Broughton
Grandmaster Malia Bernal
Kwan Jang Nim Denice Challender-Slater
Seaton Chang
Master Humberto David de Jesus
Master Bob Gomez
Master Mark Hoadley
Grandmaster Dave Johnson
Allen Joe
Grandmaster Eric Lee
Jasmine Magallanes
Monique Magallanes
Guro-Prof Glenn Fajardo Mariano
Grandmaster Pete Morales
Grandmaster Harry Mok
Master Robert Raney
Master Rick St. Clair
Bohdi Sanders
Master David Shepherd
Dr. Marc Stoner
Master Sonny Syonesa
Grandmaster Dan Tosh
Shelley Davenport Tosh
Guro Rocky Twitchell
Andrew Fanelli made a limited addition supply of 50 copies of the 2016 All-Pro Tae Kwon Do Hall of Fame event on DVD. If you would like more information to purchase a copy private message Master Andrew Fanelli on Facebook. Copies are going fast and it is first come, first serve.