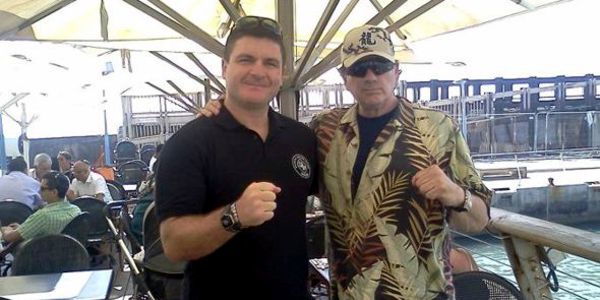 Roman Bronstein, is an Israeli Combat Art fighting legend in and out of the kumite arena
In Israel, in May 2012, probably the foremost authority on KAPAP, as officially recognized by the Wingate Institute, Moshe Galisko, arranged a meeting between myself an Israeli icon and hero in the martial arts, a Jewish immigrant from the former Soviet Union, Roman Bronstein.
Seated with my nephew, (who was on leave from the army), in a seaside Tel Aviv café, I had an opportunity to meet and interview Roman for Legend and Legacies on WorldWideDojo.com. When he walked up, he was so large that he appeared to block out the sun. He handed me a gift of a cap and shirt from his elite Israeli Security Forces unit and I thanked him. We quickly formed a kinship and my nephew made a humorous issue out of this, asking if we secretly knew each other given my former life, a life that often opened doors to me that are closed to others. I believe it opened the door for this interview with Roman and allowed for this conversation that would reveal why Roman is an enigma, a multi-faceted jewel, in the martial art world. He is respected and continues to inspires those who really live the martial way as professional warriors or competitive fighters, and particular those who are both – like Roman Bronstein.
Roman Bronstein is appreciated for his experimentation, perfection and institution of the kinds of martial art technique that allows both individuals in a conflict to return home to family.
During our short talk, Roman related to me how he had a late start in his martial arts career. He was forced to wait until he was 16 years of age with the beginning of Perestroika, (when the prohibition to learn karate was finally removed), before he could begin studying the arts. Roman leaning in saying, "Before 1987 the only way to learn martial arts was mainly by watching the movies of Bruce Lee that I learned this way, but I wanted to do more and more, and something real. The moment that really attracted me into that world was the movie "Bloodsport." I watched it for the first time in 1988, it changed me and gave me my perspective for many years in the future."
Immediately after enrolling in his Shoto-kan karate class, Roman Bronstein made quite a name for himself. He was a very competitive person and he took part in as many martial art competitions as possible. At that time it was the WUKO organization, the prototype of modern WKF rules for sportive karate.
But as a profession, Roman set his sites on dentistry. He was accepted to Medical University in the city of Saint Petersburg (Leningrad). The same year his parents decided to immigrate to Israel. His father had dreamed of immigrating since he was 19 years old. The same age as Roman was at the time the family immigrated to Israel, June 10th 1990.
Moving to Israel helped forge Roman Bronstein into the karate champion he became. It was a very difficult period in his life and it forged his relentless spirit. Starting over, changing habits, learning a new language and, of course, wanting to continue practicing martial arts and to become a top competitor proved to be his springboard to greatness.
Before I eve met Roman Bronstein, I had already formed my opinion about him. He had to be good because the first martial art club he was directed to in Israel and "survived" was the legendary "Survival" karate club belonging to Dennis Hanover. Dennis is another Israeli living legend. Dennis, a fellow Full-Contact Kumite Champion is best known for producing men who stand out amongst men; real fighters in every sense of the word, like Roman Bronstein.
Walking into a club as a fairly young man with no friends really made back then what happened?
Roman: There I started training "Survival Style," and for the first time in my life I was exposed to new martial arts like Judo, Jujitsu, Self Defense, and Kyukoshin karate. Dennis is a great man and he used to call me "Ruski," I am a man of big dimensions and this fit me exactly, as the "Russian type" in Israel. I was training there for more than one year, but something was missing. I am a very competitive person and one competition a year wasn't enough. I desired more challenges, but there I couldn't get them. I discovered that I have excellent capabilities in learning languages, I learned Hebrew very quickly and after half year I was accepted in a very prestigious preparation course in Wingate Institute (Physical Education College) and began my study to get a higher education. I studied for first degree B.ED between years 1991-1995. I graduated as Bachelor of Physical Education. After, I realized that in order to complete my challenge in competition, I would have to make an important decision. In Dennis's club I was good in both disciplines: Judo and Karate, so I made my decision and went to karate."
Frank: Why karate when given your size and strength you seem to be more built for judo?
Roman: "As a student I was scheduled for competition first one in Judo, the day after Karate. In judo competition my opponents refused to fight against me, in second day I won karate competition, after that the decision has been made and, as I said, I went on training in karate."
Frank: So in 1993, you were accepted to National Karate Team of Israel after having won the Israeli National Championship.
Roman: "After that I won at least 10 years consequently and 5 times in a row I took double (two categories open and 80+ Kilo)."
Frank: Take us back, what was your first International win?
Roman: "My first European Championship was 1993 in Hungary. I took part as a member of national team and as we say, with the luck of rookie, I took second place in category over 80 kilograms. Since then I took at least 3 times fifth place and all those times I lost on edge of the point. Israel doesn't support non Olympic Disciplines and with more support I could have brought home more medals for Israel."
Frank: What about your military service how did that play a role in your development as a fighter?
Roman: I was enlisted to IDF for two years of service in 1995-1997. I was a fighter in Green Berets, in addition I was Krav Maga and Combat Fitness instructor. In 1997 I started working as a Leader officer of Security force, Municipality of City Of Bnei-Brak. Bnei Brak is very difficult city because a very tough population lives there (Ultra- Orthodox's population). During my duty I was discovered by the leader of the National S.W.A.T. Team, which was impressed by my skills. With his help I was enlisted by Israeli Police and served for five years as a fighter. During my service in S.W.A.T., I took part in Maccabiah Games and won two gold medals. After that I took a break for 4 years to be focused on service in the unit.
I returned to national team in 2005 because a national coach asked me to return for Maccabiah' Games. I took 2 gold medals in personal categories, but we lost as a team, and for me it was personal failure and this made me decided to go on till next Maccabiah Games in 2009. In 2009 I returned the title to Israel, took my category, and retired forever from the national team.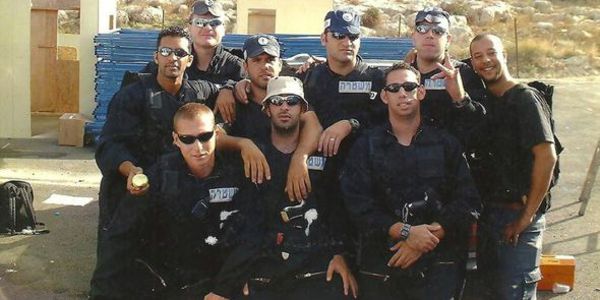 In 2006 I finished five years in the (S.W.A.T.) unit and moved on to be Police Instructor at Border Police Training Camp.
Frank: And what happened then?
Roman: In that time we established the Crowd Management and Civilian Disobedience Branch and I took dominative part in establishing it. Later the branch became Motherland Security Branch and divided by two trends: Crowd Management and Counter Terrorism. I took a part in developing and upgrading all techniques, tactics, and strategies.
Frank: Is that when you developed your own System, correct me if I am wrong, the U.D.S Israeli Universal Detention System for Law Enforcement? You have some pretty impressive delegations swearing by it… The (unit name withheld) National Republic of China?
Roman: Ohhhh I see you've done your homework, you are The Secret Man… Yes, since the secret is out, many delegations have come for training and practicing at training camp from China, Taiwan, India, Thailand.
Frank: What can you tell us on the record about U.D.S?
Roman: The Operational Concept of U.D.S is based on combination of appropriate techniques adjusted to specific detention tasks and the physical dimension of police officers. That is all I can say at this time. One must experience it and take part to grasp it more fully.
Frank: And that is an understatement if I ever heard one, Roman. What I want my readers to be mindful of is that in Israel the security forces face many unique, and what would appear to be impossible to mange, challenges, and U.D.S. is recognized for meeting those challenges. Otherwise, in my mind, the Chinese forces would not be looking outside there own country, which is considered the cradle of martial arts, for martial art solutions to social unrest, in preparation for the Olympics. They would not be sending their people to you to be trained. And while you are managing these time demanding, energy intensive programs, you still find time for your family and to train and compete? What about 2006, isn't that when you went to take part in the World Karate Championship in Japan?
Roman: I took third place. I was invited to take a part in special project "Shogun Karate Team" and from that moment the project was a complete success and the team has dominated for 7 years in the local area and achieved honorable achievements in international areas too. Currently a new generation of fighters is about to overtake the local area.
Frank: So we can be more clear about this, how many years have you been studying martial arts, and what arts have you studied?
Roman: I started my training in 1986, and I've studied Karate Gojo-Ryo, Shotokan, Shito-Ryo, Survival, Wrestling, KAPAP, KAMAM, Krav Maga, and Jiu-Jitsu.
Frank: What is your current focus?
Roman: My main focus was, and has always been, real self-defense on the street. This is why I studied a number of martial arts, and then I just chose the relevant techniques from each art for U.D.S.
Frank: Karate strikes?
Roman: So that I could throw all my punches and kicks with authority and that taught me good fundamental skill;
Frank: Survival and Wrestling?
Roman: Taught me how to grapple;
Frank: KAPAP, KAMAM, Krav Maga?
Roman: Taught me Self-Defense, fundamental for U.D.S.
Frank: And the first formal martial art I studied?
JIUJIISU! (LOL) Taught me the locking, throwing and choking skills. I have always tried to turn my weaknesses into strengths!
Frank: So your focus remains the same really, …self defense?
Roman: Yes …my training really helped me in some nasty situations, when I worked as an armed security lead officer, bodyguard, nightclub doorman, and as S.W.A.T.'s fighter.
Frank: Now here comes the tough question, aside from the movies you spoke of, Enter The Dragon and Blood Sport inspiring you, which of your instructors have had the greatest influences on you?
Roman: Grandmaster Dennis Hanover, Supreme Grandmaster Moshe Galisko, Sensei Rony Akirov, Sensei Gideon Shwabe, the Manager and Boss of Shogun Karate Team, good friend of mine, Maor Amnon, who is a developer of KAMAM (Krav Maga Maor). I took from them the best I could and adjusted it for myself, to be a good person, to respect one another, and not to do (things) you don't want done to you. Your Story Hanshi Frank Dux really excited and inspired me and I am proud of to be interviewed by you. Thank you Hanshi.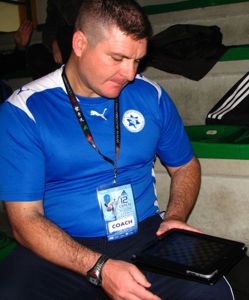 Frank: No, thank you! Which of your martial arts achievement are you most proud of?
Roman: I'm proud to have achieved a good status in WKF Karate Coaching because I created continuous generation, and of course the bronze medal in World Championship in Japan 2006.
Frank: What are the greatest lessons you have learned from the martial arts?
Roman: I think the hardest thing to learn is how to take over yourself in a fight situation, and this is something that the karate competitions really taught me, because, the reality is, that the opponent is trying to beat you out, so it takes a lot of guts to get in that Tatami to fight.
Frank: What can you tell us about your personal life?
Roman: I've been married since 2001 and my wife's name is Nina. We have 3 sons in our family: Yonatan 9 years old, Tamir 5 years old and Sagie is 2 years old. Yonatan and Tamir have practice Judo since 4 years old, Yonatan is undisputed champ of his club and next year he is about to take part in National Championship. Sagie it seems will start in age of 3 because I think he was born for Judo.
Frank: Now for a  hard question. What is your view on the current state of martial arts in Israel, and in the world?
Roman: I think that things are good here in the Middle East, especially when it comes to MMA competition.  Especially as the MMA competitions have had a new lease on life here, this is great. I continue to train my team and it is really great because a new generation of fighters is on the way up to dominate. In addition, it doesn't matter what country you live in around the world, the way to make a success out of tournaments and the martial arts, is unity, and if we all can put politics aside and work together in harmony, it means that every tournament or training workshop/seminar will be a real success, and everyone will grow.
Frank: I agree, we call that the Principle of Mutual Benefit in martial arts. So what is your opinion of combat sports?
Roman: Well, after having over 20 years in the combat sports arena, I really must say that I am a fan of it all, ok!
Frank: If you could put a message in a bottle and let it drift across the world for other martial artists to read, what would that message be?
Roman: No one art has all the answers when it comes to real self defense for the street, so keep your mind open to other styles and techniques! Take care, stay safe and healthy! God bless, thank you again Hanshi Dux.