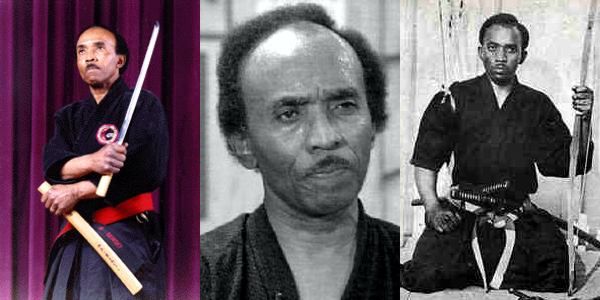 Ron Duncan was born in Panama and passed away in 2012. He began his training in boxing at the age of seven. He grew up in an area where many of the elite military forces of Panama were training in jungle warfare and he learned from an early age to read the signs of nature for directions in and out of the jungle. This was the beginning of a long career in many aspects of the martial arts. Ronald Duncan went on to serve in the United States Marine Corp as a member of the USMC Judo team and earned one of his earliest black belt rankings. He also earned a black belt in several other arts, Hakko Ryu Jujitsu, Dai-nippon Jujitsu Ryu, Sosuishi Ryu, Kin Dai Gakko Ryu, Aikido, Aiki-Jujitsu, Kempo, Kobujitsu, and Shinobino-jitsu, otherwise known as Ninjitsu. His teachers were Charlie Neal, Ernie Cates, Tatsuo Uzaki, and Don Draeger.
Professor Ronald Duncan became the first non-oriental to be publicly recognized in "Official Karate" magazine as a master of martial arts weaponry. For many years, Professor Ronald Duncan thrilled audiences around the world with spectacular demonstrations that would include vast assortments of traditional and non traditional weapons. Ronald Duncan was also seen on nationally televised programs such as "Thrill Seekers" and "Wide World of Sports" catching live arrows with his bare hands.
Ronald Duncan taught Special Troops, Navy S.E.A.L. Teams, law enforcement agencies, and various government agencies in foreign countries. He was a certified expert in firearms, and competition shooting. He was proficient in combative and gun disarming tactics. Schools internationally are affiliated with his Way of the Winds System. He taught in Venezuela, Puerto Rico, Bermuda, Panama, England and South Africa. He also dedicated his time to the blind, physically handicapped, and homeless inner-city youth.
Professor Duncan lectured, did demonstrations to bring ninjutsu into the light of contemporary understanding: and through these efforts was inducted into the Who's Who Elite of Martial Arts in 1988, the All-American Open Hall of Fame in 1987, the Eastcoast of the United States of America, Pioneers Hall of Fame in 1989, and the Warriors Humanitarian Award in 1987, American Federation of martial Arts Hall of Fame 1990.
Ronald Duncan received numerous Hall of Fame awards and honors including:
1977 – Professional Karate Federation
1981 – Turtull Hall of Fame
1997 – Marine Martial Arts Federation Hall of Fame Charter Life Member
1997 – Martial Arts Masters, Pioneers & Legends Hall of Fame
1998 – Tribute to the Greatest Masters of the Twentieth Century Hall of Fame (sponsored by Wesley Snipes)
1999 – The World Head of Family Sokeship Council Hall of Fame
2000 – AFMA Hall of Fame