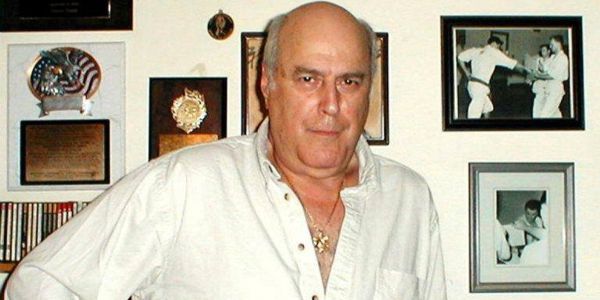 I first learned of Stephen Hanshi Kaufman when a friend handed me a copy of The Martial Artist's Book of Five Rings – The Definitive Interpretation, and said, "Check this out, somebody may actually know what they're talking about." Of course, I looked at it and said, "Yeah, right, another master." I respected my friends judgment and began to read ithe book. It blew me away! This was not another martial arts book or Japanese business reference. This could only have been written by someone who lives the life and doesn't just practice punches, kicks, and clever little self-defense techniques. What he knows, and the manner in which he teaches it, is nothing short of astonishing. I have since come to read most of the Hanshi Kaufman's books, and consider him a legitimately great master. Each book seems to be more profound than the last.
Hanshi Kaufman had asked if Grandmaster Soto and I would be so kind as to permit him to interview us for his Hanshi's World™ cable TV show. He wanted us to talk about our experiences and to do it in an informal setting, so the world at large would see us a real people, aside from our martial arts reputations. We did the show, and had a great deal of fun talking candidly about what we had been through and how we began our careers. We chatted about our beginnings and how we, Grandmaster Soto and myself, had come to know one another. The entire interview was impromptu and Hanshi Kaufman knew how to get us to speak about things that we would normally have kept close to our chests. While all this was happening, it occurred to me that I might want to reverse this interview and interview Hanshi Kaufman.
When we finished the show, we retired to one of New York's kosher delis for one of the best pastrami sandwiches on the planet. During lunch, I asked Hanshi if anyone had ever interviewed him. He immediately replied, "No, and as a matter of fact I wouldn't mind that, but it would have to be straight ahead without me knowing what questions you would ask so I can offend as many people as possible." We all had a good laugh and decided not to video the interview, I wanted him completely relaxed. I would tape him at different times during the weekend and to allow his different moods to be expressed. I recorded over three hours of Hanshi just talking, as he called it, straight ahead. He talked to me about his original involvement with the martial "universe". Hanshi doesn't like the word "martial arts," as art to him implies a form of entertainment. He prefers to speak in terms of "martialism," a word he coined to define exactly what it is that he does. I listened to him with rapt attention as he talked about his experiences "in the field," and most of the books he has written, including my favorite, The Sword in the Boardroom – Conversations with Sun Tzu and Musashi on Winning for the Benefit of All Concerned. This book is becoming a full-blown classic on the mat and in the corporate world. It is unbelievable that anyone could put something like this together and have it reads like a major orchestral work.
Hanshi Kaufman also founded and developed Self-Revealization Acceptance™ – Your Divine Right to Live in Joy and Freedom. Notice the spelling of revealization, not to be confused with realization. This book is probably one of the most profound reality self-help works in history and Hanshi tells you step-by-step how to ascend to the highest realms of consciousness conceivable. I could go on and on, but I'd rather get to the meat of the matter.
Here is the interview with very little editing. Get ready to be blown away!
D – Really had lots of fun yesterday during the interview for Hanshi's World. How did Hanshi's World come about?
SK – This fellow I know asked me if I would want to be on his show to discuss some current events. I was looking for a venue to pitch my books and do some interviewing of martial people that I knew, but I had no idea what was involved. After we finished the segment, I went over to talk to one of the editors at the studio and I just automatically asked him if he would be interested in helping me put together a show. I invented the title, "Hanshi's World," trademarked it, and then found out that in order to get access to the studios, I had to take some courses in handling the equipment and basic editing. The first show went pretty well, as you can see from this clip, but then came the hassle of getting guys to show up and you know what that's all about.
Hanshi Kaufman Introduces His Books