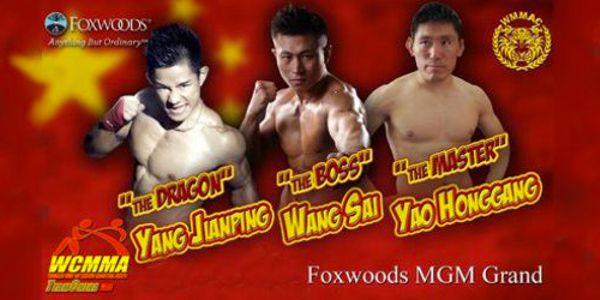 BlackBelt TV makes history airing the first China vs. USA MMA super event in the United States!
BlackBelt TV is set to air the World Mixed Martial Arts Championship (WMMAC) this Thursday, December 20th, 2012 at 8PM! For the first time in history, USA fighters step into the cage against China in an incredible super-event at the MGM Grand in Foxwoods, CT, to unify Championships from both countries!
The World Cup of Mixed Martial Arts and the WMMAC are home to the best MMA fighters today, including the champions Honggang "The Master" Yao and Wang "The Boss" Sai. Once they get into the cage, you won¹t look away.
In three very competitive fights, the WMMAC puts 3 American Champions against 3 Chinese Champions, and the outcome is one of the most exciting MMA events you will ever watch. Add world-class commentators like Don "The Dragon" Wilson and UFC Hall-of-Famer Dan Severn, and this event will easily be one of your favorites! Champions vs. Champions is what everyone wants to see, so here it is!
Honggang Yao vs. Dave LaChepelle
Wang Sai vs. Brett Oteri
Alexey Oleinik vs. Mike Stewart
Don¹t miss this great event, only on BlackBelt TV, the World¹s martial arts television network. BlackBelt TV has the best MMA leagues from around the world, the top classic kung fu movies, and of course, sexy girls hosting it all called Fight Jocks.
If you don't have BlackBelt TV, go to www.blackbelt.com.