There are many ways in which martial arts can be divided. Here are a few of them that might be useful to use in...
In recent years there's been a boom in the sales of martial arts training DVDs designed to teach certain skill sets to viewers. As...
Speak to your friends who do Karate or Tae Kwon Do about Tai Chi Chuan and they will tell you it is a slow...
Richard Bustillo was internationally recognized as an expert in the martial arts. With over 45 years of experience, Bustillo possessed a wealth of knowledge...
Grandmaster Fu Sheng Yuan was born in 1931. He is the son of Fu Zhong Wen and Zou Kuei Cheng, who was the great grand...
I am sure that you know this, but.... It never ceases to amaze me how many really smart people fail to see the connection between...
Before I begin, and out of great appreciation, I want to thank Dana Stamos and USAdojo.com for inviting me to write  "Get Real". This...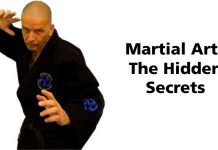 Rather than the usual layout of chapters etc within a book. I have set out to introduce you to the "secrets" of Karate in...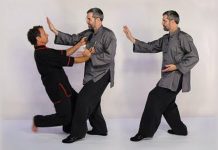 In the early 80's, I wrote some articles about tai chi. After one of them, a letter to the editor from a tai chi...