Knowledge at Your Fingertips: Learning Martial Arts By Video Traditional martial artists frequently scoff at the idea of learning martial arts by video, arguing that you...
Is learning competitive sports like boxing and the lessons learned restricted solely to the ring? For a very long time researchers have been unable to...
Silat is a term generally used to define the indigenous arts of Indonesia, Malaysia, and the Southern Philippines, countries comprising a cast archipelago of...
Sensei Hans Ingebretsen has been studying Danzan Ryu Ju Jitsu and Kodenkan Judo for 31 years, and holds the rank of Godan in Danzan...
At the age of 17, Helio Gracie (pronounced Eh'leeo) first stepped into the ring in Brazil to face a boxer named Antonio Portugal. Helio...
Home is where the heart is. Home is where you hang your hat. Home is just a click or two of Dorothy's red shoes. What a beautiful...
As seen in the recent Boston bombing tragedy, past intelligence is very important when attempting to find a lead or capture a suspect. On...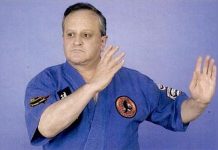 The secret to idiot proofing your martial art lies in learning Pressure Point Techniques. Among the most important elements of the traditional martial arts are...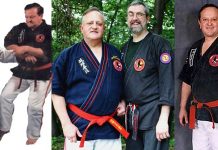 Since I had originally trained in the Shotokan style, I decided to attend a seminar by Shotokan master Hirokazu Kanazawa. During the seminar, Kanazawa-sensei...