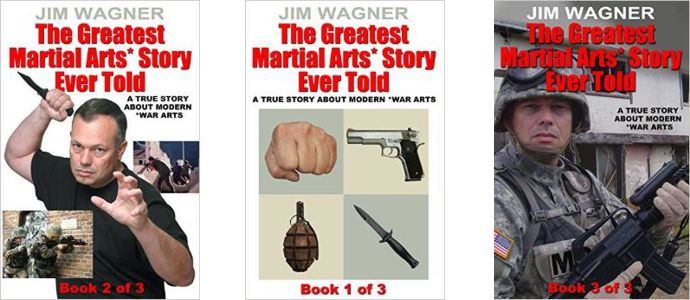 Jim Wagner's book is a trilogy with 1,582 exciting pages, in three books.
Book One
Jim Wagner was the target of schoolyard bullies, but that all changed when a friend introduced him to the martial arts. As a fatherless boy he discovered that the God he had worshiped since he was 10-years-old was not only a God of peace, but also a God of war, who would protect him. Over the years he grew in his faith and in his fighting skills, becoming a well known police defensive tactics and military combatives instructor, teaching some of the most elite units in the world.
Told in his own words, this is the true story of a career that hop scotches around the world. From the jungles of Argentina where he trains South American Special Operations units, to combating the secret war with radical Islam, to the sand dunes of the Middle East, where he is accused of being a spy and poisoned by the Jordanian police, and then to Israel, where he teaches the Israelis the unique fighting methods he has developed. You can read about all of Jim's adventures in The Greatest Martial Arts Story Ever Told.
Jim's book takes you through the turbulence of the U.S. Army in the 1980s, the stress of getting through the police academy, bodyguard training, U.S. Government's counter-terrorism school, and coming out on the other side to deal with the gauntlet of shootings, knife attacks, S.W.A.T. missions, to removing a suspected Pakistani terrorist, with nuclear "information" in his briefcase, from a fully loaded passenger aircraft at Los Angeles International Airport. Jim has prepared soldiers for wars in Iraq, Afghanistan, Kosovo, and for war at home, against the new threats posed by ISIS. Ironically, some of Jim's fiercest enemies were comrades on his own side, men who allowed petty jealousy and envy to cloud their common sense.
The Greatest Martial Arts Story Ever Told is more than just the adrenalin rush of living on the edge, but it's an Old Testament mixture of violence and a public platform that gave Jim the opportunity to share the Gospel, the Good News, to one of the most cynical groups imaginable, all who were in need of the Savior to cleanse them sin and the guilt it produces. It's a story about trusting in Jesus Christ for protection in an ever growing anti-Christian culture, and how a born-again Christian can thrive in a world of extreme violence and not succumb to the unmasked evil it reveals.
Chapter 1 starts with Jim Wagner's experiences inside one of Europe's top counter-terrorist teams, the German GSG9, and Jim is one of the few Americans ever to work in this organization.
Chapter 2 is about how Jim Wagner went from a "soft target" to a "hard target" learning the martial arts, including with Bruce Lee's protégé Dan Inosanto back in a time when "mixed martial arts" was taboo.
Chapter 3 is titled "Joining the United States Army" describing what it was like in the pot smoking, post Vietnam War 1980's military, where there was no morale. Yet, it was the seeds of a martial arts system that would change his world two decades later.
Chapter 4 is Jim Wagner's climb up the slippery ladder of success in the corporate world, but with a strange curiosity about international terrorism.
In Chapter 5 he ends up in jail, not as a prisoner, but as a custody officer where he learns about life and death fights the hard way. These kinds of fights were not about "ego".
Chapter 7 is an inside look into what it takes to get through the police academy, exciting street situations, the thrill mixed with the intrigue of the Costa Mesa Police Department S.W.A.T. team, and how a police sniper training club becomes an international training organization, instructing the world's elite.
Jim Wagner's detailed, and wonderfully descriptive writing makes the readers feel as if they are going through his exciting career with him. This first book gives insight into police work, the tactical community, and the martial arts community, more so than has been seen in other works. It also gives a good explanation as to why there is often friction with Christian professionals and their coworkers.
Jim Wagner's incredible story continues in book two with his swearing in as a Reserve Deputy Sheriff with the nation's fifth largest sheriff's department in the country so he can function as a bodyguard, only in the beginning he doesn't realize just how corrupt the man he is bodyguarding really is – Sheriff Mike Carona, who television host Larry King dubbed "America's Sheriff."
Then came the nation-rattling terrorist attacks of 9/11, and Jim Wagner puts his tactical training company, HSS International, on hold when he is asked by the U.S. Government to join the fight on the Global War on Terrorism as an agent. While doing his job as an agent, Jim gets a terrorist arrested with information about a dirty bomb to be used against the United States. During this time his former police and business partner, Tom Hally, works to "annihilate the competition", which he is afraid Jim will become.
On January 21, 2003 the Jim Wagner Reality-Based Personal Protection system is born, and it changes the way the world learns self-defense. Jim returns to training the world's elite, and in the process becomes one of the best known martial arts instructors in the world, hailed by Black Belt magazine in the United States and Budo magazine in Europe. With Jim's notoriety comes more jealousy and envy from those who want to be in his position. Jim is now attacked in a whole new way, by cyber bullying and receives threats on the internet. Jim clings to his faith in Jesus Christ, and the attacks end up leading to bigger and better opportunities in his life, just like it did for Joseph in the Old Testament Bible story.
Book Two
This book starts with Chapter 8, and how the world's most popular magazines take notice of Jim Wagner's well thought out techniques and training methods for self-defense. The Western World had been roped into believing that the traditional Asian martial arts were the complete answer to self-defense, and it was getting people hurt and killed.
Black Belt magazine in the United States and Budo in Europe gave Jim Wagner a worldwide platform, and in 1999 the "reality-based" self-defense movement began.
Chapter 9 details the rise of Jim Wagner and Tom Hally's tactical training company that was training the Who's Who of the tactical world: the US Army Special Forces, the Navy SEALs, the US Marines, the US Coast Guard, the US Border Patrol, FBI, DEA, and S.W.A.T. teams around the country. There are many books about these elite units and their exploits, but Jim's is the first that goes deeper into the training that takes place before they complete their spectacular missions.
Jim Wagner's self-defense and tactics system is so unique that it catches the attention of tactical teams around the world and his story takes the reader into Brazil where he trains the Brazilian police and introduces them, for the first time, to American Special Operations tactics and paintball guns. The Israelis realize what Jim has to offer and, through Major Avi Nardia, Jim goes to Israel on two separate occasions to train top instructors in the Israeli police and military. This eventually leads to the introduction of KAPAP to the world.
Before 9/11 nobody knew about Islamic terrorism in South America, but Jim did. He was invited there to teach the authorities about terrorism and how to combat terrorist.
Chapter 10 goes into detail about bodyguard work, as well as the cruelty and corruption of the Orange County Sheriff's Department where Jim Wagner served as a Reserve sergeant.
Chapter 11 is about the rise and fall of the United States Federal Air Marshal Service, and why hundreds left the program – including Jim Wagner.
Chapter 12 journeys into how competitors tried to stop Jim Wagner by accusing him of training Al Qaeda. This chapter is about treachery and the birth of the Jim Wagner Reality-Based Personal Protection system, along with the exuberance and struggles that followed.
The book ends in Ireland just before the British government and the IRA implement peace, and discusses how Jim was caught on both sides of the fence – and a dangerous fence it was.
Book Three
In Book 3 Jim Wagner's fascinating story will conclude with Jim joining the California State Military Reserve, and discusses the expansion of his Reality-Based Personal Protection. All he had lost at the hands of men determined to be gods had been restored tenfold. As such, Sergeant Wagner was entrusted with the training of soldiers for the wars in Afghanistan, Iraq, and Kosovo. He was once again placed back in the fight on Global Terrorism. To Jim's chagrin, President Barak Obama renames this war the "Overseas Contingency Operation," and along with the name change from the administration comes the painful financial gutting and troop reductions of the U.S. Armed Forces. This national crisis actually elevates Sergeant First Class (CA) Wagner to the equivalent of a chief of police, and the drama that follows is a repeat of the "good ol' boys club" that Jim had experienced with the Costa Mesa Police Department, the Orange County Sheriff's Department, and the U.S. Federal Air Marshal Service. This time around, however, Jim was wiser, stronger, and standing firmly on the promises of God.
It took fifteen years for Jim Wagner to complete his autobiography, and it finishes with a story about a student of Jim's Reality-Based Personal Protection system. It is this student's training in Jim's system that saves the Canadian government from a terrorist attack. Some family members, friends, and associates said that the title, The Greatest Martial Arts Story Ever Told, matches Jim's "big ego," but Jim could not give the book any other title, because it is really two titles in one, two stories in one, and the meaning of "greatest" becomes evident.
This book starts with Chapter 14 inside the Canadian parliament with Prime Minister Stephen Harper addressing the various ministers and Members of Parliament. One of those MPs was Ryan Leef, a former Mixed Martial Arts competitor who trained in Jim's Reality-Based Personal Protection system and became a certified instructor under Jim Wagner. On the morning of October 22, 2014 Canada experienced a horrific terrorist attack. What people don't know about the events that unfolded is that the training that Jim Wagner had given Ryan Leef in 2009 kicked in immediately, which contributed to SAVING THE ENTIRE CANADIAN GOVERNMENT, and "entire" means just that. It's an inside story that the news media never covered.
Chapter 15 is titled DARK NIGHT, because it was another dark period in Jim Wagner's career. The enemy was not only ISIS at the time, who were threatening to slaughter Jim and his family, but once again evil men who wanted Jim's position, and the glory they thought came with that position.
Chapter 16 is all about the political and spiritual fight to make things right again. It exposes the weaknesses of the State Militia system, and how inexperienced, knowledgeable, ambitious "men without honor" would put soldiers at risk. Although the Costa Mesa Police Department S.W.A.T. team forced Officer Jim Wagner off the team back in 1997 thus taking away something he dearly loved doing, 16 years later Sergeant First Class Jim Wagner makes California State Military Reserve history by being authorized to form and deploy a Special Response Team (SRT) for real world missions as Active Shooters, when terrorism becomes a looming threat in the United States.
After a decade, Jim Wagner's martial arts techniques and training methods are being used in self-defense schools, police academies, and military units all over the world. His books, DVDs, and YouTube videos are popular even in hostile countries like Venezuela and the Islamic Republic of Iran. By the time the reader has finished this final book in the trilogy, a vast wealth of knowledge will have been gained about modern martial arts, about law enforcement, about the Global War on Terrorism, and the United States military. Readers will have "visited" corners of the globe where few have ever gone, but most importantly, readers will begin to understand the importance of having character in a world of compromise.
---