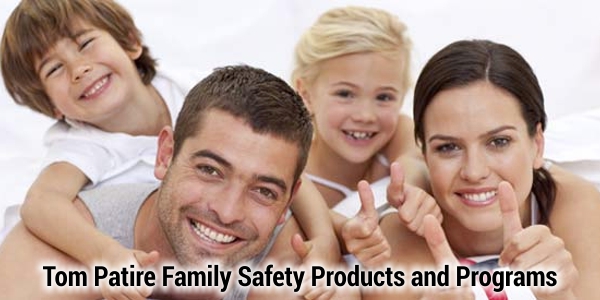 Tom Patire is a sought after expert in personal safety. He offers Tom Patire Family Safety Products and Programs which include different types of certifications in safety programs for all ages that enhance the curriculum in any martial arts school as well as personal protection products and child safety products and offers kids safety tips.
Tom Patire's certification programs for adults  include:
Training for Life is the ultimate personal protection course based on self -escape techniques for men and women of all ages. The course is tailored to everyday people, with techniques you can learn and adopt regardless of your age, size or gender.
Rape-Free is a course that focuses on ground techniques that give a woman an opportunity to escape when they are in a compromising or forced position.
SeniorSafe teaches proactive, life-saving skills that focus on scanning your surroundings, sound recognition and burglar-proofing your behavior are taught in a non-fear-based, empowering 1-hour seminar.
Tom Patire's certification programs for children include:
KNOW & GO® is specifically for children between the ages of 5 and 12 and was was researched, developed, and tested as an important first step to ensuring your child's safety.KNOW & GO is a specialized, interactive, action-packed safety course.
SEE N FLEE™ is a 90 minute course that teaches kids what to do when they have no other choice but to fight back. They are taught to SEE were the opportunity lies to escape and how to FLEE to safety when they need to get away!
TEENSAFE™ has a separate curriculum for girls and boys based on statistical facts that target each gender. The key factor taught in the TEENSAFE™ Program is how to get away as quickly as possible to the closest safe zone. Scenario-based training combined with easy-to-apply leverage-based techniques makes this course a must for ALL teenagers
TEEN TALK™ is a talk for high school students on how to be a success while maintaining your safety, and keeping your focus on your goals.
Mr. Patire by trade is a world renowned bodyguard and owns and operates one of the top bodyguard companies in the United States called State of the Art Security Agency which has been in business since 1989. He is also the lead instructor for the International Training Commission which is a company that specializes in training and certifying personnel in the field of Executive Protection (bodyguarding).
Programs for School and Educational Personnel:
SCHOOLSAFE™ is a course developed by Tom Patire for School Resource Officers, School Emergency Response Teams and/or other School Security Personnel. It is an interactive training program that focuses on what to do and what not to do if a physical altercation breaks out on school grounds.
TheBULLYGUARD® assembly is designed to stimulate a child's mind, while building up their  confidence and ability to deal with, and walk away from bully-type or stranger-danger situations. The entire assembly focuses on getting the message to kids on how to be confident and be safe – all the time!  BULLYGUARD has an ongoing 10-month curriculum that is taught in the school once a month to reinforce its message of safety.
SUBJECT-SAFETY®is an empowering and interactive course which covers timely topics, including verbal and physical abuse, weapons, gangs, and bomb threats, etc.
Programs for the work place:
REALSAFE™ was developed specifically for Real Estate professionals to better prepare agents for the potential risks they face, for the random occasion that their safety on the job will be challenged.
WORKSAFE™ is an empowering program designed for all types of corporate employees. It teaches and trains personnel to be aware when at home, at work or traveling.
SKYSAFE® This program provides the tools you may need to diffuse or assist in preventing a situation that could result in disaster for all on board an airliner.
NURSE-SAFE™ is a training program for nurses to prevent, identify and mitigate acts of random and unprovoked violence or aggression committed by patients, their families and visitors.
Tom has traveled the world teaching personnel law enforcement, military and security personnel in countries such as Canada, Italy, Peru, Spain, Russia, Ukraine, Philippines and Japan. He services as a private protection specialist have been called upon by people such as Chuck Norris, Rupert Murdoch, Janet Reno, Cher, Mike Myers, 50 cent, Michael Jackson, Phil Collins, Aretha Franklin, just to name a few. And organizations such as the Grammies, Music Awards, Olden Globe, Yankees, Jets, NFL and NBA, among others.
Mr. Patire has been featured in numerous articles and magazines worldwide and he has appeared on many international and national television programs, including a featured documentary on A & E "The Inside Story", Good Morning America, CNN, Fox News, CBS Morning Show, Inside Edition and The Cobert Report as the go-to-go guy regarding personal safety or national security issues.
Tom has work with organizations like Disney Corp, Kodak, Citigroup, Sandoz, Alaska Airlines, Continental Airlines, Boys and Girls Clubs of America, Burger King, News Corporation, Sungard, numerous government agencies and Universities.
More Info About Tom Patire's Programs