Orned Chicken Gabriel is a martial arts instructor, self defense trainer and founder of the United Karate Federation. He is a former world renowned karate champion who competed in full contact, semi contact and in forms. Chicken is known for blistering fast sticks and kicks which he used against his opponents in the 1970s and 80s. Chicken Gabriel is a hall of famer, and a member of "Who's Who" in the Martial Arts.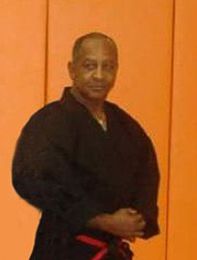 Chicken is the trainer of many world, national and regional karate champion fighters, like Big "T" Turnage, Ray Leal, Steve "Nasty" Anderson, Victor "the Fly" Hervias, Pete Salas, and others. His most famous student was the former 11 time World Champion, Steve "Nasty" Anderson. Nasty earned his Black Belt from Chicken Gabriel.
Chicken was one of Dick Willett's first and most successful black belts. He won trophies too numerous to count for kumite and forms and he was on the American team that competed in Tokyo at the "Asian Championships" in 1978. There were 39 entries in this event and Chicken was the first American to win. Chicken knocked out his opponent and brought the Asian title to America
Master Chicken Gabriel is also known for his soft flowing hands which are not unlike the brush stroke of the calligrapher, the movement of the sword, or the strike of the Kenpo master, which he is.