Who Killed Walt Bone By John Graden is an entertaining and compelling story of one man's coming-of-age set during the Bruce Lee, kung fu boom of the 1970s.
John Graden's unlikely path from an abusive childhood to the cover of the Wall Street Journal and The Dr Oz Show could be described as a Breaking Bad and Karate Kid mash up.
Who Killed Walt Bone: "Breaking Bad" Meets "The Karate Kid" in the 1970s is the story of a shy child with dreams of fighting like Batman and, well, other types of dreams about Cat-woman. It's also the story of his relationship with his instructor, Walt Bone. Bone was a world famous black belt with a hidden, dark side who often dispensed more weed than wisdom.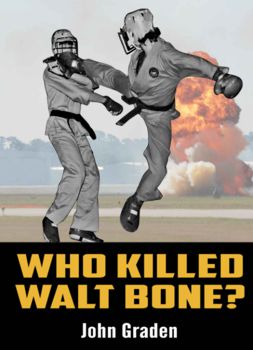 John Graden describes his coming of age with unflinching honesty and humor.
As many reviews have made clear, this is an entertaining book that has kept many readers up way past their bedtime.
"An excellent read." – Former Readers Digest Editor, Temple Emmet Williams
"This is a story of a young man who finds himself in the art of karate, how his life is led and led astray by the instructor he idolizes. A true-page turner." – Dan Anderson
"This book is a highly entertaining must read and not just for martial artists. His easy-to-read writing style immediately draws you into his fascinating trials and tribulations" – Official Karate Magazine
About the Author John Graden
John Graden is an inductee into the Million Dollar Author Club and the Self-Publishing Hall of Fame. He has been profiled and appeared on many media platforms including the "Dr. Oz Show," "The Wall Street Journal," and "Publishers Weekly."
Biography
Tampa Bay, FL resident, John Graden is the author of many books on personal development, martial arts, marketing, and near death experiences. He is a world champion kick boxer, coach and martial arts visionary who created the first martial arts school owner's professional association and trade journal.
He is an inductee to the Self-Publishers Hall of Fame and the Million Dollar Author Club. His many media appearances include "The Dr. Oz Show," a cover story on the "Wall Street Journal", and his book "The Impostor Syndrome" was on the cover of "Publishers Weekly."
"Your ability to realize your full potential requires that you release your 'mental brakes.' John Graden's excellent book, The Impostor Syndrome shows you how to eliminate self-sabotage on the road to success." – Brian Tracy – Author, The Way to Wealth
"John Graden is an incredible guest. He combines humor, insight, and enthusiasm in a way that not only grabs listeners' attention, but keeps them engaged as well. I recommend him for any show." – Sarah Maria, author of Love Your Body, Love Your Life
"The Impostor Syndrome is a fascinating book that is easy to read with some very good advice for living a more fulfilling life." – Joe Hyams, Bestselling author of Bogie: The Biography of Humphrey Bogart and Zen in the Martial Arts
"The Impostor Syndrome is an invaluable book that every friend, employer, teacher, and leader will want to provide for the people in their lives. This is an issue that is seldom recognized or discussed, yet it holds so many back from reaching their potential." – Scott Kelby, Bestselling Author with over one million books sold
"90% of winning is mental and John Graden knows how to win. In his excellent book, The Impostor Syndrome, John Graden lays out a step-by-step process for overcoming self-doubt and developing a champion's mindset. He is living proof what he teaches works. This gets my highest recommendation." – Tokey Hill, 2002 Olympic Coach of the Year
"John Graden's insights on the phenomenon of "Imposter Syndrome" are thought provoking and made for an entertaining and informative interview for my radio show." – Tara Grace Perry, Host of the "Men's Dugout" on 50,000 watt flagship station for the Califirnia Angels.
"With over 200 locations instructors and 25,000 students, we pride ourselves on bringing in the best speakers and trainers from around the world. John Graden has consistently been rated as the hands down favorite trainer by our organization here in the UK. He not only delivers, but he clearly walks the talk. We look forward to having him back." – Matt Fiddes, President Matt Fiddes Martial Arts LTD, Devon, UK
"I recently flew from Chicago to Dallas with one of my employees in order to attend a three-hour seminar given by Mr. John Graden. Mr. Graden is an innovator and an established expert in the business field. The presentation Mr. Graden gave was not only informative but inspirational as well. His delivery was informative as well as entertaining. I feel that as a motivator and leadership expert anything Mr. Graden has to say should be listened to. I came away with a whole new perspective of our business and ideas that will help me to become an even better owner." – Bert Witte, Buffalo Grove, Illinois
"John Graden is in the upper echelon of professional speakers. When he speaks, our clients listen and more importantly, they take action. We have brought him back over and over again and he never fails to deliver a fresh, funny and invigorating presentation." – Joe Galea, President, Member Solutions
"We were extremely pleased with Mr. Graden's presentation at our convention. His passion and experience made it very easy for him to relate to the audience and his sense of humor and ability to tell a great story made the presentation not only informative and valuable, but also entertaining! We look forward to having him back." – Jeff Cohen, Title APS
John Graden's College Presentations
"Through the years, I continue to be impressed with the John Graden's speaking ability. He is a proven success who excels at creating lasting change in his programs for his audience." – Dr. Scott Reis, University of Cinncinati
"We have hired John Graden on a number of occasions and he consistently is one of our most popular and effective leadership educators. We highly recommend him and look forward to working with him in the future." – Dr. Jerry Beasley, Radford University
"I wanted to thank you for a most inspired hypnosis discussion in my Psychology class. The feedback was enthusiastic from everyone in my class, including the skeptics." -Doreen Lewis, Psychology Professor, Webster College
The Students
"The presentation was very powerful and it made me think about how I was raised and all of the programming I was raised with. I will get the book when it comes out and read it cover to cover and use it to begin reprogramming my life." – Nichole Cochran
"I found your speech very inspiring! This is the time of life that I needed to find a way to change but didn't know how. You gave me the key to the door."
Thank you! – Hamaris Ramos
---