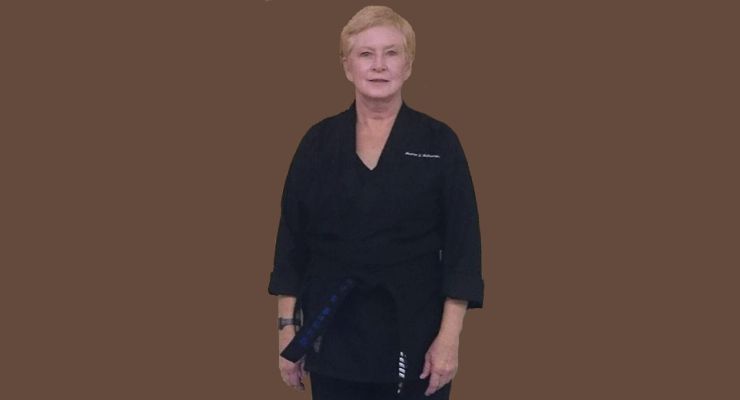 Darlene McPherson-Pagels is a 6th dan and she has been studying, training, teaching martial arts since the 1960's. She has trained in Tae Kwon Do, Chinese Kenpo, Hawaiian Kenpo, Kung Fu, and Tai Chi. She has also trained in the following weapons, Shaolin Broadsword, Wind Staff, Arnis, Balintawak and Tai Chi fan.
Darlene McPherson-Pagels owns and operates Third Coast Integrated Martial Arts School on West Bayshore Road between Anahuac and Oak Island. She teaches Tae Kwon Do, Tai Chi, and Kung Fu, as well as Japanese and Hawaiian Kenpo.
At the age of 65, Darlene McPherson-Pagels won a spot in the Sport Karate International League Texas State Championships held November 20 and 21 in Houston. She took First Place in 35 year-old and over Traditional Kata (forms) division. Her First Place earned her the State Championship. Shihan McPherson-Pagels also won Third Place in the 18 year-old and over Contemporary Kata division.
"I entered the competition because my students and the parents of some of the teenage students asked me to compete," she said.
"This is my first competition since 1978. My skill is training my students and teaching traditional martial arts in the various styles.
As far as future competitions……I doubt I will be competing except to defend the Texas State SKIL title next November," the State Champion added.
Darlene McPherson-Pagels is also a storyteller descended from a long line of storytellers. She has written The Descendant's Vision, a tale of love, sorcery, battle and the victory over evil that only Christ can deliver.
Darlene McPherson-Pagels has also had a career in engineering, and she and her husband, Mark, live in rural Texas on Galveston Bay.
To contact Darlene McPherson-Pagels visit the World Tai Chi Association listing on the Martial Arts Schools & Businesses Directory at FindADojo.com by clicking on the image on the left.