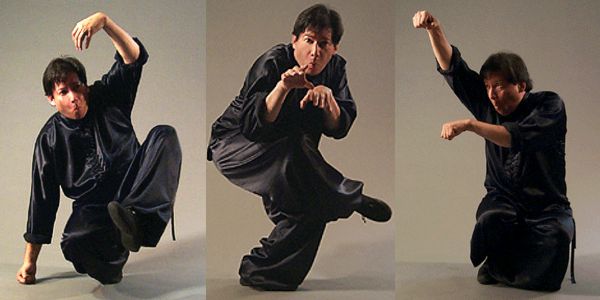 Succeeding Fifth Generation Monkey Master Paulie Zink is Sixth Generation Monkey Master Michael Matsuda. Matsuda and Zink are considered the pioneers of bringing Monkey Kung Fu (Tai Shing) to America and both are part of the few non-Chinese to master all "five" monkey forms. Matsuda is also considered one of the world's leading authorities on the history of Monkey. He is also Master Paulie Zink's most senior and advanced student. Upon completion of all five forms of the monkey, Zink has selected Matsuda as the only student of his to succeed him and continue passing on the art.
Matsuda first began training in 1968 in the art of Judo at a local Japanese Community Center. After learning from a strict, traditional teacher for over a year, Matsuda began to study both Karate and Jiu Jitsu. During his Jiu Jitsu class the instructor invited his friend, a kung fu artist to join the class for the evening. After seeing his performance, Matsuda was hooked.
In 1974, Michael Matsuda enrolled in a Hung Gar gung fu (Siu Lum Pai/Choi Lay Fut) Michael Matsudaclass taught by Sifu Lyle Fujioka. Two years later he transferred to the main school. After studying Hung Gar for nearly three years, Paulie Zink enrolled in the class. Matsuda and Zink became friends and studied under Buck Sam Kong for over 15 years. When Zink began learning Monkey kung fu, he began teaching Matsuda some of the forms he had learned.
Michael Matsuda has been studying Ta Sheng Pek Kwar under Master Paulie Zink for the past 28 years and is Zink's first and longest student. He has also studied Wing Chun under one of Dan Inosanto's students and learned kickboxing under Full-Contact Legend Cecil Peoples. Matsuda is also the founder of the United States Ta Sheng Pek Kwar Association. Matsuda continues to teach both Hung Gar and Monkey Kung fu privately.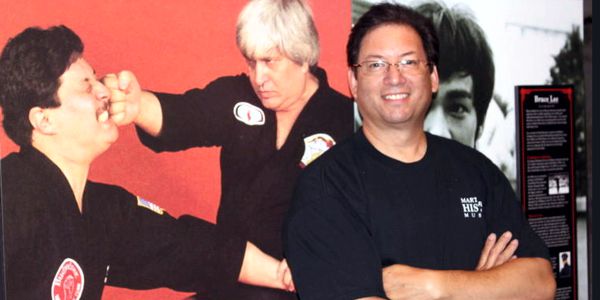 Michael Matsuda, considered one of the foremost authorities on the history of Monkey kung fu, has co-authored two books with Master Paulie Zink, has written over 50 articles on Monkey kung fu for Inside Kung Fu, Black Belt Magazine, Martial Art Magazine and Qigong Kung Fu magazines.
A former Sports Magazine publisher, Michael Matsuda was instrumental in producing a three-part documentary entitled "The Martial Arts Influence on America." He has been the Advertising Director and Production Manager for several magazines and newspapers. He has ran the Los Angeles Marathon four times and was inducted into Marquis' Who's Who in Multimedia in 1998 and 1999. He is also listed as one of the Nation's Top 100 Producers in Producer Magazine for Michael Matsudathe year 2000 and 2002 and has also appeared on the two magazine covers. He has appeared on a total of five magazine covers. He has a certificate in graphic design, an associate degree in journalism and a bachelor's degree in management and attended the American Film Institute for three years. Other studies include Business Law, Computer Programming, Global Economics, Marketing, and more.
On his Latin influence, Michael Gonzalez-Matsuda is the bloodline descendant of one of the founding families of the City of Los Angeles and also the bloodline descendant of one of the founding families of the City of San Diego. He is the great….great grandson of California Governor Jose Dario Arguello, the last Spanish-ruled Governor. Michael is also the great…great grandson of Santiago Arguello, the Alcalde of San Diego, brother of Luis Antonio, the Mexican-ruled California Governor. In addition, he is the great…great grandson of Augustin Zamorano, the provisional Governor of California and Secretary-of-State. The same Zamorano that the San Diego art school is named after who was also the first person to bring the printing press to California. Michael is also the bloodline descendent of Jose Maria Flores, General of the Mexican army that won a decisive battle against America. The same Flores that the Flores Adobe in Los Angeles is named after. Point Arguello in Mid-California is named after Michael's great grandfather.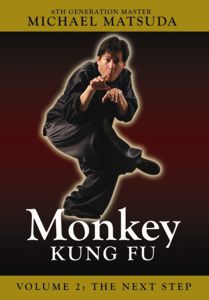 He has authored a number of articles and interviews featuring such artists as Dan Inosanto, Y.C. Wong, Brendan Lai, Benny Urquidez, Cecil Peoples, Simon Rhee, Phillip Rhee, Jun Chong, Bong Soo Han, Gini Lau, Graciella Casillas, James Lew, Eric Lee, Alvin Prouder, Philip Rhee, Bong Soo Han, Tak Kubota, and Peter "Sugarfoot" Cunningham, Blinky Rodriguez, Douglas Wong, Carrie Ogawa-Wong, Albert Leong, Ken Ota, and more.
Michael Matsuda currently teaches Monkey kung fu to a group of students in Glendale, California and continues his kickboxing training under Former Full-Contact Champion Cecil Peoples. He is our choice for September 2003.
Michael Matsuda has also written a historical look at the rare and secretive art of Monkey Kung Fu. As a Sixth generation Monkey Kung Fu Master he is considered one of the leading historians and authorities on the monkey art and in his book, Monket Kung Fu, he gives you a complete, detailed look at real Monkey style kung fu.
F
or more information about Michael Matsuda and the Martial Arts History Museum visit the Martial Arts History Museum listing on the Martial Arts Schools and Businesses Directory using the image on the left.