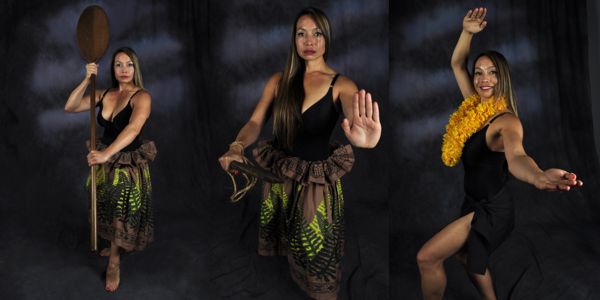 Michelle Manu began her study of martial arts when she was 9 years old studying Kenpo. She began training in Lua when she was 22 and she is a first generation Senior Black Belt in Lua under Olohe Solomon Kaihewalu, and the only woman instructor under him. She has been a competitive athlete, professional Polynesian dancer, and a model. Michelle is a relentless advocate, instructor, and author of women's self-awareness and self-defense. She was a director for America in Defense (AID) where she led and taught pilots and flight attendants air cabin crew safety (close-quarter combat) as a result of September 11, 2001. She also instructs self-defense for a local Southern California college and community programs through her Super Hero Experience (S.H.E.) Program.
Michelle is known and respected for her martial arts skills and work as a TV host, fight commentator, and a fight actress and narrator for film and Television. She continues to book various modeling, film, television, theatre, print, and radio projects. Michelle has graced the pages of Inside Kung Fu, Sports Illustrated, Martial Arts Masters Magazine, Seni Beladiri (Malaysia), and Tae Kwon Do Times (Korea) and can be read about in numerous articles on USAdojo.com. She is a Masters Hall of Fame inductee (2006), World Black Belt named her Martial Artist of the Month (2002), and Argentina Martial Arts Hall of Fame (2016). Michelle is a live ringside fight color commentator for Archangel Worldwide MMA, host of the Masters Hall of Fame World News, host/producer of Silk Warrior TV, host of Influential TV, and a contributing author to several literary and documentary works.
Michelle grew up in Southern California and also lived in Chicago for seven years. During her time in Chicago, she toured the Midwest as a professional Polynesian hula dancer. She began her runway career as a bridal model at the age of 5. She is a graduate of John Casablancas, John Robert Powers, and Barbizon and was named Orange County Model of The Year in 1986.
Michelle Manu continues a successful, over twenty year, career as a legal and business professional, consultant, mediator, leader, and teacher. She has taught for a private Southern California college and has sat on several college boards as an academic advisory member. She has earned a Certificate in Paralegal Studies, Juris Doctorate, Diploma in Leadership for Senior Executives from Harvard Business School, and an Associate Certificate in Project Management from George Washington University. She is a candidate for an MscD in Metaphyiscal Science and PhD in Philosophy (2020).
https://www.usadojo.com/dragonfest-expo-to-host-she-womens-empowerment-program-workshop-with-michelle-manu/