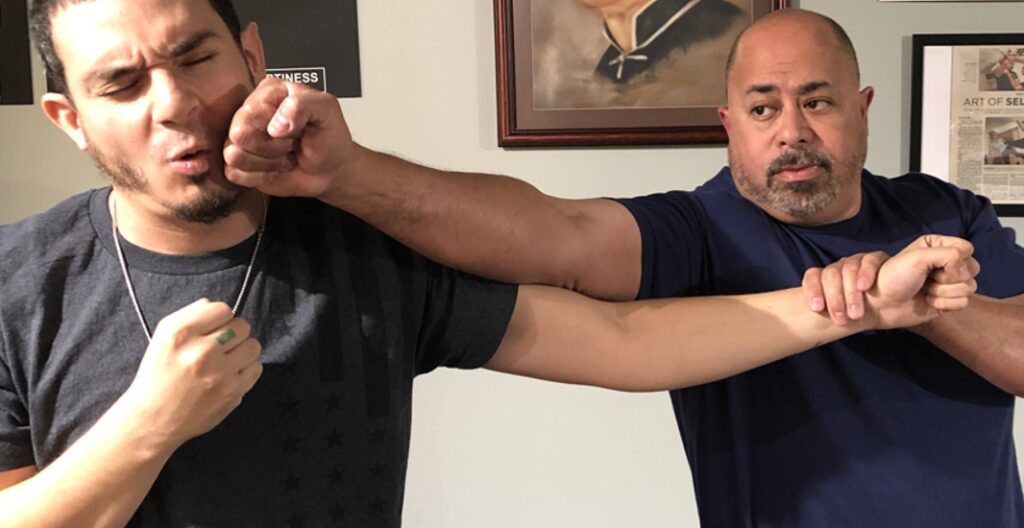 Rudy Lams started his martial arts journey after seeing Bruce Lee posters as a child. Wondering how he could be like Bruce Lee his first martial art he practiced was judo, he continued to watch Bruce Lee movies and martial arts became his passion.
After being left with much to learn in judo, he sought more knowledge by studying Kung Fu Sil Lum Pai with Sifu Joe Garcia. His next step was Shotokan Karate under Sensei Mel Weiss, until Sensei Weiss passing. Left with no instructor he then moved onto training in USA Goju Karate under Sensie Manny Saveedra and then gained his black belt 4th degree in the system. Eventually Rudy would also train with Sifu Rubio in Hung Gar and with Sifu Shelly Durell in Northern Praying Mantis.
Rudy, after all these years in training, still felt that he was missing something that would bring him closer to what Bruce Lee taught. Wanting to train under Master Dan Inosanto, Rudy would have to train with Inosanto representative in South Florida, after a brief time with training with Master Inosanto representative in Miami he was left unimpressed and felt what he learned in his martial arts journey was superior to what was being taught.
 Rudy was left with only one option, reach out to Master Richard Bustillo who was one of Bruce Lee's realistic fighters in Jeet Kune Do and see if he can become an apprentice with him in California. Master Bustillo accepted and Rudy became the official representative of Jeet Kune Do in South Florida. Finally his dream came true and he actually was able to become an instructor in the actual art Bruce Lee had created, and with his vast knowledge of martial arts quickly became the most sought after Jeet Kune Do Instructor in Florida.
Continuing his martial arts journey he had the privilege to also train under Sifu Larry Hartsell, Sifu Ted Wong and often met with Master Dan Inosanto. Because of the time he trained in California he eventually became friends with Linda Lee (Bruce mom) Shannon Lee (Bruce daughter) Grace Lee (Bruce mom) Brandon Lee (Bruce son and Robert Lee (Bruce brother) and has remained in contact with them throughout the years.
Master Lams has received ranking in Doce Pares under Supreme Grandmaster Cacoy Cañete as a black belt in South Florida, also he is the instructor for the Sayoc Fighting System under Supreme Grandmaster Baltazar Sayoc and has implemented Machado Jiu-Jitsu and Shootwrestling to his certified regiment under Sifu Larry Hartsell by training with the Machado Brothers and Shootwrestling with Yori Nakamura.
Master Rudy Lams since has trained Navy Seals, ICE Agents, Police Officers, Security Industry and many ABC Agencies for 35 years he has been giving seminars and traveling the world promoting true Jeet Kune Do and evolving the art to keep up with today's martial arts environment.
He regularly writes articles for martial arts magazines and has come out in books worldwide.
He may be contacted by email: TKOJKD@gmail.com, INSTAGRAM: grandmasterlams, TikTok: jjdkaliman