Warrior Odyssey
Warrior Odyssey, Antonio Graceffo's book, chronicles his first seven years in Asia, traveling from country to country, studying martial arts. The book contains the first ever book chapters on the Cambodia martial art of Bokator and the Shan martial art of Lai Tai. Entire chapters are dedicated to the exotic martial arts of Cambodia and to the war in Burma.
Review of Warrior Odyssey: The Travels of a Martial Artist in Asia by Antonio Graceffo
To those who have thoughts on Southeast Asia or have seen the Human Weapon, I would recommend that the people of the world should read this book. It has been the best I have ever read in years it only took me 6 to 7 days to read. When I was younger it was hard to read books then as I got older and more understanding, I read more and then after I had finished the Human Weapon, this book caught my eye. So I began reading it, and as I read the more I learn of what to expect if you are planing to travel anywhere around Southeast Asia. The way how he traveled around the countries of Cambodia, Thailand, Laos, Vietnam, Hong Kong, China, Taiwan, Korea, the Philippines, and Burma, was just amazing of how someone from New York could go to places no one could ever try to go and train in arts nearly lost to history and meet with important people in history.
Mr. Graceffo is a great author who tells his stories so well with great detail. The Book gave me inspiration about martial arts just as the Human Weapon did and taught me many things in the countries. For I have learned one thing "books are always a way to show us the world, itself." If you give it a chance like I have you could encourage and help education your family and friends in the history and the ways of martial arts. Also he continues to learn many old martial arts and always preserve them as any fellow martial arts master, athlete or instructor should. If he could travel and learn so can we and be united than divided be one unified world and never have any difficulties in what we look like. For it's not in appearance it's what's in the heart of how a person feels.
A different kind of journey… and a different kind of book, By Charles W. Johnson (Tokyo, Japan) – This review is about: Warrior Odyssey: The Travels of a Martial Artist in Asia written by Antonio Graceffo.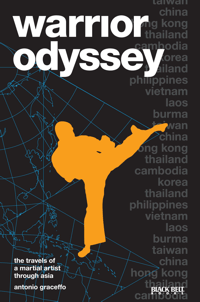 Antonio Graceffo's latest literary endeavor, Warrior Odyssey, chronicles his amazing quest to master himself through martial arts training in different countries. As a former successful stock broker in New York, Graceffo left it all behind after the events of 9/11 to follow his dream of training at the Shaolin Temple in China. Though the book is not a complete journal of his quest (it only discusses 10 of the countries he went to) it does give you a glimpse into both the world that he came from (and so daringly left behind) in contrast to the world that he was in at the time of his writing. Graceffo writes in a straight-forward kind of style that gives you a good sense of not just what he was going through physically, but how he was taking it all in, and processing it as he worked through unusual and uncanny situations one right after the other.
For those who like a lot of eloquent wordplay, Warrior Odyssey is probably not for you. In reading it, it feels as though you are reading Antonio's journals just as he had written them, and the vivid imagery that it evokes is more a function of the incredible amount of details he includes than it is of any clever writing techniques. For those who are interested in seeing, feeling (and at times tasting) just what life is life is like for the average person in Asia, and Southeast Asia however this book is a winner, as everywhere he went, he seems to have spent his time more or less completely immersed. Additionally, as he his time was chiefly dedicated to seeking out martial arts training, seasoned martial artists will enjoy the read as not just interesting, but informative. A great read for anyone interested in going to Asia, and/or seeking out martial arts training out there.
This review is for Warrior Odyssey: The Travels of a Martial Artist in Asia written by Antonio Graceffo (Paperback) Great book, Antonio's experience is well shared with the readers, a lot of cultural differences and different martial arts insights along the book. ~ By yangban

---
More Books By Antonio Graceffo Books
The Monk from Brooklyn
The Shaolin Temple, the birthplace of Kung Fu and modern Chinese Buddhism, is the oldest and most mysterious Kung Fu school in the world. It is an exotic and mythical destination of daydreams to millions of people. In the history of the temple, very few foreigners have ever had a chance to study there. Foreigners have been allowed to study in many of the Shaolin schools, near the temple, which have taken the Shaolin name as a marketing ploy, but less than fifty foreigners have studied at the original Shaolin Temple. Antonio Graceffo was lucky enough to be one of the few, and this is the chronicle of his experience. Antonio has twenty-five years of experience with martial arts, so it is with a knowing eye that he observed the training at the temple. But it is his background that gives him a very unique perspective. An Italian-American from Brooklyn, New York, and a former investment banker, Antonio was educated in some of the best universities that Europe and Asia had to offer. His articles are informative, humorous, and irreverent. He doesn't pull any punches writing about the filthy conditions and the diminished mental capacities of people who spent a lifetime learning to kick, but never bothered to learn to read and write. The title says it all. Put a Chinese-speaking Italian-American, from Brooklyn in the holiest of Buddhist temples, and watch the racial harmony flow.

Bikes, Boats, and Boxing Gloves
Adventure writer Antonio Graceffo began his eight month long odyssey by living with forest monks, studying kick boxing in Thailand's last Muay Thai Temple. He rode his bicycle to Burma, walked to the top of Chiang Mai's tallest peak, and was the first to attempt to trace the Doi Saket River to its source. A departure from his standard, self-serving brand of humorous, if narcissistic and somewhat offensive, adventure writing, he spent time with the Akha Hill Tribe and documented the plight of a marginalized people. From a canoe trip down the Maekok river, to accompanying tribal people on a hunting trip with cross bows and muzzleloaders, the book is funny, informative, and meaningful.
The Desert of Death on Three Wheels
After studying at the Shaolin Temple during the SARs crisis and then living in Thailand for eight months learning the art of Muay Thai, adventure writer Antonio Graceffo decided to rest his body. So, he chose to cross the Taklamakan Desert – on a three-wheel bicycle. Not the "rest" he expected! Then, he accepted an invitation to play in the world famous Elephant Polo tournament held in Thailand. Many amazing and unexpected things happen during these two adventures! This is a must read for anyone who enjoys real-life adventure stories.
Adventures in Formosa
Most people only know Taiwan as a place where computers are assembled, but Antonio Graceffo discovered the Island of Formosa is unbelievably beautiful, and it offers unlimited adventure, if you are willing to look for it. Antonio rode his bicycle 1,500 KM around the island. Next, he climbed some of its tallest peaks, traced its longest rivers, and mounted a search into its deepest gorge, to find the body of a missing American. Through all his adventures, he continued to box and practice kung fu when he could.
Rediscovering the Khmers
Mention Cambodia and most people think of either Angkor Wat or the atrocities committed by the Khmer Rouge. But there is so much more! To help "get the word out," Antonio was hired to show Cambodia's possibilities, helping increase its tourism industry. To accomplish this daunting task, he traveled the country and played tourist. It turned out to be an interesting experience, full of an extreme variety of encounters. As you follow his adventures, it is difficult not to agree with his conclusions. Cambodia's infrastructure makes developing a proper tourism industry extremely problematic. However, the Cambodian people make some of the finest friends to be found anywhere. Enjoy traveling through Cambodia as only Antonio can describe, rediscovering who the Khmers really are!