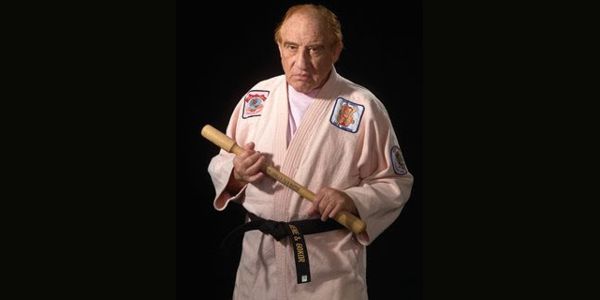 It is 1953 and Gene LeBell, "The Toughest Man Alive," is in training for the 1954 AAU United States National Judo Championships, he is working on his upper body strength for his throws. So what does Gene do to get ready, weight training . . . no way, too routine. Tons of push-ups and chin-ups, nope, not challenging enough.
Never accused of being a conformist, Gene LeBell simply did what no other human could, he trained six hours a day for one year, using his own unique and unconventional training methods like the "Tire Toss." Gene lifted motorcycle tires straight up, with his elbows above his shoulders, and then throwing the tires he marched the entire length of a football field until he got end zone where he celebrated by tossing the tire over the goal post. Then Gene turned around and went back the other way. Gene's legendary strength and extraordinary dedication led Gene to back-to-back National Judo Heavyweight Championships in 1954 and 1955.
"I've never met anyone like Gene LeBell, he is the Incredible Hulk in real life," says WorldBlackBelt Founder, Bob Wall. Gene was actually once disqualified from a Judo tournament because the officials felt he was using too much strength. Having a hard time finding worthy opponents, Gene LeBell even took on a bear . . . and won.
Being the son of Aileen Eaton, the remarkable woman who controlled the male dominated Los Angeles boxing and wrestling scene as the owner of the landmark Olympic Auditorium, Gene LeBell grew up in the company of fighting heroes like Muhammad Ali, Jerry Quarry, Gorgeous George, Joe Frazier, Sonny Liston, Sugar Ray Robinson and Archie Moore, just to name a few.
"The Man in the Pink Gi," Gene LeBell was truly an incredibly original Martial Arts renaissance man, and this is reflected in his many alias. In the 1960s, Gene got into professional wrestling and became known as the infamous "Hangman," where he won fans and championship belts throughout the world. Unfortunately for Gene, he lost one of those belts just 12 seconds after winning it, after he accidentally hit the commissioner in the head while proudly flaunting his belt.
In 1963, Gene LeBell participated in the first "Martial Artist vs. Boxer" event when he took on and choked out Milo Savage. Savage was greased head to toe and wearing brass knuckles, but after four action filled rounds Gene finally got a hold of the slippery Savage and applied one of his famous chokeholds. A few years later, Gene was the third man in the ring of the most famous Martial Artist vs. Boxer battle when he refereed Muhammad Ali's fight with Antonio Inoki.
Naturally, Gene's colorful personality and superb Martial Art skill led him into the entertainment world. Gene appeared in more than one thousand movies and television shows. Next time you are going to the movies or television channel surfing at home, don't be surprised if you spot Gene. Whether it's fighting with Bruce Lee on the Green Hornet TV series, or playing Rodney Dangerfield's stunt double in the upcoming comedy "The 4th Tenor," Gene makes a lasting impression.
With former star students like Elvis Presley, Chuck Norris, and Terry Wilson, Gene's primary love always remained teaching.
Be sure to pick up a copy of Gene LeBell's Grappling World, The Encyclopedia of Finishing Holds," and view Gene's six part videotape training series.
Gene LeBell was a legendary stuntman and martial artist. He was known for pioneering mixed martial arts and for having trained Bruce Lee. We lost Gene LeBell on August 9, 2022. He was 89 years old. There will never be a replacement for this great man and martial artists.
"It sounds like I'm blowing my own horn, and I don't mean to — I represented all the martial arts. I never said I was doing only judo or karate or kenpo," he said. "I never said one art is better than the others. They're all good. You should learn everything. You're not a complete martial artist unless you do everything." ~ Gene LeBell to Black Belt Magazine
To contact Gokor Chivichyan and Gokor's Hayastan visit their listing on the Martial Arts Schools and Businesses Directory (FindADojo.com) by clicking on the image on the left.