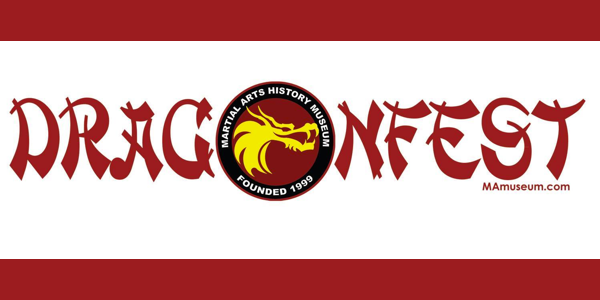 DRAGONFEST 2022
DRAGONFEST 2022: August 06, 2022 11:00am
Venue Name
Glendale Civic Auditorium
1401 N. Verdugo Road, Glendale, CA 91208
August 06, 2022 – Dragonfest Expo and Seminars $50.00
August 06, 2022 – Dragonfest Seminars/Workouts
DRAGONFEST Expo: Saturday, Aug. 06, 2022 – 11:00 pm – 6:00 pm
DRAGONFEST Workout / Seminars: Sunday, Aug.06, 2022 -11:30 am – 5:30 pm
BURBANK, CA – The Martial Arts History Museum Dragonfest Convention is the re-introduction of the West Coasts' largest martial arts convention which is held every year in Burbank, California.
Visit the DragonFest Expo Website
About Dragonfest
The Martial Arts History Museum Dragonfest is a convention that gathers some of the greatest and iconic martial arts figures in American history. Well-known and respected pioneers such as Cynthia Rothrock, Don "The Dragon" Wilson, Benny Urquidez and many other martial arts celebrities, historical icons and film stars are in attendance and fans can mingle and meet them, purchase books, dvd's, or autographed photos. For fans, this is a rare opportunity to meet many of their martial arts heroes and champions. Dragonfest also has fun products to buy, martial arts toys, Asian cultural items, samurai swords, and you will meet meet cosplayers and enjoy a full day of cultural performances such as Hula Dancing, Japanese Taiko, Chinese Lion Dancing and so much more.
"Gerald Okamura was the originator of 'Gerald Okamura's Dragonfest,' which ran for nine years, was an amazing event and everyone was sad to see it end. Now, nearly a decade later, under the hosting of the Martial Arts History Museum, we have taken the spirit of the old convention and opened the doors to a whole new expo. This is not an extension of Okamura's accomplishments, this is a new event but with the same approach. In fact, I was the website designer for the previous expo," notes museum president Michael Matsuda.
The theme of the Martial Arts History Museum Dragonfest will closely follow the style and concept of the museum. For history, the event will have a section for legends and pioneers such as Leo Fong, Doug Wong, Art Camacho and many more. For documentation, a section will be dedicated to book signings by martial arts authors including Donnie Williams, Peter Cunningham, Simon Rhee, Benny Urquidez and several others.
The third section will feature the artistry of the martial with such animators as Paul Wee, the Kanokid and more. The fourth and final section will focus on media, which will include the promotion of new films, the sales of martial arts movies, special effects makers, costumes and more. "I wanted to expand the convention to follow the concept of the museum. History, art, Asian culture, media, anime and more; all playing a unique role in the martial arts and by having different sections, it will enable us to draw in a whole new audience," adds Matsuda.
Visit the DragonFest Expo Website
Within the Martial Arts History Museum Dragonfest, there are vendor booths with new and unique Asian and martial arts style items for sale. This includes martial arts toys, samurai swords, t-shirts, crafts, weapons, books and dvds. "We are going to be a little picky on the vendors because we want to stay as close to the museum's theme as possible plus we want those who have helped the museum in the past to have priority," says Matsuda. Throughout the day, each celebrity or vendor will have an opportunity to speak about their product within a mini-seminar area, which will be allocated for each section. "For example, in our book signing section, each author will be able to stand up and introduce their book to a gathered audience," adds Matsuda.
"Through the Martial Arts History Museum Dragonfest, everyone has the opportunity to meet some of the biggest martial arts celebrities and icons. However, I think the fun part of Dragonfest is gathering together to see all our old friends in one place. I'm so glad the Museum is bringing the concept of Dragonfest back and more importantly, it's all going to benefit the Museum," says Matsuda. The Martial Arts History Museum's Dragonfest, as it is officially called, is one of the biggest fundraisers for the museum. 100 percent of all proceeds go directly to the museum. Since the museum is a registered, non-profit 501(c)(3) organization, tickets sales are tax-deductible.
"This is a wonderful way to not only come together and meet some special guests and get a glimpse of the latest martial arts films, all tickets sales goes to benefit the museum, and that's what it's all about," notes film director Art Camacho. "This is going to be a huge event and everyone will be there to see everyone and support the museum." To purchase tickets online or more information about The Martial Arts History Museum Dragonfest convention, visit the Dragonfest website. Vendor booths are also available for purchase.
Visit the DragonFest Expo Website