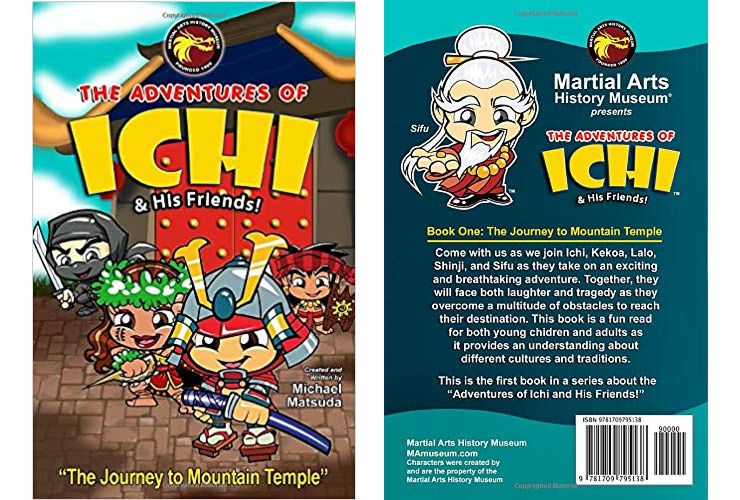 Burbank, CA – The Martial Arts History Museum is proud to release its first of a series of children's books to stimulate interest in the history, art, culture, and physical benefits of the martial arts. Entitled, "The Adventures of Ichi & His Friends," this unique storybook, designed for kids 8-12, is a fun way to learn about life's lessons in connection with the martial arts.
Since the 1980's release of the Karate Kids films, a whole new door of opportunity opened for the martial arts community as young people found martial arts as an alternative to outdoor sports. The term "soccer-moms" slowly became "karate-moms" as more and more children discovered they could have fun while learning to defend themselves. In a martial arts nationwide survey, it noted that 2 out of every 3 children have enrolled in a martial arts program or knew someone who had.
The "Adventures of Ichi" is a 160-page storybook that follows the journey of the Martial Arts History Museum's primary characters. They include Ichi, Kekoa, Shinji, Lalo and Sifu as they face different life experiences and by depending upon each other, they are able to overcome many of life's obstacles.
"They aren't a lot of martial arts books for children on the market and with so many of our young kids learning the arts, I thought it would be nice to have something they could read that they would be able to relate to," notes museum president and author of the book, Michael Matsuda. "I have written over a dozen books, but this is my first children's book. One of the most impressive series I ever saw was the tv show, 'Avatar: The Last Airbender,' It provided a number of wonderful messages, and I felt that was important, especially for our children. With this book, I hope to re-open that door into learning."
Although set in a different world, "The Adventures of Ichi" have many similarities to a variety of Asian countries and traditions. "I also wanted the book to focus on culture, but I didn't want to focus on a particular country, but to develop an appreciation of different cultures and traditions," adds Matsuda.
The Adventures of Ichi & His Friends: The Journey to Mountain Temple is the first of a series of books focusing on the Museum characters. This book is subtitled, "The Journey to Mountain Temple," and it follows the children as they journey from their home to their final destination, Mountain Temple. Children will learn about each character and the exciting encounters they will have along the way.
"Like Disney has Mickey Mouse, Donald Duck and so many more wonderful representatives of the Disney world," notes Matsuda, a former Disney graphic artist, "I wanted our characters to represent the Martial Arts History Museum. This first book in the series will introduce the world to their story."
"This book is not limited to just children. It is my hope that all who come to the Martial Arts History Museum will be a copy of this book so that can learn the backstory of the role the characters play in the Museum," adds Matsuda. "I originally drew each of the characters and hired my friend, a terrific artist, Eleazar Del Rosario, to add his amazing touch and made them come to life."
Because of the goal to make the book a long-term venture, an index of the villages, relatives and how each character connects to each other is listed in the back. A page at the end of the book has a number of interesting questions for book reports.
For information about the Martial Arts History Museum, visit their website at MAmuseum.com or visit them at 2319 W. Magnolia Blvd., Burbank, CA 91506 or call (818) 478-1722.
What does the Martial Arts History Museum do for the Martial Arts Community?