Grand Master Hwang (K-9-1) traveled to Santa Fe, Argentina, on September 21, 2019, to conduct a one-day seminar and testing.
Arriving Friday morning in Buenos Ares, Grand Master Hwang, accompanied by Master's Thomas Gordon (A-8-4) and Gregory Bledsoe (A-7-15), met Master Roberto Lasso (AR-7-12) for a 5-6 hour ride to Sante Fe, Argentina.
Once arriving, the host, Master Lasso, invited Grand Master Hwang and guest instructors into his home for a home-cooked meal. The following day, September 22, Grand Master Hwang taught most of the day with roughly 125 Taekwon-Do practitioners in attendance and around that many more spectators.
The seminar started with warm-up, fundamentals, and into the first tuls. Broke for lunch and then returned to work through more tuls and self-defense portion's lead by Master's Gordon and Bledsoe. A translator was on site the entire weekend to assist with the English to Spanish translations. After a day of good training, Grand Master Hwang sat the panel where nine people tested for black belt ranks from second degree to seventh degree. Successful testers were:
For seventh degree, new Master's Vadala, Nievas, and Sanchez. Testing for 5th degree was Ms Nievas and Mr Garcia. For fourth degree was Mr. Franco and for second degree was Soria, Cumba, and Ponse
That evening, Master Lasso and his family once again hosted an excellent banquet/dinner at their home.
One of the testers asked Grand Master Hwang to write on his forearm for a tattoo to forever hold the memory.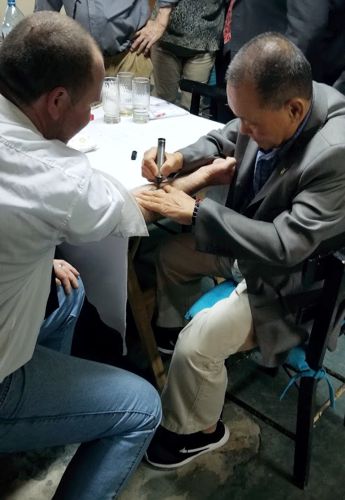 The following day, Grand Master Hwang and guests made the trip back to Buenos Ares and start the journey back home.