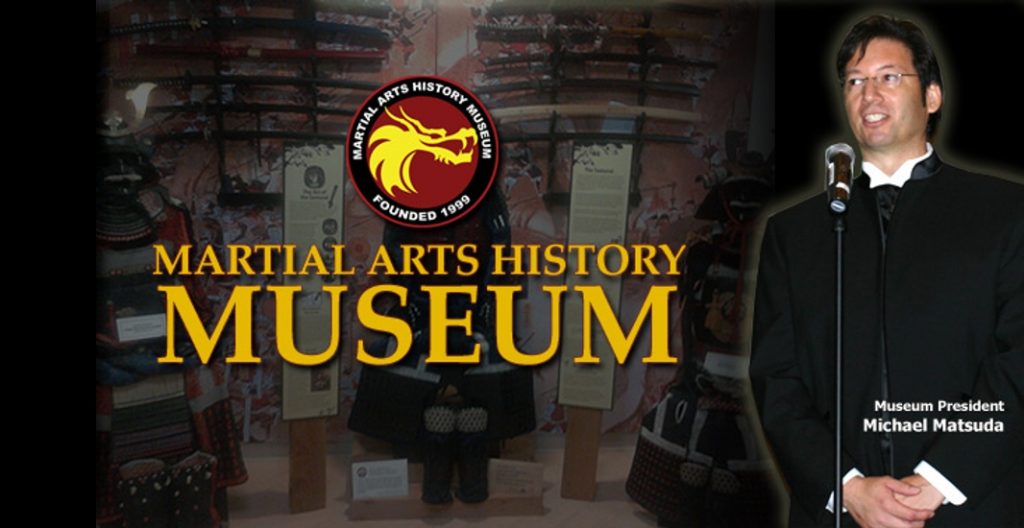 Many of you already know Michael Matsuda, the Founder, President and Curator of the Martial Arts History Museum, but I doubt you realize just what an amazingly talented person he is, and that, without him, the museum would not exist or be as popular and professional as it is. In this article I would like to share with you a few things about Michael Matsuda, the man behind the Martial Arts History Museum.
Michael Matsuda has worked for Disney as a Graphic Designer, for Blue Cross as a Media Manager / Producer, for Great Western Bank as a Media Manager, for Cal Fed Bank as a Media Manager, for the L.A. Daily News as a Writer, for  L.A. Valley College as their Advertising Director, for Traveling Magazine as the Production Manager and he was the Publisher and Founder of Martial Art Magazine which he published between 1983  and 1988. He was a Contributing Editor for both Black Belt Magazine and Inside Kung Fu Magazine for 20 years and he has interviewed many martial arts icons including Benny Urquidez, Danny Inosanto, Cecil Peoples, Bill Ryusaki, Eric Lee, Doug Wong, Jun Chong, Simon Rhee, Phillip Rhee, Byong Yu, Chuck Norris, and James Lew. He was also the former Co-Ceo of Martialinfo.com.
Michael Matsuda was selected twice as the Top 100 Producers in the Nation by Producer Magazine, and he graced the covers of Producer Magazine and AT Media Magazine, as well as winning the prestigious Blue Cross Production Award.
Michael has produced many Blue Cross commercials and their stage productions as well. He has also developed Computer based training programs. It was Michael that produced the 3 part series of the Martial Arts Today Show.
Michael was the Director of San Fernando Valley Health Fair and the Director of Las Vegas Stardust Convention. He was also the Director of the Little Tokyo Fair.
Michael has a Journalism degree, a Business degree, and he attended the American Film Institute for 3 years for Production. He has a Graphic certificate and has taken extended courses in Marketing, Design, Production, Film, Editing at UCLA, USC, and at Cal State Northridge, At the Tech Institute, he studied Technical Illustration, Drafting, and Computer Programming. He has continued to develop his skills for over 20 years.
Michael is the author of the following books: Monkey Kung Fu, Monkey Kung Fu: History & Tradition.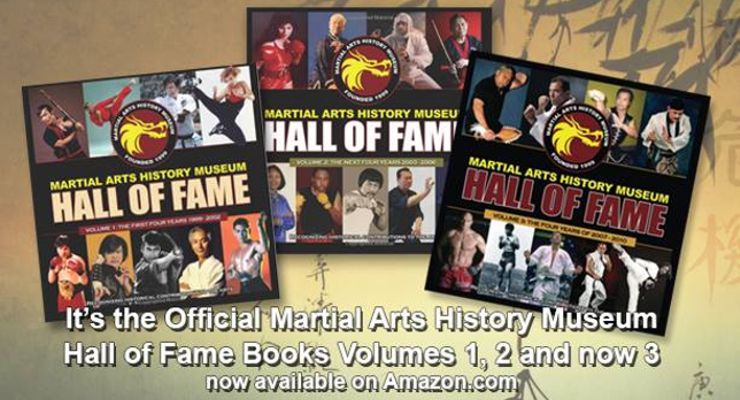 Martial Arts History Museum: The Story of How the Museum Began. His newer books are Martial Arts History Museum Hall of Fame Volume 1: (1999 – 2002), Martial Arts History Museum Hall of Fame Volume 2: 2003 – 2006, Martial Arts History Museum Hall of Fame Volume 3: 2007-2010.


About Michael Matsuda
Michael Matsuda began studying Judo in 1968 and Jiu Jitsu in 1969. In 1970 he began karate and Shaolin Kung Fu. In 1976 he began studying Monkey Kung Fu and has been training in and practicing the art for over 37 years. In 1988 he did a year of training in Jeet Kune Do. He also learned Full Contact Karate from Cecil Peoples. Michael has spent a total of 47 years training in the martial arts and he has taught Shaolin Kung Fu and currently teaches Monkey Kung Fu.
Michael also enjoys running marathons and he has completed the L.A. Marathon 4 times.
Michael Matsuda also enjoys designing jewelry and you will find some of his great looking martial arts jewelry available at the Martial Arts History Museum.
Those of us in the martial arts are blessed to have Michael Matsuda as the Founder, President and Curator of the Martial Arts History Museum. No one else has the collective talents to do the job he does, and I hope we tell him often, just how much we appreciate him. I also hope that, whenever possible, we donate to the museum, allowing this amazing man to continue to work miracles. Not only does the museum promote the arts, but it gives all of us a place to gather and shows the world just how important martial arts is in history.
Thank you Michael Matsuda!!!