John Graden is an author, athlete, publisher and pioneering martial arts visionary, and is recognized as an important martial arts leader in this decade. He is the Executive Director of the Martial Arts Teacher's Association or MATA.
John Graden's efforts as a "teacher of teachers" have had a profound impact on the manner in which thousands of martial arts schools are operated worldwide. A former member of many world champion U.S. kickboxing teams, Mr. Graden's two top selling books, Black Belt Management and How To Open and Operate A Successful Martial Arts School, are considered the quintessential references for martial arts school owners.
In late 1994, John Graden founded the National Association of Professional Martial Artists or NAPMA. Dedicated specifically to strengthening the professional skills of martial arts school owners, NAPMA mushroomed to over 2,000 members worldwide making it the largest martial arts professional association in the world.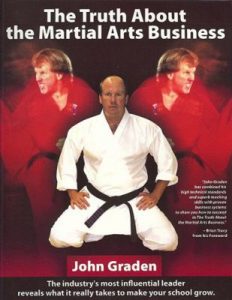 In 1995, he strengthened his position as a martial arts teacher of teachers by launching Martial Arts Professional magazine, which became the martial arts trade journal. John Graden sold both NAPMA and MAPro in 2004.
In an effort to present universal instructor education to the martial arts industry, John Graden created the American Council on Martial Arts in 1997. The ACMA was the first widely supported instructor certification program administered by the world renown Cooper Institute in Dallas, Texas. The manual, co-authored by John Graden, for the ACMA has been adapted as a textbook in colleges and universities.
John Graden is a 8th degree black belt under Joe Lewis and is the youngest man ever named to the Joe Lewis Honor Roll, the highest honor in the Joe Lewis Fighting System.
John Graden's focus is now on his Martial Arts Teachers' Association. The worldwide headquarters of MATA online offers a massive library of articles, information, reports, videos, audios, ads, newsletters, forms, letters and networking to martial arts instructors worldwide.
John Graden's Career Timeline
2017 – Stop Any Bullying: A Family Plan For Prevention and Taking Action
2016 – Author, The Martial Arts Teachers' Certification Manual
2015 – Author, Who Killed Walt Bone?
2014 – Founder, Empower Kickboxing
2012 – Founder, Empower Boxing
2011 – Author, The Art of Marketing Without Marketing
2008 – Author, The Impostor Syndrome
2004 – Founder, Martial Arts Teachers' Association
2003 – Author, The Truth About the Martial Arts Business
1998 – Author, How to Open and Operate a Successful Martial Arts School
1996 – Founder, The American Council on Martial Arts (ACMA)
1995 – Founder – Martial Arts Professional Magazine
1993 – Founder – National Association of Professional Martial Artists
1987 – Host and Producer of the USA Karate TV show in Tampa Bay, FL
1986 – Opened USA Karate 1985 – Fighter, Coach, and Official for many World Champion WAKO USA Teams
To contact John Graden and MATA visit their listing on the Martial Arts Schools & Businesses Directory or FindADojo.com by clicking on the image on the left.