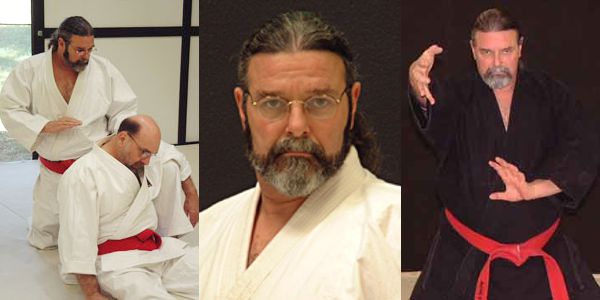 In April 2006, Grandmaster Tyron Crimi embarked on a trip to England to share his extensive knowledge of the Martial Arts, notably Hikari Ryuza Ryu Jujutsu®, his own system derived from his 47 years of experience in Judo, Kenpo Karate and Danzan Ryu Jujutsu, learned from his Master, Professor Estes, who learned from Master Okazaki, who immigrated to Hawaii from Japan in 1906.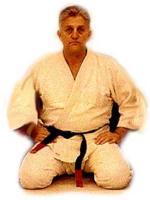 Grandmaster Tyron Crimi's trip was filled with gusto and boundless energy as he taught seminar after seminar, totaling 31 seminars in 29 days. He requested to be "kept busy" and that he was. Shortly after arriving in London and teaching numerous seminars, the good doctor was invited to France to teach five more seminars. He gladly accepted and re-arranged his flight schedule, coming back to the United States a week later than scheduled.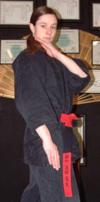 Shizumi Crimi Sensei, who now runs the Hikari Ryuza Ryu Do Kan® after it was handed down to her from Grandmaster Crimi, says that Dr. Tyron Crimi Hanshi's trip to England and Hikari Ryuza Ryu Jujutsu® were a "smashing success". She has received dozens of e-mails and phone calls relating to her how he ". . . humbly received the compliments of his peers and the participants of his seminars when they said what 'a brilliant Martial Artist he is, and such a gentleman . . . '" Remarks on how he was a quiet, humble and sincere individual came often.
He has been invited back to England, France and in addition will be traveling to Germany in 2007 to teach Hikari Ryuza Ryu Jujutsu® as well as seminars on Tanto (knife), Tanju (gun), Tsue (walking stick defense), Kappo (resuscitation techniques) and Seifukujitsu (restorative techniques).
The Meat of Grandmaster Tyron Crimi's Excursion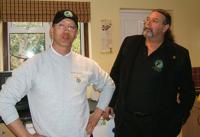 Dr. Crimi arrived at London Heathrow Airport on Wednesday, April 26th. He was greeted by Sifu Alasdair Monteith and Dr. Crimi demonstrating how to make the Hikari Ryuza Ryu cap look sexy!
Sifu Alasdair Monteith and three of his staff, head of the British Institute for Chinese MartialArts (BICMA) and the London Stunt School in Wimbley. The day after his arrival, he taught two seminars, one children's class and one adult class at the BICMA/London Stunt School in Wembley.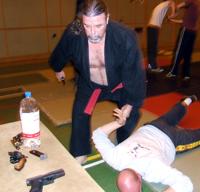 During his stay in London, Grandmaster Crimi traveled between four areas: Wembley (where the BICMA/London Stunt School is located), Windsor (where Eton College is located), Mill Hill and High Barnett. He instructed 20 seminars over a span of about two weeks with an attendance of 220 students at Eton College alone, which was much more than expected. Grandmaster Crimi instructed on Hikari Ryuza Ryu Jujutsu™, Tanju (gun), Tanto (knife), Tsue (walking stick) and Seifukujitsu (restorative techniques) and acquired many new and wonderful friendships.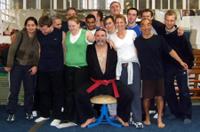 During Dr. Crimi's time at BICMA / London Stunt School, he was interviewed by Malcolm Martin from Combat Magazine, one of the leading Martial Arts magazines in Great Britain. The article along with pictures is scheduled for publication in the next few months.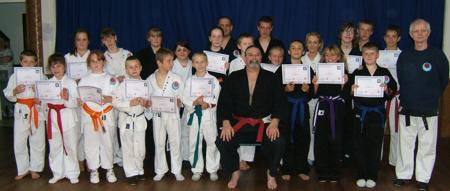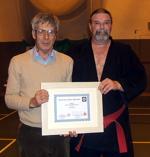 At the end of Grandmaster Crimi's stint in London, he was presented with a plaque of thanks from BICMA/London Stunt School. Grandmaster Crimi and Michael Town, a Professor of Geography at Eton College and head of the Martial Arts program, shook hands over an intra-affiliation between the Hikari Ryuza Ryu Do Kanâ and Eton College where the plaque from the Hikari Ryuza Ryu Do Kanâ now hangs. The boys at Eton College presented Grandmaster Crimi with an "Etonian" sweatshirt. These acts humbled him and honored him. As witnessed on many occasions, Dr. Crimi has never been one to seek out the spotlight, but rather it finds him. He simply does not put together why he should be honored for doing something he loves to do, which is teaching.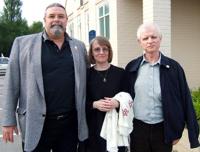 After two weeks in London, on May 11th, Dr. Crimi traveled to Blackpool where he met with his dear friends Tom and Norma Whitehead Hanshi, and was graciously cared for by one of their senior students, Tony, as is traditional in the Martial Arts with a visiting Hanshi (Grandmaster). He taught a seminar at Tom and Norma Whitehead Hanshis' school, the Northwest Budo Academy International and instructed private classes on Mokko (meditation). During his time with Tom and Norma Whitehead Hanshi, Grandmaster Crimi was again humbled when he was given the honor of presenting one of their students with his Shodan.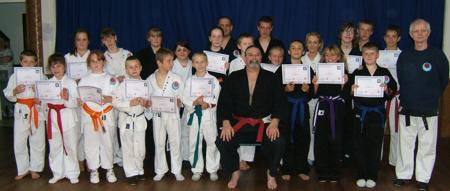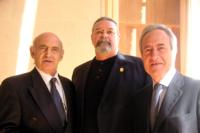 On May 19th, Grandmaster Crimi arrived in Paris, France and was greeted by Grandmaster Surace. That same day he taught a seminar on Hikari Ryuza Ryu Jujutsu® and two seminars per day for the next two days.
Grandmaster Crimi was personally welcomed to France by the Mayor of Paris as a visiting dignitary and was presented with a silver medallion by the French Minister of Sports, recognizing Grandmaster Crimi as a visiting Judan.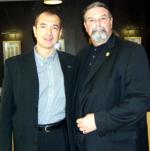 Of special note, Dr. Crimi met with the French Police Commissioner and discussed training French Law Enforcement during his next visit to France in 2007. Dr. Crimi has freely volunteered his time to training Law Enforcement in several states in the U.S. for 31 years, and for 28 years has dedicated his service to training Law Enforcement in his own Nevada County. In 2005, Dr. Crimi was presented with the Meritorious Service Medal, one the highest honors that Law Enforcement can bestow upon a citizen.
In Closing
Grandmaster Crimi's incredible energy, dedication to the Martial Arts, personal charm and absolute love for every human being on earth has provided the world with the incredible gifts that he has to offer of himself and Hikari Ryuza Ryu Jujutsu®. In France, Grandmaster Crimi received a standing ovation for his demonstration of Hikari Ryuza Ryu Jujutsu®: not an uncommon occurrence.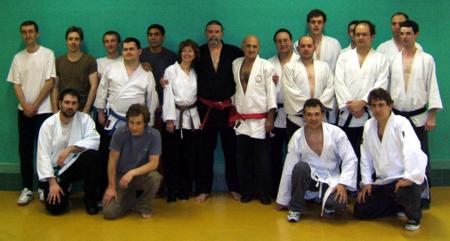 In 1992, Grandmaster Crimi was asked to judge the Freestyle Jujutsu during Summer Olympic Games in Barcelona Spain, and six years ago, he was asked to take his knowledge around the world and present Hikari Ryuza Ryu Jujutsu®. However, he declined both honors because he did not feel that the timing was right to leave the Hombu Dojo and his students. When the opportunity for him to tour internationally arose again in 2005, he was able to graciously accept and leave the Hombu Dojo in the care of his Yudansha.
Grandmaster Crimi generously shares his bountiful knowledge with the world, leaving his students proud to be a part of the Hikari Ryuza Ryu Do Kanâ and a part of Grandmaster Crimi's life.
Hikari Ryuza Ryu Do Kan®
Phone: 530-432-5588
Website: https://ryuzado.com/
© 2006 Ingrid Sigo
Freelance Writer – Turner Writing Services