When I began studying martial arts it was to protect myself against a bully who had been pushing me around at school.  So, like many first-time students, self-defense was my initial motive for entering the dojo.  Back then my goal was to make it through graduation with all of my vital organs in tact, and thanks to my training I was able to do just that.   However, never in my wildest dreams did I ever think that my karate and jujitsu skills would wind up saving my life when I was attacked not by a school yard hood, but a 5-ton big rig truck.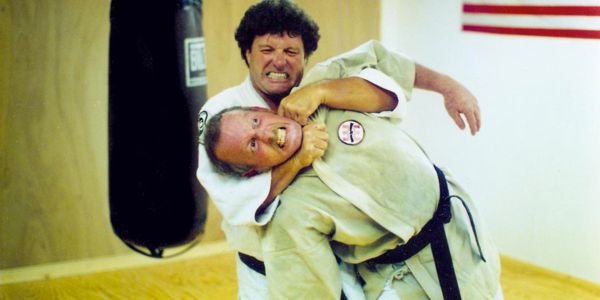 What started as a trip to Vegas turned into a living nightmare that played out like a scene from Smokey & the Bandits part 3. What I am about to describe might sound like something that was written for a Hollywood action flick, but it really happened.
It all began when I stopped off for a bottle of water in Barstow California. I was en-route to Las Vegas to attend the National Association of Broadcasters convention. In addition to acting as a spokesperson for a San Diego based video production company I was also going to show off my latest martial arts series, "Street Combat, Real Stories of the Martial Arts."  With pilot tape in had I was ready to cash in on what had taken me more than a year to produce.  Little did I know that fate had other plans for me.
It was about 2 p.m. when I pulled off the freeway to get some water and stretch my legs.  There were three combination gas station and snack shops within 50 yards of each other.  I chose the Shell mini mart and walked to the back of the store looking for a cold drink.  I opened the sliding glass door to the cooler, scanned the numerous beverages and was in the midst of making a decision when the wall exploded. I thought a bomb had gone off in my face.
At that exact moment in time 37 years of martial arts reflexes went into action. My body responded to the dilemma even before my brain could comprehend what was happening.  A run-away 18-wheeler was the attacker in this unique self-defense scenario. Suddenly I was facing the biggest, meanest and most deadly adversary since my workouts with "Judo" Gene LeBelle.
Apparently a trucker had parked his rig near the Shell station, walked across the street to get a taco but forget to set his brake. The un-manned metal monster started to roll, and in seconds it was speeding toward the rear of the Shell station. Like Mike Tyson taking on Don Knots the building was no match for the powerful truck. With one punch, the big rig went through the wall smashing the giant cooler in front of me.
The room burst into a sea of flying glass and twisted metal propelled by the on rushing vehicle. For decades I have taught my students to go with the flow of an attackers force.  Never fight your opponent's strength. Make your body move to the attacker's weakest side and always give yourself a way out, never get trapped. The semi was my attacker, and for a split second and split second only there was a window of opportunity for me to escape the truck and flying debris. My reflexes made a life-saving decision and guided me to the right.  Had that not happened, the truck would have surely run me over.
You must remember that everything I am describing happened in the blinking of an eye, even though to me the events played out in slow motion. Although I escaped a head-on confrontation with the truck, the fender managed to tag my hip. Again my martial arts training save me from being run over. I went with the flow of the blow and sailed high into the air thus avoiding being dragged under a very big tire.
The force of the hit flung me 26 feet across the room directly at a wall of thick glass.  Instinctively I bent my left hand over my head into a "judo roll" position. Normally this technique is used to protect your neck & shoulder while rolling out of a throw on a mat or the street. I've never heard of it being used to avoid a mid-air collision with a glass cooler before, but like I said, sometimes you don't have time to think, only to react. Once more my training came through for me. Instead of crashing headfirst into the cooler doors I rolled off the glass using my arm as a guide.
Again, remember that all this time the truck is still coming forward, toward me, and it's pushing most of the store in my direction. The instant I landed I was shoved back against the freezer's sliding glass door.  You know how a kid will push his face against a windowpane and make goffey faces? Well that's the position I was in.  Several hundred pounds of shelves had fallen on me, twisting my neck and pushing my head firmly against the glass door.  My kisser was being turned into silly putty and in a different situation this would have made for some great Kodak moments. But this was no laughing matter.  Two more shelves collapsed against my hips, twisting my spine into a very unnatural position.  I looked like a human pretzel. "Even the Gracies couldn't get out of this hold," I half joked out loud.   "How ironic," I thought.  My body was being twisted into a position similar to that of a jujitsu wristlock, one of my favorite techniques. Except it was my neck and spine that was being twisted, not my wrist.  The only limb I had free was my left hand, which was good because what happened next would test my blocking skills.
The truck blasted through another set of shelves and a cooler. The force of the blow sent a barrage of items and busted shelves in my direction. I did my best to block and parry cans of soda and baked beans as they rocketed toward my head and body. I had to laugh at my situation.  Here I am, a 5th Degree black belt with 37 years of training being attacked by produce, bottles and toilet paper.  I felt like I was doing a scene from Kentucky Fried Movie, the film staring Hapkido Master Bong Soo Han that was a goof on Enter the Dragon & Kung Fu.  Remember the opening credits in Kung Fu where Cain  is blocking a bunch of spears being tossed at him by one of the monks?  Well that was me, minus the spears.
In a heartbeat my fight with the flying inanimate objects fight was over, but the truck was still coming straight at me.  Suddenly I heard a loud creaking sound directly above me. I said to myself, "What the hell else can happen?"  You should never ask that question because in most cases the answer is going to be one you don't want to hear. Such was the case with me.
I looked up and saw a two-ton refrigeration cooler unit breaking lose from its hinges.  Fortunately for me there were about five shelves leaning over the ones that had me pinned. Those shelves were resting against one of the remaining walls. Still pinned I could only watch as the heavy cooling unit fell toward my chest. It broke through the first three shelves, but fortunately the fourth shelf held and the unit slide off to one side missing me by inches.
That was the good news, the bad news, the truck was still coming. Although it had slowed down it was still shoving more stuff against all the stuff that was already crunching me. I was measuring the pain and pressure in half-inch increments. My face was being squashed against the glass so tightly I feared that it was only a matter of moments before the glass would shatter, cutting my face and throat to ribbons. Then I heard a popping sound; it was my jaw cracking.  All I could do was listen as several teeth shattered. That really ticked me off cause I hate going to the dentist more than anything in the world. After a couple of X-rated grunts I realized that my former pearly whites were the least of my worries at this particular time.
My next problem was the pressure against my spine and neck. I got sick to my stomach thinking that at any moment I could be crippled for life. Then, just when I didn't think my spine could take any more pressure, the truck stopped several feet in front of me.  I was alive, but the ordeal wasn't over. I could tell I was going into shock.  Once again I called upon my martial arts training. This time the basics of controlled breathing came into play.  In my mind I did a kata, Pinan Yodan. This form was best suited for the type of situation I was facing.
"Good air in through the nose, bad air out the mouth," I muttered while slowly executing the same drill that I have done and taught for years. This technique prevented my neck and spine from cramping, which could have had serious consequences, as they could take absolutely no more pressure.
It took firemen about 20 minutes to dig me out of the rubble. I spent five hours in the Emergency Room but when it was all said and done I was the luckiest guy on the face of the planet that day. Sure I lost a few teeth, had some stitches and for a few days I walked like the Hunchback of Notre Dame, but thanks to all the karate, judo and jujitsu techniques I've learned over the years I survived.  Like a Timex, I took a lickin' but kept on tickin'.
Many of my friends have suggested that I write a book based on some of the weird stuff that's happened to me over the years. And, oddly enough, in each disaster the martial arts played a crucial role in my survival.
When I was a freshman in College at Wright State University in Dayton Ohio I was hit by lightening. I had just left a lecture on Greek literature and stopped off at a pay phone to call my girlfriend. It was raining pretty hard and by the time Sharon got on the line the sky was cracking with the sound of thunder. She asked how I liked the lecture to which I replied "Thor is a bore!"  Sharon laughed at my little joke so I took it a step further after she warned me about poking wise at the god of thunder. So I opened the phone booth door and in my loudest voiced screamed to the heavens, "Thor you are the biggest fu—– bore I've…"
I never got to finish the sentence. All I heard was the reply. "Blam!" A bolt of lightening slammed into the phone booth blowing me and parts of Ma Bell all over the parking lot.  Fortunately a large brick wall broke my fall or I'd probably still be in orbit.  When it was all said and done I wasn't much worse off for the experience. In fact, I was quite the BMOC (big man on campus) for a while. I wasn't burned or badly injured the primary after affect was really quite cool. For about a week, my hair, from the chest down stood straight up and shocked people like a pair of socks out of the dryer.
A few years later I had another conversation with my old buddy Thor, however this time wasn't quite so funny. While working as a lifeguard at the Kettering Swim Club I was hit by lightening a second time. Had it not been for another guard who knew CPR I wouldn't be here to write this story or to experience a shark attack.
That's right, a shark attack.  In the early 70's I was producing a television special for KCOP TV in Los Angeles on sharks.  Steven Speilberg had a hit flick about a great white shark so the "Jaws" crazed had everybody scrambling for a new documentary on the terror of the sea.  Fortunately for me several months prior to the release of the movie I was invited to attend a sneak preview and I knew immediately it was going to be a box office smash.  I also knew that a television documentary focusing on shark attacks would be in big demand, so I went right to work and got a jump on the competition. I spent a year filming sharks and interviewing people who had survived a shark attack and studying accounts of those who didn't.
During the interview process, every expert I spoke with told me the same thing when asked "What are a person's chances were of being attacked by a shark?" "About the same as being hit by lightening." Well that sent a shiver of confidence down my spine.  However, I got through the show without so much as a coral scrape and collected an Emmy in the process. Then, I went to Hawaii to film a commercial for the Hilton Hotel on Maui. It was there that the percentages caught up with me.
My back up divers entered the water before me; I checked my camera gear and followed them about 50 seconds later. The instant I hit the water the shark struck. I never even got to clear my faceplate. "BLAM!" I felt like I was on the receiving end of a Mean Joe Green chop block. The force of the blow was incredible; it sent me tumbling down another 10 or 15 feet.
I saw the distinctive shape of a large Hammerhead shark swimming away. I knew from my research that this was a fluke situation, just me being in the wrong place at the wrong time. I also knew that since the shark had hit something hard, (my tank) and he would probably just go away in search of something a little more tender. The words of Jim Steward from Scripts Institution of Oceanography in San Diego echoed in my brain.  "When the shark attacked he severed an artery. I quickly tied it off using the sling from my spear gun then I used my tank to smack him on the snout when he made another pass at me." Jim's sound byte from my Shark special was like a blueprint for what I had to do next.
I also instantly recalled an interviewed I had done with Jim Steward from Scripts Institution of Oceanography in San Diego when he detailed the time he was attacked by a shark. Not only did I recall my conversation with Jim word-for-word, but it was like he was giving me advice on how to stay alive. "Note the sharks behavior, that will tell you what's he's going to do next. You only have seconds to react." Following Jim's advice I watched in horror as the shark lowered his head, dropped his fins and turned sharply in my direction.  This isn't the behavior pattern I had wanted to see. Instead of leaving the area, this Hammerhead was coming in for another attack.
I knew I had to get my tank off my back and use it like a shield, but things didn't go as smoothly as they did during my test for certification. Then, I easily accomplished the task, but today was going to be a whole different ball game. First, I got the line holding my camera to my wrist wrapped around my weight belt. When I reached for the tank,
I truly believe that I owe my life to the art that I love so much and to the students and teachers who have helped me to learn and grow as a martial artist over the years.