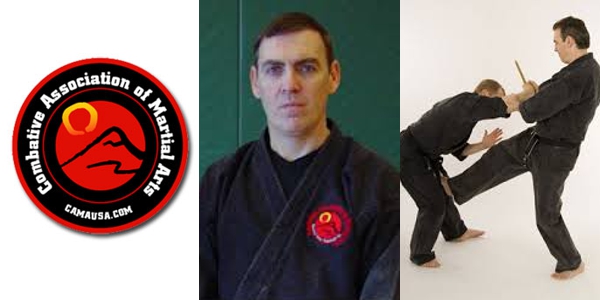 Vincent Anthony has been training for over 4 decades and is the President of the Combative Association of Martial Arts and Head of the Aiki Bujutsu -Tode Ryu Hombu. After the loss of beloved Soke in 2002 Vincent Anthony officially transitioned from the title Hanshi to Soke in the summer of 2005 in an official awards ceremony. Out of respect to our beloved past Soke, Vincent Anthony has chosen not to officially use the title Soke until 2010, though he holds all promotional and business authority for the Association.
Belt Grading & Certifications:
8th Dan – Aiki – Bujutsu – Principal Discipline
8th Dan – Pierce Family Gung Fu
6th Dan – Karate Ju-Jutsu
5th Dan – Master Instructor Certification – American Tang Soo Do 5th Dan – Buki – Weapons 1st Dan – Ju-Jitsu
Personal History: Vincent Anthony has over 20 years of well-rounded business experience on a domestic and international basis. He recently transitioned from being the Director of Homeland Security for a multi-billion dollar government contracting company, and is now engaged in private sector consulting in the area of risk mitigation. He has been very involved in the Anti-Terrorism/Force Protection, and Homeland Security process well before the tragic events of 9/11 and continues to contribute to the private sector, government and military. He is a sought-after public speaker and speaks frequently on the subjects related to these topics.
About Aiki Bujutsu – Tode Ryu
Our system, Aiki Bujutsu – Tode Ryu is comprised of a grouping of individual arts that over the centuries came together to become the core of the System we know today.
A system, unlike an individual style, provides the student practitioner with an ability to be exposed to a much more diversified set of skills.
Our base or common training style is Aiki Bujutsu. This is the parent art that houses the family of arts, described as our Styles…
Our Style is not unlike those of other martial art systems. A System means that the student practitioner will be trained in a much wider range of techniques. As he or she advances they will be able to achieve individual rank in each sub-art.
We teach a basic Five Element Style:
The Parent Art is a combined art that provides the Bushi (Warrior) with a wider range of skills which can be applied in combative or defense encounters. These teachings are based on our Traditional Aiki Bujutsu System.
AIKI – Meeting of Ki.
The Impassive state of mind of the combatant where his or her internal force is focused.
BUJUTSU – Technique of Combat.
Warrior of Japan, their aim was to achieve maximum effectiveness in warfare.
This Style provides the Student Practitioner with a well-rounded set of Martial (combative) abilities. Teaching the combined skills of both the soft fist (Locks, Takedowns & Throws) & hard fist (Blocking, Kicking & Punching) aspects. This Style could be compared to Kempo or Hapkido training. Our focus is to maintain the traditional application of the Martial Arts and focus on its combative nature. We blend philosophies of our past Masters and the demands of modern day society to provide the student practitioner with a dynamic learning environment, knowledge and ability to learn, retain, and execute the Art. We believe that the students must be educate using the three key elements — THE MIND, THE BODY, and THE SPIRIT to develop his/her solid martial abilities.
Training in Aiki Bujutsu – Tode Ryu provides a great source for many beneficial bi-products for your personal development such as:
• Expansion of Knowledge
• Self – Confidence
• Self – Discipline
• Physical Exercise
• Flexibility
Aiki Bujutsu – Tode Ryu has been influenced over the centuries since its beginnings in China in the 1400's. As Sokes (Heads of Families or Schools) immigrated to other Asian Nations (e.g., China, Korea, Okinawa, Japan, to England and finally America) the Style adapted and was effected by the arts active in those regions.
Today's Style is referred to as AIKI BUJUTSU-TODE and reflects the root style the system was based and built on.
These three elements are the foundation of our training:
• AIKI, being the soft and controlled art
• BU technique of war
• JUTSU our combative or Bushido (Way of the Warrior) origin
• TODE applied hand and leg technique
It is important for the Hombu to stand freely on its merits and the historic value of our true combative style. These elements separate us in many ways from the mainstream of commercial Martial Arts and it was felt throughout the System that it returned us closer to our roots.
For more information about Vincent Anthony and Combative Association Of Martial Arts visit their listing on the Martial Arts Schools and Businesses Directory by clicking on the image on the left.