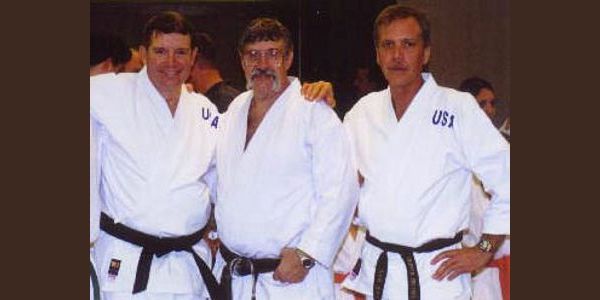 Rated as the number one fighter in 1966 by Black Belt magazine, Skipper Mullins has been involved with Karate for over 35 years and has trained over 10,000 students. In 1987 he was included in Black Belt Magazine's "Best all-time 10 Fighters." Recently retired as a captain of the Dallas Fire Department we discuss his life, training and views about modern martial arts.
Realfighting
You started Karate in 1963; what was the training like in those days?
Skipper
I started karate in October of 1963. Allen Steen was my instructor, and we worked out in the Red Bird National Guard Armory. The classes were 2½ to three hours long. We did a lot of exercises including hundreds of kicks. We also did a lot of sparring. We had many injuries, including some serious ones. Karate to Americans was still in the primitive stage. We had a lot of turnover in students due to the long grueling classes and injuries. Even with the high turnover, the students that hung in turned out to be excellent Black Belts.
Question
Did you do aerobics and weights at that time?
Skipper
No, the only other things I did was run, play baseball, football and basketball.
Question
Your initial instruction was under Allen Steen? What style did he teach, and was it practiced traditionally or with a Texas flavor?
Skipper
Allen Steen was Tae Kwon Do; Mr. Jhoon Rhee was his instructor. Our training was traditional, with a Texas Flavor. Allen was born and raised in Dallas, Texas. He came out of a rough neighborhood, put himself through college and had a hard life early on. He was 6'- 2", weighed approximately 180 pounds, had a badass sidekick and attitude, and was fiercely competitive. He expected no less from his students. If he didn't get it, they would soon be gone.
Question
What was Mr. Steen's background in Karate when you met him?
Skipper
Mr. Steen was a first-degree black belt under Jhoon Rhee in Austin, Texas. Both had attended the University of Texas, and when Mr. Rhee finished school he moved to Washington D.C. Mr. Steen moved back to Dallas. He was one of the top fighters in the country. He liked Karate and wanted to continue competing so he began offering classes around town. The first one was at the Texas Instruments gym; the next one was at the White Rock National Guard Armory and then the Red Bird National Guard Armory. That's where I met him. We have been together for over 38 years.
Question
What were the circumstances that introduced you to Karate and later fueled your enthusiasm for it?
Skipper
I loved sports, but was from a poor family. I worked 6 days a week in a grocery store while attending high school. My only time off was Tuesday night. Mr. Steen had opened a class at the Red Bird National Guard Armory on Tuesday nights. Some of my friends were taking classes so I began attending also. I won in every division I competed in. I have always been a competitor, and this was a great way for me to compete and see part of the country at the same time.
Question
Did you complete early on, or wait a few years before you started competing?
Skipper
My first tournament was at Ed Parkers International Championships in August of 1964. I made the trip to Long Beach, California with two of my classmates. They were both married and had children. I had just graduated from high school and this was my first major trip without my parents. I went for the trip, not thinking I might win. The win and the trip put me on the road for the rest of my life. It's still fun to go and watch competitions, or teach seminars somewhere where I haven't been before.
Question
How did you do in your first few competitions?
Skipper
I won my first tournament at the Internationals in 1964 as a blue belt. I thought I was the best. The next tournament was in Tulsa, Oklahoma in October of '64. I was now a brown belt. I got the crap kicked out of me by Ron Moffit, one of Pat Burleson's students. He beat me again in February 1965 at the Southwest Karate Championships in Dallas for first place. In April, I was disqualified against Thomas LaPuppet at Jhoon Rhee's National Championships. I won every tournament after that in the Brown Belt Ranks.
Question
When did you make black belt?
Skipper
In April of 1966, I was promoted to Black Belt; and Black Belt Magazine named me the number one fighter that year.
Question
You were named VP of Karate for all the Texas Karate Institute dojos, did that take a lot of time out of your training?
Skipper
Actually, being VP of the Texas Karate Institute accentuated my training. We had 37 schools scattered around the country, so I got to work out with many different people.
Question
What year did you enter the Marines, and were you assigned as a full time trainer?
Skipper
I enlisted in the United States Marine Corps in November of 1965. My MOS was a pay and separation clerk, but I was stationed at Marine Corps School, Quantico, Virginia. The FBI academy is located there and so is the Marine Corps Officer Training School. I taught self defense to all of them while fulfilling my other obligations. It made for long days, but none I would trade for. I made some of my best friends of my life while I was on active duty in the Marine Corps.
Question
In the old days, the 60's to 70's, did you ever have any street confrontations?
Skipper
Yes, and in the 80's and 90's too, like anyone coming out of Oak Cliff in those days. I was raised in the streets, and you had to fight to survive. I generally punched and kicked my way out of them successfully. I have all my teeth and was never hurt seriously in a street fight.
Question
You won seven world titles, and fought 1100 total fights in your career (losing only 15 events). Was it all natural talent, athletics or special training?
Skipper
I am very competitive by nature. Anything I do, I want to be the best. The same can be said about Allen Steen, Chuck Norris, Mike Stone, Bill Wallace, Joe Lewis, Pat Burleson and many other great champions. I believe my competitiveness gave me an edge, because I wanted to be the best, and my Texas Charm helped also, ha and because so many people took me in and trained with me. People like Norris, Wallace, Stone, Steen, Burleson, Rhee, Lewis, Bruce Lee, and many others. Without their influence, I would have been just another Joe Blow fighter.
Question
Tell us about your training with these guys; was it similar, lots of punches, kicks and sparring for hours on end, any special routines?
I worked out with Pat Burleson, Chuck Norris, and Joe Lewis in class. This included warm ups, Kata, all kinds of techniques and sparring. Those were great fun days.
Question
How did Mike Stone help your career?
Skipper
Mike gave me the first outside instruction I ever received. Mike Stone worked with me at the Nationals in 1965 and showed me how to use a ring and how to dance in the ring. I was only a brown belt, and here was one of the best fighters that ever fought giving me instructions. I was thrilled and really paid attention.
We talked several times about different techniques. He also was instrumental in having me watch other fighters to find their weak points [in case I had to fight later on]. I really appreciated it because at that time he was the champion of champions and I had just started my career. He is another great friend I have made and kept over the years.
Question
What was Mike Stone like as a fighter?
Skipper
Mike Stone wasn't pretty; he was just mean, and very competitive. He had been an all around athlete in Hawaii growing up. He started taking Karate after he went into the army. His instructor was sergeant Peters. Mike fought out of a cat stance and had the fastest, strongest hands I ever saw. Pardon the pun, but he had good foot speed and was quick as a cat. He could block and counter faster than anyone I ever saw. His counters were powerful and he took many a man down.
Mike Stone's kicks got much better after he retired. He was one of those naturals that made black belt in less than a year. Bill Wallace and Joe Lewis are two other's that made black belt in less than a year and went on to great careers. Those are the only ones I know of that made black that quick and became superstars.
Question
Is he still teaching?
Skipper
Mike comes into the States every October and November. He teaches a lot of seminars the two months he is here and then goes back to the Philippines. That is his home now.
Question
What was Bruce Lee's contribution to your skills?
Skipper
Bruce Lee worked with me at tournaments on hand techniques and foot movements. I believe I am the only one from out of town and not really in his inner circle of close friends that he took the time to work with. He was a special guy, good friend and someone that I have a lot of fond memories of.
Question
Did Mr. Jhoon Rhee work with you while you were in the Marines?
Skipper
Jhoon Rhee was Allen Steen's instructor, and had schools in Washington D.C. When I was stationed at Quantico, Virginia, Mr. Rhee would come and pick me up, take me to tournaments or his school to work out. He worked with me on my Kata's, kicks, and sparring. Our sparring sessions consisted of him attacking me across the dojo while I defended. I would then attack him across the dojo and he would defend. Without Mr. Rhee's help, my career may have come to a standstill while I was in the Marine Corps. This was another special man that went out of his way to make sure I held my course.
Question
Did you work out extensively with Bill Wallace?
Skipper
Bill Wallace and I only fought once in a tournament, but we sparred we were around each other. He was very inquisitive about kicking techniques. We helped each other. I did help him develop more power, but his kicks were excellent as far as speed and technique. His favorite kicks were the roundhouse and hook kick. Mine were sidekicks and the round house. If you watch both of us, we get the same results, but our kicking techniques are different. Bill uses a high knee fold, while I use a low knee fold. He likes working the head and I like working anywhere there is an opening. That's the main difference in our techniques. He is a special friend and we still see a lot of each other. He's great fun to be around, but he is very serious about staying in shape, teaching and his beliefs.
Question
How about Joe Lewis, did you compete against him?
Skipper
Yes
Question
What was the outcome? What type of fighter is he?
Skipper
Joe beat me. Joe was just too big and too strong for me. I weighed 150 pounds and he weighed 220 and was built like Atlas. Joe and I worked out a lot together. He would come to Dallas for a week and stay with me and I would go out to LA and stay with him. I could never develop new techniques for him, because we were always working out together. He knew everything I had.
Question
What is your honest impression about Bruce Lee, some people still say, he was an excellent theorist and coach, but due to his small size wasn't that effective against bigger men?
Skipper
I truly liked and admired Bruce. I worked with him some and he helped me in my foot movement and back fist. Bruce probable weighed 135 pounds at most, but he could hit like a mule. I know, because he knocked me under Sharon Tate's barstool at Columbia Pictures in 1968. Bruce never confronted any big men to my knowledge. There are stories out there, but none I personally know of. I will say this; I would have picked Bruce in any street situation. He had the knowledge and the attitude to carry him through anything.
Question
And lastly, Chuck Norris, back in the early tournaments, what was it like fighting him?
Skipper
Chuck Norris is one of the best friends I ever made. His home was always open to me and I stayed with him and his family often. We were both poor then and all of us shared our homes, money and food with each other. That was the only way we could make it.
I lost every fight to Chuck. He only beat me once bad, but that was in Dallas, my hometown. All of my training centered on techniques that I could beat him with.
He had been a black belt quite a few years before me and had a well-established school in LA. I fought and beat many of his students coming up through the ranks. They were all tough fights so I knew Chuck would be even tougher. He trained his students like Allen Steen did his. He had his own bag of tricks and the best timing I ever encountered.
We fought at the International Karate Championships in 1968. It was the first three round fight for the Grand Championship. He was the defending champion, so he was seeded in the semi finals. I had to fight my way through to the championship from the start. The fight could have gone either way, but Chuck won. I knew after that fight, that I was ready for anyone, including Chuck. Unfortunately, he retired before I got another shot at him and then the big bully, Joe Lewis, came along.
Question
Who was the toughest fighter you ever fought?
Skipper
Joe Lewis had to be the toughest. He was a big strong man. 220 pounds and I was only 150 pounds. Fortunately for me, we never fought until the grand championship match.
Bill Wallace was also a hard fight, but we only fought once. There were many tough fighters out there back then, but I include myself in that group too.
Question
Who was the meanest fighter you ever fought?
Skipper
Allen Steen
Question
Who was the smartest fighter you ever fought?
Skipper
Chuck Norris
Question
Was competing in tournaments easier than it is today, in the no-holds barred contests?
Skipper
Yes, because there was no doubt most of the time about a point.
Question
When you were competing, was there no contact, light contact, or did you try to smash each other?
Skipper
There was a lot of contact and a lot of blood. You never really saw anyone try to smash anyone unless there was bad blood between the two fighters. Contact was part of the game and we all lived with it. I was very fortunate not to have had any serious injuries but I loved fighting under the old rules.
Question
Some of the students you've trained became well known, Demetrius Havanas, Roy Kurban, Ray McCallum and others; these things don't just happen, you obviously have great coaching and training skills, would you like to share them with us?
Skipper
The men you mentioned had more natural talent than I ever thought about, especially Raymond McCallum. They were also fierce competitors. Demetrius and Roy trained very hard, but both did not believe they were as good as they were. I had to push Demetrius into taking belt exams because he didn't believe he could win at higher levels. Roy had the size and technique, but let people run over him. I started coaching him for every fight and he started winning. Once Demetrius and Roy gained confidence, their careers took off.
Raymond was a different person all together. He was about 14 years old and running with a bad crowd. He was running with one kid that was really a bad influence on him. He is dead now. I went to the school and whooped his butt pretty bad, and then I whooped Raymond's butt pretty bad. I was trying to run the first kid out of the school, but I wanted to keep Raymond. I didn't beat on him out of meanness, but to get his attention.
He had so much natural talent, and he thought he did not have to work out very much. I was trying to show him that he did. Raymond told me years later, his only goal was to make black and get good enough to put a butt kicking on me like I did him. I guess my tactics worked, because he was one hell of a fighter. I am very proud of all three of those guys.
Question
During the last twenty years or so, have you had any street confrontations where you ended up fighting? If so what happened?
Skipper
Yes, but very few. I have learned to walk away from some of these dumb drunks. Something I would not do when I was younger. If I had to fight, I did. Most of the time, a couple of punches were thrown, and then the crowd broke it up. Street fighting is just not fun anymore, but if I have to, I will, and I will fight to win.
Question
What's your impression of the mixed martial arts scene today, i.e., the UFC, Pride, Pancrase, K-1, etc?
Skipper
They all have some good qualities, just like all styles of Karate. It is too bad that they can't work with each other instead of against each other. I learned at an early age that all styles have techniques that would work for me. Chuck Norris did too and we both adopted them to our fighting styles. It made us better fighters and broadened our knowledge of the Martial Arts.
Question
Do you still train nowadays? If so, tell us about your training and workout schedule.
Skipper
From January to October, I train three to four times a week. November and December, I do a maintenance program.
I work out at my home. I have a bicycle I ride, I work out on the bag in my garage, and I work out on a Bow Flex machine. I teach 25 to thirty seminars a year so I have to maintain myself. Karate has kept me young.
Question
You were a fireman for 36 years; many people really didn't appreciate firemen as much as we should have until the World Trade Center disaster. You must have felt a special loss for your comrades.
Skipper
I cried.
Question
You're writing a book now, tell us a little about it, and when is it due?
Skipper
The book is on hold right now. The name of the book was Funnies in The Fire Department. Things are not funny to me right now. This month's editorial on my web site explains it a little better.
Question
If you were 18 years old today, what would your training be like?
Skipper
I would like to think they would be the same. Of course, the grappling techniques, joint attacks, etc., would be included. I love some of that stuff. I wish we had it back then. I would have worked out in that also.
Question
During the last few years there's been an upsurge of interest in mixed martial arts and reality-based self-defense. This is in part due to a lack of confidence the public has with traditional martial arts. Why do you think some martial art organizations are teaching techniques that don't work in the streets?
Skipper
Money!
Question
You're now on the road giving seminars, are these pure Karate or do you allow for mixed martial arts?
Skipper
I love mixed martial arts. If I have a black belt in one of my seminars that has a specialty, I turn them loose with the class for 15-20 minutes and try to pick up some of their techniques. I think the more I learn, the more I will have to bring back to the next seminar. We should never quit trying to learn.
Question
What are your goals for the future?
Skipper
To live a long, healthy, fun-filled life like I am doing now.
Question
Thank you for your insights, and good luck.
Skipper
Thank you