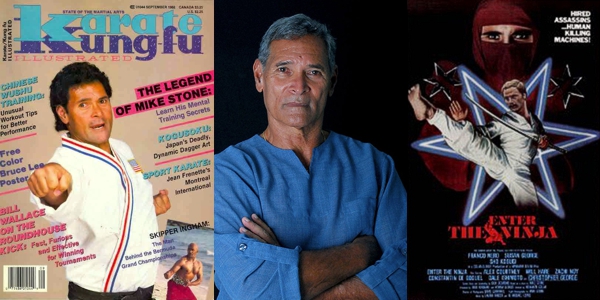 Mike Stone was born in Makawao, Maui, Hawaii in 1944. He has used his martial arts training in many different professions including as a martial arts teacher, a martial arts competitor, a fight choreographer, a stuntman, and actor and most recently as a motivational speaker.
Mike Stone was a star athlete in various different sports during his time as a student and he studied some aikido while at Lahainaluna High School. After graduation from high school, Mike joined the Army. While he was stationed at Fort Chaffee, Arkansas, he met his karate instructor, Sgt. Herbert Peters, who had just returned from Okinawa. Mike began training with Sgt. Peters in Shorin-ryu karate and earned his Brown Belt in only three months. It took him only 3 more months to earn his Black Belt, a world record.
Mike Stone went on to win all the major tournaments – from the Nationals in Virginia to the Internationals in Long Beach, California, the United States Karate Championships in Texas to the World Championships in Chicago. Mike never lost any of his individual Black Belt matches or his kata competitions.
In 1963, Mike Stone won the Southwest Karate Championship in the Black Belt division. The promoter was Allen Steen, who holds a victory over Mike Stone and Chuck Norris. At Ed Parker's 1964 Internationals Karate Championship, Mike defeated Harry Keolanui in the finals, becoming Grand Champion. In Chicago that same year, Mike scored victories over Ray Cooper and Mill Crenshaw to win the First World Karate Tournament. At the U.S. National Karate Championships in 1965, Mike won the championship by beating Walter Worthy. The same year and for the second time Mike Stone won Ed Parker's International Karate Championship by defeating Art Pelela and Tony Tulleners. Three years later, Stone won the World Professional Karate Championship on November 24, 1968 by beating Bob Taian by points decision. In 1969, at the U.S. National Karate Championship, Mike lost an upset decision to Victor Moore but was still recognized at one point as the only Black Belt to retire undefeated with 91 consecutive Black Belt victories. He was inducted into Black Belt's Hall of Fame as Fighter of the Year in 1971 and Instructor of the Year in 1994.
In the 1980s, Mike Stone took an interest in writing and movie production. His original screenplay titled Dance of Death, was released as Enter the Ninja (1981), and this film started the worldwide ninja movie craze. Mike also acted, produced, choreographed and directed other martial arts movies, including the American Ninja series. He authored a martial arts book, American Eclectic Karate, in 1983.
Mike's life and his experiences are varied and far-reaching. He has had a long and successful career in athletics, in the movie industry, in the entertainment business and has been a writer, promoter, sports instructor, inventor, bodyguard and personal fitness trainer. After years of introspection and reflection, he has used these experiences to create a comprehensive and dynamic seminar program, "Living Your Dreams Now," has changed the lives of people who attend had apply the simple yet effective principles of the program. The program involves the trilogy, which makes up who we are as human beings — the body, mind, and spirit or soul. It focuses on the four primary aspects that impact upon every person's daily life; specifically love energy, time, and money.
Mike Stone lives on what excites his imagination – poetry, art, music, dog-training, playing tennis, and golf among others. He has published books of diverse topics and has masterfully applied in his life the very ideas that he espouse in his seminar talks and writings.
THE TOURNAMENTS OF OLD
By Mike Stone
In the old days it was great – wild, free, and fun
When guts and heart were part, and no one thought to run
Matches were fast and furious especially against a friend
Neither fighter dared back down, until beyond the end
I went out there and did the best that I could do
It may have come across arrogant and conceited too
But that was never my intention, so focused was I to win
The thought of losing to anyone was for me a cardinal sin.
Friendships waited outside the ring, but respect always remained.
Once the match was over, only bloody gis were stained.
For so few took it personally when they lost a match.
They knew another chance would come for that golden ring to catch
The fighter shared a feeling, a belief no one spoke in words,
It had to do with testing oneself, definitely not for nerds.
We fought the very best we could it was a matter of pride
Losing was never the issue, what mattered was that you tried.
The after tournament parties were something to behold,
There were even tougher than some matches I was told
It was like the old west, with women, booze, and fights.
Tearing up hotel rooms, breaking furniture, and lights.
Although I never took part in shenanigans like that .
I preferred to do my fighting in the ring and on the mat
In thinking back to those days and the great times I've had.
I recall only fond memories and for this I am glad
I feel so fortunate to have been a part of that golden age,
But never once regretted bowing out of center stage.
The thought which brings a smile to me whenever I think back
Are the lasting friendships, not the trophies on the rack
For when I see an old timer, I feel warm inside
Knowing we both shared a magic carpet ride.