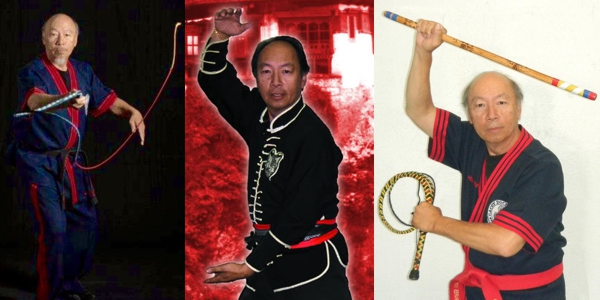 Professor Ron Lew is an active and dedicated Martial Artist. In addition to his Eighth Degree Black Belt in Kajukenbo Fi Kuen under GM Ted Sotelo, he is a Master ninth Degree Black Belt in Doce Pares Eskrima under Great Grand Master Cacoy Canete, an Elite Black Belt in Latigo y Daga and a Senior Advisor to Wun Hop Kuen Do.
Professor Ron Lew first studied under master Sifu Paul Eng.
Sifu Paul Eng was born in Hong Kong and began his Kung-fu training at age 6. Sifu Paul Eng was a master of Choi Li Fut, Ta'i Chi Chuan, Choi Gar, Northern My-Jong, Hung Gar, Hsing-I, Pa Kua, Northern Shaolin, Lo Han, Seven Star Praying Mantis and Tai Chi Praying Mantis. He learned Fu Jow Pai (Tiger Claw System, Black Tiger) from Wong Moon Toy (1907 – 1960), a descendant of Master Wong Bil Hung (1841 – 1934) who studied under the famed Master Wong Kay Yin and then later under Wong Kay Yin's son, the legendary Master Wong Fai Hung. Wong Bil Hung changed the name "Black Tiger" to "Fu Jow Pai" in memory of his own Master, a Shaolin Monk from Hoy Hung Temple.
In 1960, Sifu Eng became one the Chief Instructors of the Fu Jow Pai Kung-Fu Federation after Master Toy's passing. Sifu Wai Hung was the other chosen Chief Instructor in New York. Sifu Eng moved to Sunnyvale, California in late 1960.
Ron Lew's first meeting with Sifu Eng was in 1963. He and his good friend Dennis Futamase were looking for a Kung-fu master in San Jose, California. However, most Kung-fu masters were located in San Francisco. In those days, Kung-fu was only taught strictly to Chinese. For several months, he and his friend ate at this old Chinese Restaurant trying to get to know a specific waiter. They had a hunch that this waiter knew Kung-fu; by the way he walked and how effortlessly he set up the tables. After getting to know this waiter fairly well, he confessed that he knew some Kung-fu and had started at the age of 6. And that was the beginning of a long and wonderful martial art journey. They were his first students in the California and paying $5 per month.
In the 1966, he met Sifu Al Dacascos and one of his top students, Ted Sotelo. That meeting is another unfolding journey, which has led to lasting and bonding friendships. Sifu Al Dacascos would later be introduced to Paul Eng and Wong Jack Man.
In 1969, Sifu Kam Yuen, Sifu Raymond Wong and Sifu Paul Eng formed the Tai Mantis Kung-Fu Association.
In 1970, Sifu Lew founded the Fu Ngon Jow, Tiger Eye Claw Center (previously named Tiger Claw Association).
In 1974, Kajukenbo, Ch'uan Fa, and Wun Hop Kuen Do. Sifu Lew also furthered his martial art studies with Sifu Ted Sotelo. This training would later become known as Fi Kuen (Flying Fist), established in honor of Sijo Adriano Emperado.
In 1981, Sifu Lew met Master Peng-si Yu and his wife, Min Ouyang from Shanghai. He also met Master Hu from Tibet. For over 20 years, Sifu Lew was heavily into the external Kung-fu. He furthered his studies in the internal arts: the "calming the Mind and Healing art" through Qi Gong, long hours of Standing Meditation, Breath work and Tibetan Energy understanding.
In 1985, TiAiKi – Tibetan Martial Arts & Healing was founded and officially added to Tiger Eye Claw System. This was established in honor of Master Hu, Tibet.
In 1993, Professor Lew continued his "Journey" with Great Grand Master Cacoy Canete of Doce Pares Eskrima; further honing his skills through weekly brawls with close friends – Grand Master Ted Sotelo and his students Masters Florencio Cautiverio Jr. and Wally Estropia.
In 1993, Professor Lew started creatively exploring the Bull Whip with the guidance of Master Tom Meadows, Latigo y Daga (Whip and Dagger). Professor Lew's distinctive Bull Whip style is called: the "Tibetan Wave". He has been bestowed the honor of being one of five elite certified instructors. He has found the Whip is a very dangerous weapon; as well as to the user- holding the other end. While vacationing in Maui – Hawaii, Professor Lew visited an old bookstore. He asked the pretty young lady attending the store: "Excuse me, do you have any book about Whips?" "Sir, we not 'that kind' store. Go check down the street."
2001, Latigo y Daga (Bull Whip & Dagger), Master Tom Meadows
2003, Promoted to Professor, 8th Degree Black by Grand Master Ted Sotelo, Kajukenbo Fi Kuen
2004, Inducted to the World Martial Art Master Hall of Fame
2007, Promoted to Senior Master, 8th Grade Black by Grand Master Cacoy Canete
2008, Inducted into Grand Master Cacoy Canete's First Doce Pares Hall of Fame – Cebu, Philippines: Most Notable Master
2010, Inducted into SGM Cacoy Canete's Second Doce Pares Hall of Fame – Cebu, Philippines: Exemplary Dedication to Doce Pares
2010, Promoted to Grand Master, 9th Grade Black in the Art of Eskrima – Eskrido by Supreme Grand Master Cacoy Canete
2012, Promoted to Grand Master, 9th Grade Black in the Art of Pangamot by Supreme Grand Master Cacoy Canete
2012, Inducted into SGM Cacoy Canete's Third Doce Pares Hall of Fame – Cebu, Philippines: Valuable Grand Master
2012, Promoted to Maestro of the Whip Arts by Tom Meadows, Head Instructor / Founder, Latigo y Daga
Professor Lew has often said, "You can learn a great deal about yourself when teaching your students everything – they, in return, will teach you the real Art of martial arts."