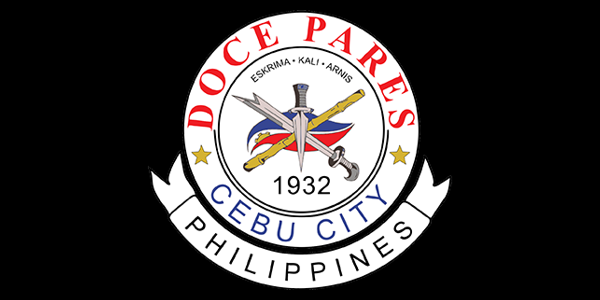 Circa Cañete was known by his Filipino nickname, Cacoy Canete. He was born in August 1919 in San Fernando approximately 30 kilometers south of Cebu City, on Cebu Island, in the Visayas region of The Philippines. He was the youngest of twelve children. At the early age of seven he was initiated into Eskrima, learning from his brother Filemon or "Momoy" who had in turn learned Eskrima from his father Gregorio and uncles Gavino, Pedro (from his fathers family) and Juancho (from his mothers family). Because of his open mindedness and desire for knowledge, he has trained in many different styles of Martial Arts.
Cacoy Canete and Doce Pares promote Eskrima. Cacoy Canete trained in many styles of martial arts including Ju Jitsu, Boxing, Kodokan Judo, free style wrestling, Shorin Karate and Aikido. Through his lifetime of training he gained deep insight and broad understanding, mastering the concepts of self defense and combat. The culmination of years of learning fused into the style that he taught which is called 'Eskrido'. This style combines the refined essential elements of every martial art he has learned through his life.
Ciriaco Cañete's Eskrido Doce Pares Syllabus:
Single stick
double stick
stick/dagger single person patterns or katas
Ammara/ Pinki
Pinki double stick training routines (drills sometimes called Sinawali in the northern regions of the Philippines)
breakfalls and throws
Stick and dagger defence
locks and throws
Semi free sparring in close, medium and long range with single stick and stick and dagger Disarms are a main emphasis
Cacoy's Twelve Basic Strikes:
top of head,
right temple
left temple
right ribs
left ribs
right waist
left waist
right knee
left knee
right cheek thrust
left cheek thrust
stomach thrust.
Doce Pares: 'Doce Pares' is an Eskrima/Arnis Martial Arts Club that was founded in Cebu City in January 12, 1932. Originally it was a breakaway group of students and instructors from the 'Labangon Fencing Club' of the 1920's which was influenced heavily by the Saavedra and Cañete families. The original instructors of the Doce Pares taught their own particular families, islands or regions styles of Eskrima and their particular interpretation of their own styles. The Doce Pares was made famous in the international scene during the 60's, 70's, 80's and 90's by the Cañete family, especially Ciriaco 'Cacoy' Cañete. The term 'Doce Pares' is a Spanish term translated into English to mean 'Twelve Pairs'. This term the 'Twelve Pairs' has been given several meanings to it.
One refers to the twelve basic strikes that are common to most Eskrima styles and schools and their twelve basic block and counters to these strikes. Another more romantic explanation is of the reference to the twelve pairs of 'Compadres', the bodyguards for the King Charlemagne and how the club should emulate the friendship of these warriors. The final explanation is that supposedly there were twelve original master members of the Club. There are no Grandmasters alive from the original founding members of the Doce Pares. However there are several senior instructors or Grandmasters of the second generation of Eskrimadors/Arnisadors still alive that teach their own interpretation or styles of Eskrima/Arnis within the club the Doce Pares.
Doce Pares Organizations:
Doce Pares is the worlds leading organization for the promotion and development of the traditional Philippine martial art known as Eskrima – stick fighting. Magellan's sword-wielding conquistadors fell to Maharaja Lapulapu who used Eskrima to defeat the Spanish at the battle of Mactan. Doce Pares traces its history to Lapulapu and today is the home of the most renown expert of this art, Ciriaco "Cacoy" Canete.
Introduction
Because the martial arts field is basically unregulated and depends greatly upon the integrity of instructors and practitioners to honestly represent their backgrounds and training, it is quite difficult for students to be assured of the quality of their teachers. This problem has become more severe as Eskrima and other martial arts have grown into popular and successful business enterprises. Unfortunately, along with the growth of the martial arts industry, there have been numerous examples of individuals taking advantage of the lack of regulation and organization to try to obtain commercial advantage by "self-promoting" themselves as Doce Pares "Masters" or even Doce Pares "Grand Masters". To bring some clarification and validation to the Eskrima ranking system, the Cacoy Doce Pares World Federation has developed a listing of all the Grand Masters and Masters it has officially recognized.
The titles of Doce Pares Grand Master and Master are highly regarded throughout the world and the individuals who have achieved these ranks through official recognition should be given great respect for their achievement. The Cacoy Doce Pares World Federation seeks to preserve the integrity and reputation of its official rankings through presentation of this accreditation list. The qualifications for these respected and advanced titles are based on the judgments of past and previous Grand Masters and include the following:
Tournament and combat records
Defense of titles
Actual combat bouts
Demonstrated skill. For Masters, this includes total mastery of all existing Eskrima skills at the highest level of ability. For Grand Masters, it requires going beyond the total mastery of all known Eskrima skills to evolve and contribute new skills, styles, techniques and advances to the art.
Contributions to the art of Eskrima that promotes and advances its recognition as a unique martial ART throughout the world. Doce Pares does not consider purely commercial or business promotion as meeting this goal. The present and past Grand Masters and Masters have been recognized for the quality of the students whom they have produced to spread the art of Eskrima throughout the world and for their personal good-will ambassadorships achieved through world travels, seminars and so on.
Particularly for Grand Masters, a lifetime history of continued dedication to the art of Eskrima. For both Grand Masters and Masters, character and personality worthy of this high recognition as well as concern for students and skill in their martial arts training and education. Students should be wary of anyone claiming the title of Doce Pares Grand Master or Master whose name is not recorded here. In such cases, documentation of the title (signed, dated certification from Doce Pares Federation, Cebu City) should be requested. Final verification can be obtained directly from Cacoy Doce Pares World Federation by an e-mail inquiry.
Verification of lower rankings should be traceable back to Doce Pares World Federation and/or an officially recognized Grand Master or Master or Doce Pares Certified training facility. To ensure they are "getting what they pay for" students should ask for validation of this Doce Pares "ancestry" record before undertaking study of Doce Pares Eskrima from a particular individual or school.