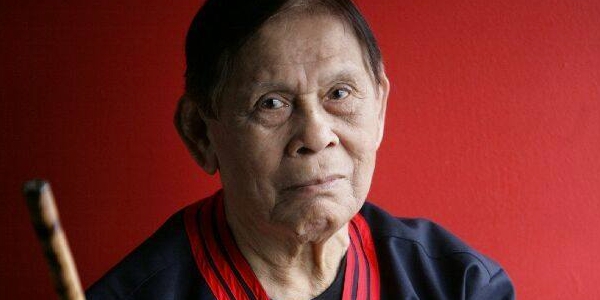 The legendary Cacoy Canete of Cebu Philippines was a prominent, internationally known martial artist who traveled the globe to share, teach and demonstrate his martial art skills to others. The Grandmaster promoted his art for self-defense, sport and personal well-being. Cacoy Canete was the only 12th degree black belt and the highest ranking member of the fame Doce Pares Eskrima Club. He began his study of Eskrima at age 7 under the oldest of eight, brother "Momoy". At 97 years old, Grandmaster Canete's list of achievements was extensive. Here are some of the highlights:
Founding member of the fame Doce Pares Eskrima Club in 1932
Amateur Boxer, Cebu City 1937-1939
US Armed Force Guerilla 1942
Retired Lieutenant, Military Police, Philippine Army 1947
Teacher, St. Francis Academy, Balamban, Cebu 1948
Bachelor of Science Ed., University of Southern Philippines, Cebu 1950
Teacher, University of Visasays 1951
Wrestler, Philippine National Wrestling Association 1957
Teacher, University of San Carlos 1962-1968
President, Labor Union, Pepsi Cola Company, Cebu 1963-1973
University of Visayas, 1964-1991
Black Belts: Shorin Ryu Karate 1964, Kodokan Judo 1957, Aikido 1972
Retired Captain, Reserve Armed Forces of the Philippines 1970
Cebu City Colleges (now University of Cebu) 1971 – 1984
President Champion Trophy, 1st National Arnis Masters Open 3/24/79
Champion, 1st National Arnis Invitational, 8/19/79
Cebu Sports Hall of Fame Inductee, Philippines 1997
Sports Commissioner of Eskrima, Cebu City – Current
Commissioner on Sports Cebu City, 1998 – 2002
Teacher: University of San Carlos 1962 – 1968
University of the Visayas 1964 – 1991
Cebu City Colleges (now University of Cebu) 1971 – 1984
Commissioner on Sports Cebu City 1998 – 2002A religious man, who has never challenged anyone, Cacoy never refused a good fight to protect his family's Doce Pares Club and good name. He is undefeated in no-holds-barred weapon fights. His goal in martial arts is to offer confidence to those with low self-esteem, courage to the intimidated, and nurture responsibility among citizens.
2003 USMA International Hall of Fame Inductees:
PHILIPPINES Ciriaco Canete Most Distinguished Grand Master of the Year
Cacoy Canete was the best-known of the Canete brothers (Filemon, Eulogio, Tirso, Ciriaco, Rufino and Silvestre), prime movers in the preservation and promotion of the indigenous Filipino martial art of stick fighting (eskrima-arnis).
Ciriaco "Cacoy" Canete was born in San Fernando, Cebu, in 1919, into a family for whom Eskrima was already a tradition. In his youth, Cacoy trained in boxing, wrestling and the Asian martial arts. In the 1920's his brothers were already involved in teaching stick fighting. Interest in Filipino martial arts led to the formation by Visayan martial arts practitioners of the Doce Pares Association in Cebu. In 1939, Cacoy's elder brother, Eulogio "Yoling" Canete became president of Doce Pares, the oldest and longest standing martial arts organization in the Philippines and a driving force behind the popularization of Filipino martial arts. Yoling was president of Doce Pares until his death in 1988.
Cacoy Canete served with the USAFFE in the war years and stayed in the army service until 1947. He studied at the University of Southern Philippines and taught martial arts in various Cebu schools. In 1979 he was champion in both the First Open Arnis Tournament in Cebu City and the First National Invitational Arnis Tournament in Manila, both events sponsored by the National Arnis Association of the Philippines (Naraphil). Another Canete, Dionisio (Cacoy's nephew) served as president of both Naraphil and the World Kali-Eskrima Arnis Federation (Wekaf), an organization founded much later in the history of Doce Pares (1987). The remarkable Cacoy Canete was active in organizing tournaments, exhibitions and training programs in eskrima-arnis in the Philippines and foreign countries.
Supreme Grandmaster Ciriaco "Cacoy" Canete passed away on February 5, 2016 in the Philippines. What a huge loss to the martial arts world.
History of Cacoy Canete Doce Pares