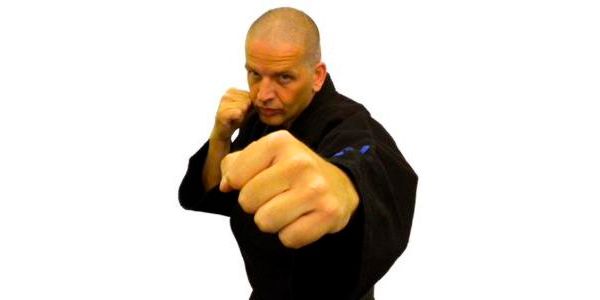 Russell Stutely has been one of the most influential Instructors of the last 15 years throughout Europe. His no-nonsense approach to Martial Arts in general and to Pressure Points in particular has seen him gain a considerable following.
Russell Stutely has produced over 50 Instructional DVD's covering subjects from Massive Power Generation through Pressure Point Fighting, Kata Bunkai and a complete Police Defensive Tactics Program (PPDT).
PPDT is now required learning at several Police Training Academies and Russell is in constant demand throughout Europe and the USA to teach this amazingly simple yet efficient system.
An innovator of new and reliable training methods, Russell was one of the first to offer a full online training program, that has seen worldwide success. Students from USA, Italy, Poland, Australia, UK, Greece, Czech Republic, Japan and the Philippines are now on their journey to becoming a full Pressure Point Coach in his system (OCFM).
Russell Stutely has also been instrumental in formulating additional Programs for Martial Arts School Owners that have proven to be extremely effective in student retention from 1st Kyu upwards. Some large School operators (30+ Schools) have now made these Programs part of their ongoing training for all Instructors and Asst Instructors.
Russell Stutely still keeps to an arduous training regime epitomizing the true values of Martial Arts.
Qualifications:
OCFM International Coach
PPDT International Instructor
Cop Tactics Master instructor
6th Dan OCFM
6th Dan Karate Jutsu
5th Dan Shotokan
4th Dan Ryukyu Kempo
Fight Trainer
For more information www.russellstutely.com
For Training program / Course details: email russell@russellstutely.com