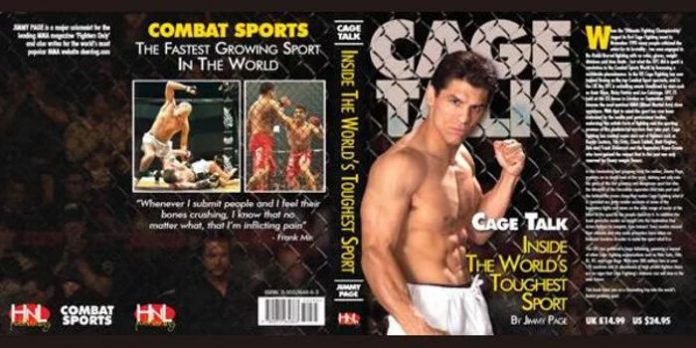 When the UFC (Ultimate Fighting Championship) first debuted many people criticized the brutality presented by having two men engage in no holds barred fist fighting. The UFC sparked a revolution in combat sports and has become a worldwide phenomenon to the point where it's pushed Boxing out as the top fighting sport in the U.S. In the U.S and Japan Cage fighting has climbed to celestial heights because of regular crowd attendance in excess of 20, 000 to 100,000.
On 30th December 2006 the UFC broke the pay per-view industry records and garnered 1 million 50 000 buys surpassing both WWE wrestling and Boxing. With over 3OO million fans in over 170 countries with its abundance of high profile fighters there are no signs that Cage Fighting will slow its meteoric rise.
In this fascinating and gripping book the author delves not only the glory of this fast growing and dangerous sport but all the chaos that goes behind the scenes and the life styles of the herculean super star fighters. Included are gritting insider accounts of some of the legendary major fights. You will discover the type of mental and physical commitment it takes to survive in the Cage. Using EXCLUSIVE interviews conducted specifically for this book, the author has produced a very real look at the MM scene which has grown in popularity.
Description
Mixed Martial Arts has become the fastest growing sport in the world and is seen in over 170 countries. The UFC sparked a revolution in combat sports and has gathered a huge following in America and around the globe. The sport has been embraced by the mainstream media and is regularly televised, breaking pay-per-view records. In this fascinating and gripping book, the author provides an in-depth look at the sport, delving not only into the glory of this tough sport but also behind the scenes and views on the wide range of issues at the heart of the sport by the people closest to it.
Review
The title delivers… informative, fun read. If there's ever been an aim for an MMA book, it's to enjoy more fighting, and Cage Talk hits that mark. –Fightmagazine (U.S.A)
About the Author
Jimmy Page was a writer for 'Fighters Only'- a leading mixed martial arts magazine. He was also the correspondent for the world's most popular MMA website sherdog.com
---