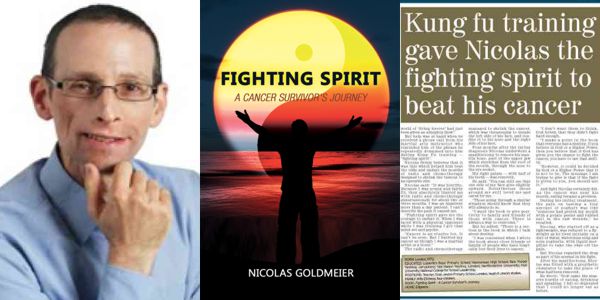 Cancer is an invisible enemy, and in order to defeat it, Nicolas Goldmeier uses the skills, discipline and mindset he learned from his study of martial arts. His 'Fighting Spirit' keeps him strong, despite the fear that cancer brings with it.
In his book Fighting Spirit Nicolas Goldmeier shares his experiences, taking the reader on a journey beginning in 1999, when he was diagnosed with cancer, up to the present day. He shares how and the importance of preventing the cancer from returning.keeping the cancer away.
When speaking of the title, Nicolas said: "The words 'fighting spirit' is a term I have applied to many experiences in my life. My friend and mentor, Stephen, first used it whilst we were training and it has helped me overcome some challenging circumstances in my life. Stephen was at my side during 2 particularly traumatic experiences namely; when I was in a coma following a serious car accident and when I was faced with having to fight cancer. Every morning in hospital, when Stephen helped me with breakfast, he would always remind me to use the fighting spirit."
Nicolas is hoping his debut book will help, "…encourage those with cancer, to keep fighting, I also want to inspire people who are going through challenging times. I would like my book to show anyone living and experiencing difficulties, however big or small, that with the correct approach, these can be overcome."
About the Author
Nicolas Goldmeier has taught in primary schools in the UK for the past 20 years. In addition to having a Bachelor of Education Honors degree, he has a MBA and the National Qualification for Headship. Nicolas has trained in martial arts for the past 28 years, applying his discipline in the art of the physical fight, to help people realize their inner determination to fight cancer.
---