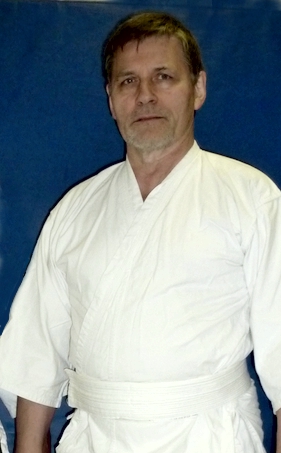 The Beginning
As a child of 12 years, Hanns Von Rolbeck began boxing in Sportschool (at that time he lived in Eastern Germany), He practiced for 14 hours in different sports styles each week. This schooling gave Hanns special skills and lead to him becoming a professional sportmaster. From the age of 13 until he was 20 he studied Judo and began teaching when he was 18. At the age of 17 he began studying Taekwando along with Judo. At 20 he began studying Shotokan Karate. In 1964 he began teaching students in Judo, Karate and for the benefit of women he started to change Karate to Aikido. He gave lessons at the University of Tuebingen, at the University of Frankfurt, and the University of Karlsruhe, in the different clubs and martial arts organizations.
From 1967-1968 Hanns Von Rolbeck started his research for Ki works. All the years up to this time, he believed that one must know many martial arts to understand the thoughts of a Samurai and to find their Energy of life or Ki.
In 1970 Hanns Von Rolbeck discovered what he would consider the basics of Ki and after a spine operation he found a way of explaining the matter. Since than he has given lessons all over Europe, in Switzerland, England, Scotland, Greece etc. and in the United States. Other Martial arts in which he is engaged are:
Hanns Von Rolbeck has practiced Naginata DO, since 1970 – the very first weapon in Kijutsu was a very heavy wood-Nagamaki used for training purposes. He wrote a not yet published book in 1985 about Ki in fundamental naginata exercises.
Kendo and Iaido, since 1976, especially for understanding Ki.
Profession:
M.D., specializing in basic research of diseases.
Hobbies:
German aviation from 1930-1950. He has written and printed books under the title: Luftfahrt International from 1974 to 1978 (about 4500 pages).
Energetic Influence on persons in any form.
Life and Lifestyle in any form
Result of Hanns Von Rolbeck life experiences:
Be curious, question everything, look for the reasons behind, try to boil own complex interactions to simple points. Go forward.
Yours sincerely in martial arts, Hanns von Rolbeck
Titles:
Founder of KIJUTSU, SOKE in the World Head of Family Sokeship
Council (WHFSC)
Founder and President of the "INTERNATIONAL FEDERATION OF KIJUTSU, AIKIDO AND KI IN THE MARTIAL ARTS"
Founder of KENDO KI RYU, BOJUTSU KI RYU, NAGINATA KI RYU and NAGAMAKI KI RYU
Founder and President of the "INTERNATIONAL KENDO AND NAGINATA FEDERATION"
President of the "INTERNATIONAL DAN KOLLEGUE OF THE IFMAC"
2nd President of the "INTERNATIONAL FEDERATION OF MARTIAL ARTS AND CULTURE " (IFMAC)
Head teacher for Martial Arts Masters, who are teaching handicapped people (Brain and Body, DOWN Syndrom etc.)