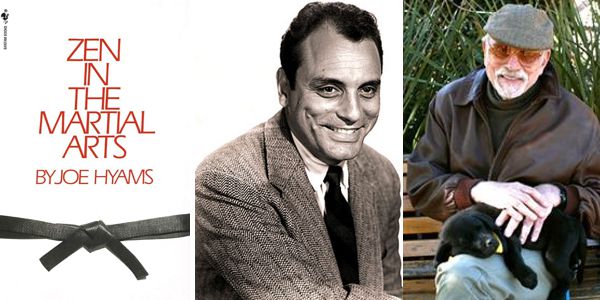 Joe Hyams was born in Cambridge, Massachusetts, on June 6, 1923, and he grew up in nearby Brookline, Massachusetts. He attended Harvard University, but chose to leave to enlist in the United States Army in 1942. While serving in the South Pacific he received a Purple Heart and was awarded the Bronze Star Medal. He later became a war correspondent for the official newspaper of the United States Armed Forces, Stars and Stripes. After returning from military service he went on to earn his bachelor's and master's degrees at New York University.
It was an article on illegal immigration that lead Joe to his first interview with a Hollywood celebrity. In 1951 the New York Herald Tribune sent Hyams to do an article on illegal immigration. He flew to Mexico in a small airplane with the intention of coming back across the border into the US with illegals. His intentions were realized and he finished the story with pravado. For a job well done, Joe's editor gave him a room at The Beverly Hills Hotel, telling Joe to interview a few movie stars while he was there. It just happened that Humphrey Bogart's press secretary was sunning at the pool near Joe and he asked about Joe stay at the hotel. Joe replied that he was there to interview movie stars. From this chance meeting came Joe's first Hollywood interview with Humphrey Bogart. The door to Hollywood life was opened and Joe ran through it. Within a week he had interviewed Katharine Hepburn, Lauren Bacall, Spencer Tracy and Frank Sinatra. The Herald Tribune relocated him to Los Angeles and so he could cover Hollywood as a syndicated columnist which he did from 1951 to 1964.
Toward 1965, he left the Herald Tribune and went on to write about Hollywood for magazines like the Saturday Evening Post, Ladies' Home Journal, Redbook and others.
Joe Hyams was the author (or co-author) of more than two-dozen books. Most of these books were celebrity biographies of the people he had interviewed thoughout his career as a columnist. In 1966 he wrote about Bogie in Bogart & Bacall: A Love Story in 1975. He wrote about James Dean in James Dean: Little Boy Lost in 1992. He co-authored many celebrity autobiographies, one with Chuck Norris called The Secret of Inner Strength: My Story. He worked on the book, Michael Reagan: On the Outside Looking In, with the adopted son of former President Reagan. He wrote his own autobiography, Mislaid in Hollywood, in 1973. He also wrote novels which took place in Hollywood including The Pool, and Murder at the Academy Awards.
Joe Hyams studied martial arts for more than 50 years and he authored his book "Zen In the Martial Arts in 1979." Melissa Hyams said Zen In the Martial Arts "isn't really about martial arts. It's about life and philosophy, and how to turn a negative into a positive, how to defuse a situation by the way you handle it. That's what he'll most be remembered for."
Alain Burrese describes Hyams' Martial arts career like this:
"Joe Hyams took up fencing lessons in the 1950's and through those classes he met film music composer Bronislau Kaper. In 1958, Kaper introduced him to Ed Parker, who was teaching Kenpo in the weight room in Beverly Hills Health Club. Mr. Hyams became one of Ed Parker's first private students and also one of Mr. Parker's first black belts.
Joe Hyams was the first person to introduce Bruce Lee into the Hollywood community. He helped Bruce Lee, with whom he trained privately, get a foothold in Hollywood during Bruce's struggling years. Mr. Hyams trained with Bruce Lee for two years, and when Bruce left for Hong Kong to pursue his film career, he suggested that Joe learn from Jim Lau, who trained him in Wing Chun."
In 1969, with Tom Murton, who studied the theory and practice of prison management, Joe wrote his non-fiction account, Accomplices to the Crime: The Arkansas Prison Scandal. The 1980 film Brubaker starring Robert Redford was based on this book. Hyams also wrote Flight of the Avenger: George Bush at War in 1991, another non-fiction work.
In November 1964 he was married a second time to 24-year-old actress Elke Sommer. They were married in a civil ceremony in Las Vegas, Nevada.
Joe Hyams, a longtime resident of Los Angeles, moved to Penrose, Colorado three years before his death. He died in a hospital in Denver on November 8, 2008, at age 85 from coronary artery disease.