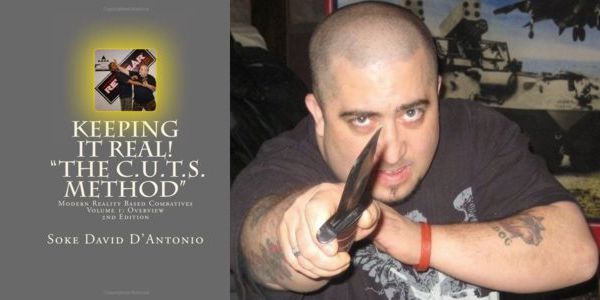 Keeping It Real! "The C.U.T.S. Method – Critical Urban Tactical Strategies Modern Reality Based Combatives Volume 1: Overview (MODERN COMBATIVES "The C.U.T.S. Method")
If you are interested in REAL WORLD life saving skills…this book is a must read. Covering a wide variety of topics from a Reality Based standpoint, this book will add to your skill set. Both beginner and experts will benefit from the skills taught in this book.
No non-sense, not for sport….no refs….no tap outs…..this is the real deal when your life is on the line! Knife, gun, empty hand, escape and evasion in an urban setting are all discussed in this primer volume, an overview of the C.U.T.S. Method by Soke David D'Antonio.
Reviews
A MUST READ FOR ALL INTERESTED IN PRACTICAL TACTICS THAT CAN SAVE YOUR LIFE!
By Jonathan E. Kiser on August 16, 2013
"'Keeping it Real' is a must read for any Combatives or Self-Defense practitioner. David D'Antonio knows his stuff and he knows it well!" His books should be in every Martial Arts School's library.
-Jonathan E. Kiser
39 years of Martial Arts experience
Head Founder of Integrated Combative Concepts
About the Author:
Soke David D'Antonio (current 16th Soke) began the study of Koga Ryu Wada-ha Ninpo in 1978 under the guidance of Soke Haruo Oyama (verified, trained by Seiko Fujita), and Ura (Secret) NiDai Soke Anthony D'Antonio Jr, responsible for sponsoring Oyama's immigration to the United States and Omote (public) Ni Dai Fred Barnes.
In 1991 Soke David D'Antonio began to compete in various bare knuckle Bloodsport style Kumite fights, then began MMA (then known as NHB fighting) a year before the first UFC is formed.
Soke David D'Antonio retired but has recently made his return to the cage with a world title victory at Brawlers Inc. Invitational as the WORLD GRANDMASTERS BARE KNUCKLE CHAMPION.
Soke, David D'Antonio has sponsorship from REVGEAR, Fighters Warehouse, Teich Chiropractic (Dr. Paul Teich) and others, as well as owns an MMA T-Shirt Company "NIGHTMARE FIGHT WEAR".
Soke, David D'Antonio is the 2008 inductee to the ICMAUA Hall of Fame as Soke of the Year as well as 2009 inductee into the Action Martial Arts Hall of Honors.
The culmination of Sokes David D'Antonio fight experience is now found in his creation of C.U.T.S. Critical Urban Tactical Strategies.
Soke David D'Antonio is managed and promoted by Charles Prosper and is a faculty member of Mr. Prospers' Street Fighters Forum; is regularly interviewed for EZINE ARTICLES and Blog Talk Radio and SHIAI magazine from Cameroon, Africa and has written for Black Belt Magazine.
Soke David J. D'Antonio also has extensive experience in disciplines of Aikido, Tae Kwon Do, Gung Fu and Urban Combatives. But most importantly, Soke David J. D'Antonio has been a licensed private investigator for 10 years and is currently furthering his education with the study of Forensic Science and Crime Scene Investigation.