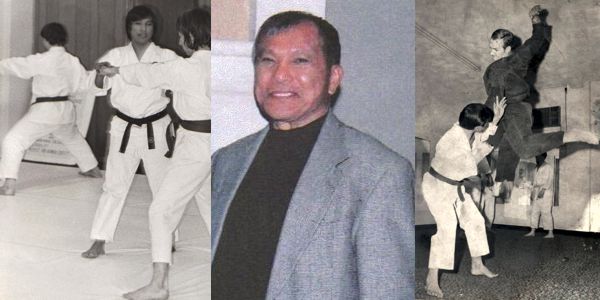 On December 22, 1940, AlGene Caraulia was born in Wahiawa, on the island of Oahu, in what was then United States territory of Hawaii.
In 1954, AlGene Caraulia began studying aikido and judo after he received a bruised shoulder during a fight on a playground. He received his brown belt in aikido. Later, Caraulia enrolled in Adriano Emperado's Kajukenbo club at a local YMCA to study karate. Caraulia left the University of Hawaii in 1959 and traveled across the mainland United States. He settled in northern Michigan after working his way across the country where he pursued academics at Northern Michigan University. He received his degree in music. In 1962, while at the University, Caraulia lettered in swimming and diving. During the summers Caraulia taught karate classes at the Chicago Karate Center while he studied judo under Gene Wyka. Caraulia attained his 2nd degree black belt in Kodokan Judo.
In 1963, the USKA held the first World Karate Championship Tournament. Caraulia was going to perform an aikido demonstration at the tournament, but entered the tournament as a competitor instead. He fought eleven matches as a Brown Belt in Kajukenbo, and defeated a third degree Black Belt for the grand championship victory. In that same year Caraulia joined the USKA and went on to earn his shodan.
In 1963, AlGene Cauarlia was the First World Karate Champion and he went on to become the Midwest Karate Champion in 1965, Illinois Judo State Champion 1965, United States Invitational Karate Champion 1965, International Karate Champion 1965-66, Great Lake Karate Champion 1966, International Karate Champion 1968, Ohio State Judo Champion 1970, Member of the Chicago Judo Team 1966-68, Co-captain of the Mainland Team vs Hawaii 1969, United States Professional Team Champion 1970, Professional Karate Hall of Fame 1974, Director, AAU National Karate Championships 1975, Director, World Karate-do Championships 1975.
In 1969, AlGene Caraulia founded the Karate Institute and used his knowledge to develop K.I. Kajukenpo from the older Kajukenbo system. Caraulia systemized the training methods. He combined judo and karate techniques and developed ippon kumite kata for the system from his own fighting experience. He also introduced additional kicking methods. Kajukenbo centered its system around Kempo having a more Chinese appearance. (Kajukenpo stresses Japanese judo and karate, as influenced by the United State Karate Association.)
In 1970, the original Karate Institute hombu dojo opened at 4179 Pearl Road in Cleveland, Ohio. Within the year more than 100 members enrolled for classes at K.I. In its second year Dennis Janes, John Bell, and Mark Galeski had formed the core group of loyal and skilled practitioners.
Caraulia then met with David Praim and David Prue. At this time, Praim and Prue were the directors of the top karate schools in Michigan. The two instructors merged with Caraulia joining schools and expertise. By 1971, Caraulia, Praim and Prue affiliated their clubs to form the Karate Institute of America. The three instructors felt the need, in part, because of the upsurge of "Fly by night" karate schools. These three men merged in an organized effort to promote and maintain quality within the martial arts.
In 1980, Master Caraulia founded the national Crisis Prevention Institute, of which he was the consultant director. He has lectured around the world.