Your life is the true testament to your skill as a martial artist, not your rank of your trophies. ~ Grandmaster Allen Abad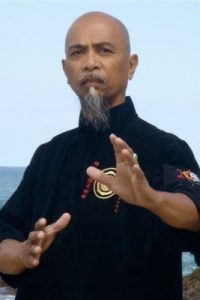 Grandmaster Allen Abad was a 9th Degree Black Belt under the founder of Kajukenbo, Sijo Adriano Emperado. Abad was an international acclaimed instructor of the Kajukenbo system for over the last 30 years.
Grandmaster Allen Abad had over four decades of martial arts training and expertise. He began training at the age of nine in Hawaii under notable instructors including Walter Aiona (Judo) Ernest Rodrigues, Larry Kawaauhau, Marce Totor (Kenpo), and Sifu James Ibrao (Kung Fu).
Grandmaster Allen Abad was recognized with many awards and in numerous publications such as in different Blackbelt Magazines and in Secrets of the Masters. In 1994 he received the Golden Master's Martial Arts Instructor Award. This award recognized Grandmaster Abad for teaching and sharing martial arts at the highest level of mental, physical and spiritual standards.
In 2002, Grandmaster Allen Abad was awarded the highest rank of Golden Dragon by Sifu James Ibrao.
Grandmaster Abad's patience and wisdom made his classes both fun and educational. People traveled from everywhere to Abad's Martial Arts International in Arizona to train with one of the world's most respected martial arts masters.
Grandmaster Abad passed away on Monday, April 6, 2009 after battling pancreatic cancer for the past two years. He will always be missed.