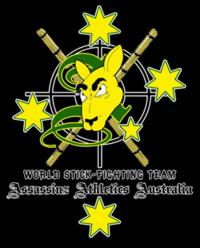 The Australian Team at the World Stick Fighting Championships in Jakarta were awesome! The Australian Team consisted of many players from Adelaide who train at the International Combative Martial Arts Academy at the club in Welland, South Australia, and the players are the following: Coach and Player Grand Master Vince Palumbo, Vlad Mihal, John Moore, Michael Harris, Gary Smith, Barry Jamieson, Joseph Scali, Andrea Wheatley, Vickie Simos, and Melissa Lopresti.
The Australians really dominated the tournament in every division of the event, and the Aussie Team went on to win the most of the Gold medals in all of the tournament.
Every member of the team won a medal, either a Gold, Silver or the Bronze medal!
Master Vince Palumbo had an outstanding 20 fights in one day, and he went on to win an amazing 10 Gold medals, 2 Silver medals, and a Bronze medal. GM Palumbo was also named player of the tournament by Grand Master Canete.
Other World Champions from the Australian Team were the following John Moore, Joseph Scali, Andrea Wheatley and
Melissa Lopresti.
The Australian Team literally won the hearts of all the initially very hostile and unwelcoming Indonesian crowd of spectators that all just booed the Australian Team when they first marched out into the big stadium with all of the other countries in the parade of players when the games first started, and this is when Master Vince Palumbo asked his team members to remain calm, and he told them all to just keep marching on, then he told the team not to worry because ,'They'll love us in a couple of days!', he said.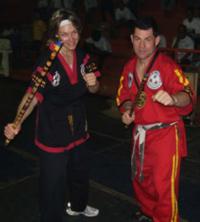 What he said was true, and in the second day of big competition, everytime an Australian Team member won a fight, the whole team started to dance in the middle of the sports arena, and before we knew it, all of the Indonesian crowd were dancing with us, it was a really great atmosphere, and everyone had fun, because we all put politics and religion aside, and just treated eachother with respect and warmth, says Palumbo.
On the closing ceremony of the games, Master Palumbo was awarded with a certificate of 'Grand Master 9th Degree Black Belt' status from the 88 year old Supreme Grand Master Ciriaco Canete who is the highest ranked martial artist in the world, and who is the only living 12th Degree Black belt on the planet.
This rank advancement makes Palumbo who has won 10 World Titles and nearly 100 bouts in the sport of Full Contact Stickfighting, so it also makes him one of the youngest legitimate 9th Degree Black Belt Grand Masters in the world now!
Well done to the Australian stickfighting team!!!
By Master Steven Sarkissian