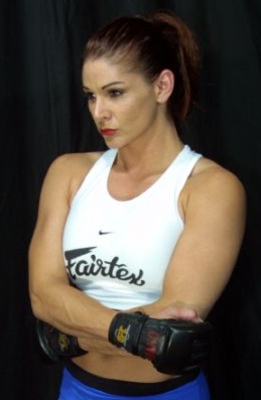 Debi Purcell Is a professional Female Mixed Martial Artist, she has been training in fitness and martial arts for over 20 years and has trained and competed in Vale tudo, submission grappling, boxing, kickboxing, Muay Thai, wrestling, Tae kwon do, gymnastics.
Some of her titles and accomplishments include: First woman to ever compete and win in King of the Cage. Ultimate Wrestling World Title Belt Holder, Hook-N-Shoot Revolution Winner, 2002. Headline the first ever all women's NHB card in US history . Ultimate Wrestling Minnesota Winner, Smack girl veteran. TKD BB Champion. Debi Holds Black Belts in both Ruas Vale Tudo and Tae Kwon Do.
She is the owner and founder of www.Fightergirls.com, Founder of WMAA ( Women's Martial Arts Association) and Founder of Cardiostrike. She is also currently the President of DC's Mechanical Inc. www.dcsair.com a commercial based refrigeration, heating and Air condition company. Owner of http://www.fightergirls.com/ and in her spare time teaches other women health, fitness and martial arts.
Debi Purcell is committed and determined to breaking the barriers of women competing and fighting in Martial arts, and determined to let the world know that women can be as effective and complete as their male counterparts.
More About Debi Purcell
Debi Purcell grew up in Huntington Beach, California. She began studying gymnastics at the age of 6 until she was 13, competing and excelling against some of the best in her class.
Although Debi had a strong future in the sport, becoming a teenager brought her a lot of rebellion, frustration and anger. However, her rebellion was a blessing in disguise, it was this negativity that propelled her into the world of martial arts. She could express herself and vent her teen angst. In turn, Purcell learned discipline, structure and focus – essentials to becoming the best you can be.
Debi Purcell's formal introduction to Mixed Martial Arts came in 1993 during the inaugural Ultimate Fighting Championship. Purcell was training alongside some of the first competitors in Huntington Beach. Always determined, Purcell subsidized her costly training by studying and obtaining a license in HVAC (heating, ventilating, and air conditioning). To this day, DC's Mechanical, Inc. (co-owned by Purcell) is a thriving business. http://www.dcsair.com.
After making her mark in Taekwondo and earning a Black Belt, she took her training to another level; a level that was rare for women at the time. Debi Purcell found Brazilian Jiu-Jitsu and legendary trainer Marco Ruas. An Ultimate Fighting Championship veteran, Marco Ruas took Purcell under his wing, teaching her the fighting styles of Vale Tudo (Portuguese for "anything goes"). This Brazilian discipline combines the styles of boxing, wrestling, submission grappling, Muay Thai kickboxing, and Jiu-Jitsu. Learning the technical aspects of the discipline was enough to keep Debi Purcell challenged and coming back for more. From this, Debi "Whiplash" Purcell was born. Her dedication earned her another a Black Belt. "Everything started to make sense in my life," says Purcell. After winning her first few matches, she convinced the promoter of an all-male MMA event to let her compete. That event was "King of the Cage." Debi Purcell was the first woman to ever compete in a "King of the Cage" promotion and win. Numerous victories and titles followed.
Debi Purcell is a strong vocal advocate of women's MMA and the founder of FighterGirls.com, the MMA website catering to women in the sport. Although Debi found her place on her all male Brazilian Ruas Vale Tudo team and was honored as the only female coach for the IFL, Debi Purcell will always seek to establish quality, meaningful competitions for female MMA fighters around the world.
Debi Purcell's love of fashion prompted her to create Fightergirls Fight Wear, workout clothing for the female martial artist. Women from around the world are fans of her hip, feminine and sporty collection.
A side note from Debi Purcell:
Vale Tudo means NO rules. Which translates that we have no limit's to bind our body or our knowledge in learning. The message is clear, and that is to pass on what we learn to others. Not only in the fighting martial art sense, but in taking pride in oneself, being humble, loyal, strong, respecting yourself, but mostly respecting others. Having no limits. Has allowed me great freedoms in my martial arts and in my spirituality, and has helped me realize that we are only bound but what we allow ourselves to be bound by.
In a world where it is hard for women to flourish in martial arts, I have had trainers and friends not discriminate against me but have always thought it was great that I and other women want to compete and fight. I have been encouraged to seek out different kinds of training and different training partners to further along my progress. And I thank you all who have participated in helping me be the person and fighter I am today.