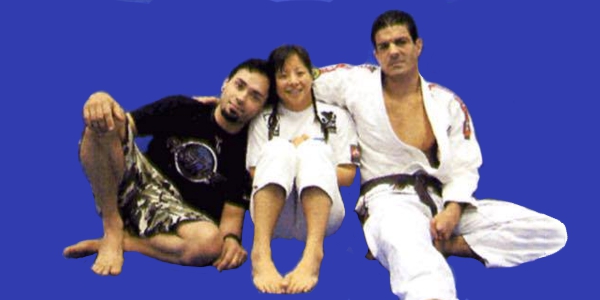 Felicia Oh was born on December 13, 1967 in Seattle, Washington and grew up there. She moved to Los Angeles to attend graduate school at UCLA where she continues to live.
Felicia Oh was introduced to Brazilian Jiu-Jitsu by her friend's husband. Intrigued by the notion that technique and skill could overcome size and strength, she went to watch a class. She signed up and started training the next day.
Felicia has since dominated many national competitions and was awarded her Black Belt by Jean Jacques Machado after only 4.5 years – an achievement that has left many of her male training partners both envious and struggling to keep up.
In 2007, Felicia became the first woman to win both the Pan American Jiu Jitsu Black Belt Gi and No-Gi divisions. After winning the ADCC North American Trials and securing her spot to represent the United States at the ADCC World Submission Wrestling Championship, she had convincing victories over a multi-time BJJ World Champion and a Japanese superstar which put her in the finals of the most prestigious grappling event in the world.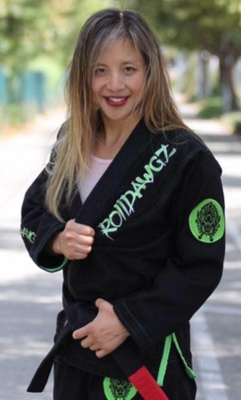 By the end of 2007 Felicia found that she had contracted a viral infection (Epstein-Barr) and chronic fatigue was one of the virus' symptoms. For 2 years Felicia push through the illness trying to train, eventually she realized she needed a break. In 2014 Oh returned to competition at the World Masters (IBJJF). The joy of competition helped Felicia Oh to return to training.
Throughout the 2000's decade Felicia Oh was a jiu jitsu journalist and TV personality. She began her career writing for the ADCombat website which was owned by the ADCC organization. In 2004, at the start of GrappleTV, Felicia Oh became the face of the company's video venture. She spent a few years in front of the cameras, interviewing some of the bigger names in the California grappling scene, before she relocated and her co-host Cindy Omatsu took over. Cynthia Omatsu was the first female grappler outside of Brazil to reach the rank of Black Belt in Brazilian jiu jitsu (2002).
In addition to teaching at Otis College of Art and Design, Felicia Oh is also a certified Kettlebell instructor.
Felicia currently teaches Women's Submission Grappling as well as Ultimate Fitness classes at Big John McCarthy's Ultimate Training Academy (BJMUTA) in Valencia, California and at M3 Fight and Fitness in Montrose, California. She is also a guest instructor with Jean Jacques Machado's Online Training Program.
In addition to a BJJ Black Belt, Felicia is Crossfit certified, a certified Kettlebell instructor under RKC and AKC as well as a Fightwall Certified trainer.
Felicia Oh teaches and trains at Big John McCarthy's Ultimate Training Academy. She is an assistant coach of the BJMUTA Fight Team. In her teaching she emphasis personal improvement – physical, psychological, emotional and technical – and she teaches in the safest and most effective way possible. She believes that while there is competition, the competition is ultimately with yourself.
Felicia Oh Titles:
2009 FILA Grappling World Champion – No-Gi
2009 FILA Grappling World Champion – Gi
2009 USA Grappling World Team Trials Champion
2009 USA World Team Member
2008 FILA Grappling Silver Medalist
2008 USA Grappling World Team Trials Champion
2008 USA World Team Member
2008 IBJJF World No-Gi Silver Medalist
2007 12th GrapplersQuest West Adv. No-Gi Absolute Champion
2007 FILA Grappling World Champion
2007 USA World Team Member
USA Grappling World Team Trials Champion
2007 USA Grappling Team Qualifying Trials Champion
2007 ADCC Submission Wrestling World Championship Finalist
2007 Pan American Jiu Jitsu Black Belt Champion
2007 Pan American Jiu Jitsu No-Gi Black Belt Champion
2006 ADCC North American Submission Wrestling Trials 55kg Champion
2006 US Open of Submission Grappling Absolute Champion
2006 US Open of Submission Grappling (Class B) Advanced Division Champion
2005 Pan American Games of Submission Grappling Advanced Division Champion
2005 Pan American Games of Submission Grappling Absolute Silver Medalist
2005 GrapplersQuest VII (Class A) Advanced Division Champion
2005 GrapplersQuest VII (Class B) Advanced Division Champion
Gi Feminino – Runner up
2004 GrapplersQuest VI Advanced Division Champion
2004 GrapplersQuest VI Absolute Silver Medalist
U.S. Open Professional Women's Division Champion 2004
U.S. Open 2003 – Champion
Pan American No-Gi Championships 2003 – Champion
Tito Ortiz Submission Wrestling Invitational 2003 – Champion
Grappling Games 2003 No-Gi – Champion
Copa Pacifica 2003 – Champion
California State Championships 2002 – Champion
Grappling Games 2001 – Champion
Felicia Oh Certifications & Degrees
Kettlebell Certifications: RKC, Certified Kettlebell Instructor, IKFF Certified Instructor
Crossfit Certified Instructor
MFA – Art/New Genres, University of California, Los Angeles, CA
BFA – Fine Art, Cornish College of the Arts, Seattle, WA
Felicia Oh Honors
US Olympic Committee December Poll Women's Athlete of the Month
2007 Masters Hall of Fame Inductee

Felicia Oh Additional 
Personal and Executive Security