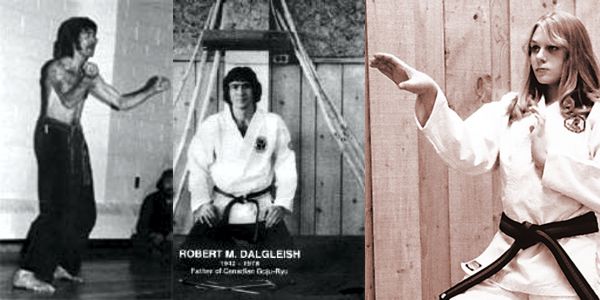 Robert M. Dalgleish or Bob Dalgleis was born on November 6, 1942. He is considered to be the Father of Canadian Goju-ryu karate because he introduced Goju to Canada.
Sensei Bob Dalgleish started his initial training in 1959 under the guidance of Master Masami Tsuroka, 10th Dan and Father of Canadian Karate.
Over the course of several years Mr. Dalgleish trained with the best of the best in North America: Gosei Yamaguchi, Richard Kim, Gonnohoy Yamamoto, Steve Armstrong, Master Jung, Peter Urban, Hidetaka Nishiyama, Robert Trias and even Master Gogen Yamaguchi while in Hawaii.
In 1965, Sensei Dalgleish taught in Vancouver, B.C. and was received his 3rd degree black belt from Master Masutatsu Oyama of the Kyo Ku Shin Kai style while training with Ron Sitrop. After returning to Toronto after extensive travels, he introduced the knowledge he had gained to the students of Eastern Karate Club, which included students Wally Slocki, Ted Marton, Don Warrener and Tony Facetti.
Between the years of 1965 and 1967, Master Dalgleish journeyed from Toronto to New York several times to learn Japanese Goju style under Master Peter Urban. He returned to Toronto and introduced the Goju style to the same students at Eastern Karate Club. His long time friend Benny Allen was the chief Instructor.
During 1967 and 1968, Master Dalgleish traveled to Phoenix, Arizona, and train with Master Robert Trias, 8th Dan, the founder of the United States Karate Association. Master Trias instructed him in the Okinawan Shorei style of Karate-do awarded Master Dalgleish his 4th degree Black Belt.
In 1969, Master Bob Dalgleish traveled to San Francisco, California where he was accepted as a student by Master Gosei Yamaguchi. There he trained in Yamaguchi Goju Ryu (Japanese). Master Dalgleish started from the basics once again. When Master Dalgleish left Master Yamaguchi, he was recognized as a 3rd degree Black Belt in the Yamaguchi style of Goju Ryu.
In 1970, Master Bob Dalgleish traveled to Sudbury, Ontario, where he took up residence and establish the Sudbury Goju Kai Karate Dojo which he ran until his death in 1978. His students in Sudbury included Israel Segarra (Yogi), Don Gauthier and Don Benoit, who, as of today, continue to teach the karate they all learned from their Sensei.
Master Dalgleish was granted his 5th degree Black Belt in Goju Ryu in 1971, and later he was granted the Masters' rank of 'Renshi' by Shihan Yamamoto, from Japan.
Master Bob Dalgleish is the reason Canadians call Goju in Canada "Canadian Goju". Sensei Dalgleish was influenced by Chito Ryu, Shotokan, Ishin Ryu, USA (Urban) Goju, Okinawa Goju, Yamaguchi Goju, KyokuShin-Kai and others, Canadian Goju Ryu is a mixture of these influences and iis not typical Okinawan Goju.
Robert M. Dalgleish passed away on July 6, 1978.