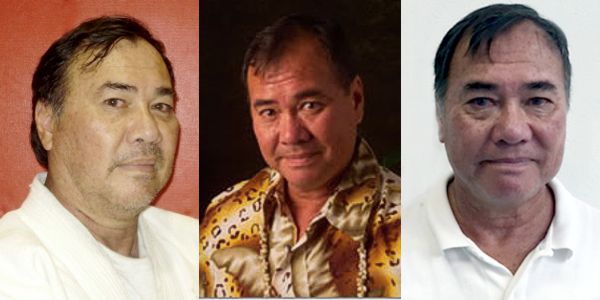 Born in November 1950 in Honolulu, Sensei Buck Wheat started judo and jujitsu in 1957 at the age of 7 at Professor Okazaki's Kodenkan Dojo under Professors Joe Holck and Jack Wheat. He was awarded a brown belt in jujitsu while training at the Menehune Dojo in Waipahu. Between 1980 and 1984, while working for Hawaiian Airlines, he attended judo classes in both Honolulu and Hilo. He joined Higashi Hongwanji in Hilo in 1988. He earned Shodan and Nidan and in 1999 was awarded Sandan. In 1993, he opened his own dojo in Kea'u, and continued to teach as an assistant instructor at Higashi Hongwanji. He has had advanced training with Professor Sakabe, a Japan champion, Willy Cahill, and other well known instructors from Japan.
The Hilo-based Japanese Community Association of Hawaii selected six Japanese cultural treasures who were honored at Japanese Culture Day, or Bunka No Hi "Mottainai3," on Saturday, November 15, 2015 at Sangha Hall in Hilo Hawaii..
"We are honored to present these six humble, hardworking Japanese cultural treasures whose combined years of service is over 250 years," said Jan Higashi, president of the organization.
Darryl "Sensei Buck" Wheat was one of those honored for his life long dedication to judo along with: Gary Kuroyama, judo; Nancy Nakaishi, Okinawan dance and culture; Hiroshi Shima, bonsai; Yoshiko Shimada, Japanese singer, vocal coach and teacher; and Yuriko "Yuri" Yahiro, ikebana.
Darryl "Buck" Wheat lives in Hilo Hawaii and he owned a firearms shop called Buck's Firearms & Military Surplus.